The Third Wave and the Tourists!
Posted on January 8th, 2021
Sarath Bulathsinghala
9 Jan 2021
Some countries are experiencing a Second Wave of Covid pandemic, while some others have graduated into a Third Wave, this time with new and more virulent mutant forms of the virus. If these mutant viruses arrive in Sri Lanka it will be beyond the capacity of the Sri Lanka government to handle. Sri Lanka is already battling through the second wave. If the 70% more virulent mutant arrives in Sri Lanka it will be shutters on all activities. The UK has already gone to a shut down. Just on the news this evening Greater Brisbane in Australia is to go into a three-day lockdown to stop the UK variant spread. In the UK and in the US – California they are already almost running out of beds! This can very well happen to Sri Lanka if not extremely careful.
It is best the authorities closely look at how other countries are now affected and also most importantly other countries are getting ready to meet the mutants.
It is with this developing situation that Sri Lanka should be taking a fresh look at bringing in tourists into the country at least for the time being. Sri Lanka should explore the danger associated and as well as the certainty which they can assure that the virulent version of the virus will not enter Sri Lanka?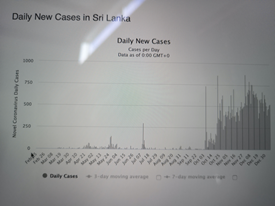 It is said that the total weight of the virus that has so far infected the whole world is less than 1.5 gms. This shows how minute the virus is and how easy for such a tiny speck of death dealing viral matter to creep through any human attempt to keep it contained.
It is no secret Sri Lanka was found going it easy after the First Wave. Here we are not blaming the government for it can happen to any other government elsewhere. It has happened to more rich and powerful Governments who are trying to balance a multitude of factors – the economy, security, the feeding the nation, keeping people employed in order to keep the wheels of industry moving and most importantly the health of their citizens. The priority of the most powerful countries has been their security and not the health of the nation as we have seen in the US, the UK and France! These countries are willing to take the Covid-19 related deaths as mere 'collateral damage', second to maintaining their security apparatus intact!
In Sri Lanka we are still trying to come to terms with the Second Wave. Are we ready for the Third Wave and certain disaster unprecedented?