THE GENERAL ELECTION OF 1956 Part 7A
Posted on February 28th, 2021
KAMALIKA PIERIS
Bandaranaike had advocated an independent foreign policy for Sri Lanka long before he became Prime Minister. In 1952, Bandaranaike speaking in Parliament during the debate on the Throne speech said that Sri Lanka has so far failed to formulate a well defined and independent foreign policy. Sri Lanka should play an important and constructive role in international affairs. She should be neutral in power politics. Sri Lanka should occupy a position in South Asia like that of Switzerland in Europe, he said.
In 1954, Bandaranaike persuaded Sri Lanka Parliament to approve Panchaseela. The Panchaseela policy advocated (i) mutual respect for each other's territory and sovereignty, (ii) non aggression, (iii) non interference in each other's affairs, (iv) equality and mutual benefit, (v.) peaceful coexistence. Panchaseela first appeared in a treaty in the India-China agreement on the Tibet region, signed in 1954 by Nehru and Chou en Lai.
Foreign affairs was not an issue in the first three General Elections, 1947-1956, observed H.S.S.Nissanka. Those in power had no understanding of international affairs, said Bandaranaike. UNP depended on British advice and guidance in its foreign relations. This was not in the interest of Sri Lanka, he said.
A non-aligned foreign policy was introduced to Sri Lanka by SWRD Bandaranaike. His first policy statement as Prime Minister of Ceylon on April 20, 1956, outlining his government's foreign policy and goals stated, "In its foreign policy, my Government will not align with any power blocs. Consideration will be given to exchange of diplomatic representatives with countries in which Ceylon is not at present represented."
Bandaranaike's foreign policy was a turning point in Sri Lanka's history, observed Nissanka. It marked a new beginning in foreign relations. V.L.B. Mendis said Bandaranaike set the country's foreign policy on a new course. Bandaranaike directed his foreign policy towards relations which would help Sri Lanka's national security and economic progress.
Bandaranaike set the compass when it came to Sri Lanka's international relations. All governments that came after Bandaranaike have followed his policy of recognizing as many sovereign states as possible, if it was in the interest of Sri Lanka to do so.
The 1956 MEP government, when it came to power, quickly swung to a non aligned position in foreign affairs. The foreign affairs division in Radio Ceylon was headed by an Englishman. SWRD did not like its rightwing slant. He appointed Mervyn de Silva to the post.
Before 1956 Ceylon had diplomatic relations with 21 countries, with representatives in 9 of them. Bandaranaike expanded this list. He established diplomatic relations with Afghanistan, Greece, Israel, New Zealand, Philippines, Switzerland, Thailand, Turkey and UAR.
The previous UNP government had failed to send a representative to Canada despite the fact that Canada had representation in Colombo. The Government of Canada feels aggrieved about this. Their High Commissioner in Ceylon has been very helpful to us. We will remedy this very quickly, said SWRD in Parliament.
Bandaranaike gave formal recognition to the state of Israel. The previous UNP government had agreed to diplomatic representation by Israel, said Bandaranaike. When I assumed office the Israel Government, kept on pressing us to find out whether they could send their representative here as the previous Government had decided to recognize Israel, so I agreed.
Israel opened its diplomatic mission in Colombo with a Charge'de'Affairs. Then the question of appointing our Representative to Israel arose. Arab states object, therefore I have laid it by, concluded Bandaranaike in Parliament. After Bandaranaike's assassination in 1958, interim Prime Minister, W. Dahanayake sent the representative to Israel.
A number of world leaders visited Sri Lanka when SWRD was Prime Minister. They included Robert Menezies, Prime Minister of Australia, Walter Nash, Prime Minister of New Zealand, John Diefenbaker, Prime Minister of Canada, Harold Macmillan, Prime Minister of UK, Ludwig Erhard, Deputy Prime Minister of Germany, Soekarnao, President of Indonesia and Nobusuke Kishi, Prime Minister of Japan. This was an impressive recognition of SWRD and a tribute to his policy of non alignment, said Vernon L.B. Mendis.
MEP government had also established diplomatic relations with socialist countries. Viliam Široký Prime Minister of Czechoslovakia visited in 1958 accompanied by Czech Minister of Foreign affairs.President Josip Broz Tito, President of Yugoslavia visited in 1959. Sri Lanka was one of the first countries to establish diplomatic relations with Cuba soon after Fidel Castro took power in 1959. 'Che' Guevara visited Ceylon as Castro's special emissary in August 1959. Guevara visited Yahala Kele rubber estate in Horana and planted a Mahogany tree there. Bandaranaike entertained these leaders at great expense, observed Nissanka.
Joint communiqués were issued at the end of these visits. Bandaranaike and Prime Minister Siroky of Czechoslovakia had discussed, inter alia, the stockpiling of atomic weapons. Japan and Sri Lanka jointly said nuclear tests should stop. Disputes between nations should be settled through negotiation. Japan also promised to help Sri Lanka's economic development.
In 1956, Sri Lanka celebrated Buddha Jayanti, the 2500 anniversary of the parinirvana of Gautama Buddha. Sri Lanka invited heads of state to visit. King Mahendra of Nepal, Prince Norodom of Cambodia, Prince and Princess Mikasa of Japan came. Also Prime Ministers of India and China. For all five red carpet was unrolled, streets were decorated, and they were taken to see places of interest Anuradhapura, Polonnaruwa and Kandy, noted Nissanka. Large crowds welcomed them. The chief justice of Burma, Justice Chan Htoon and Ven. Othani, high priest of Japan also attended.
The visits of foreign heads of state made a great impact on the public, who were allowed to line the roads to welcome them. The wide publicity given in the local press to these visits and the countries they came from encouraged the general public to take an interest in foreign affairs.
Under SWRD Sri Lanka diplomatic ties with India, China and Japan became strengthened. SWRD wanted a close friendship with Asian states. Within a space of four months in early 1957, the Prime Ministers of India and China were in Sri Lanka as state guests, followed by Nobusuke Kishi, Prime Minister of Japan.
First to come was Chinese Prime Minister Zhou En Lai. Followed by Indian Prime Minister, Jawaharlal Nehru, who visited in May 1957, accompanied by daughter Indira. The highlight of his visit was a trip to Anuradhapura where a large crowd was present to listen to his address. Nimal Karunatilleke translated Nehru's speech into Sinhala. Bandaranaike hosted official receptions at Temple Trees, for Nehru and Chou en Lai, when they visited.
Rajendra Prasad, President of India visited in June 1959. Bandaranaike went to meet him at airport, carrying an umbrella. Photograph shows SWRD and Sirima waiting to greet President Rajendra Prasad at the airport.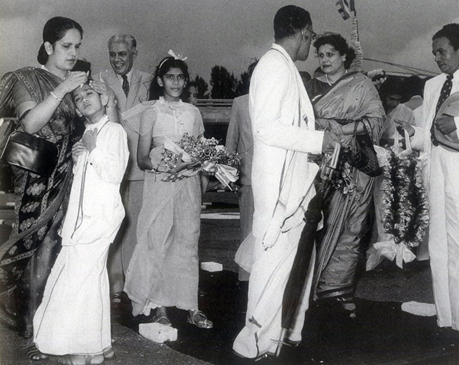 DS Senanayake thought India was going to invade Sri Lanka .He viewed India as an enemy. Bandaranaike knew better. Bandaranaike brought India and Sri Lanka closer, said Nissanka.
Bandaranaike insisted that relations with India had to be based on cordiality and that the issue of Indian labour must also be settled in a cordial manner. Sirimavo followed this policy in her relationship with Indira Gandhi. The Sirima Shastri pact" could be considered the culmination of the discussion started by Bandaranaike.
India helped a lot during the floods of December 1957. India sent planes, helicopters, boats, clothes, food, medicine and engineers from Indian army Rescue Unit. Indian air craft flew more than 150 sorties, and dropped over a total of 600,000 pounds of food and medical supplies.
SWRD developed a personal friendship with Nehru. That is not surprising. Both came from 'aristocratic' families and had been educated in Oxford and Cambridge, respectively. They would have felt comfortable with each other. Also they were in the same boat. Both were struggling to administer intractable, newly independent states. When Bandaranaike died, India ran its flag at half mast, and declared a day of national mourning. The messages of condolence when Bandaranaike died showed that the rest of Asia too, mourned his death, observed HSS Nissanka.
The previous UNP government had followed a strong anti-Communist and pro western foreign policy. UNP was considered to be a party which had sold Ceylon to America. D.S.Senanayake permitted US planes to fly over Sri Lanka airspace during the Korean War. Ceylon had signed two treaties, in 1951 and 1954, agreeing to broadcast Voice of America. Sri Lanka's statement at the Japan Peace conference at San Francisco in 1951 was to hit Russia, not to help Japan, said Bandu de Silva.
Kotelawala, the next Prime Minister, took a firm anti-Communist stand at Bandung in 1955. Kotelawala did not allow Soviet scientists to come to Ceylon to observe the eclipse of the sun in 1956, but permitted French planes to fly over Sri Lanka airspace to Vietnam. John Foster Dulles, US Secretary of State visited in early 1956.
Bandaranaike changed this. Bandaranaike established diplomatic relations with six communist bloc countries, while maintaining the cordial relation with the western bloc. The communist countries were China, Russia, Czechoslovakia, Rumania, Poland and Yugoslavia.
This brought benefits. In 1959, China, Poland and Yugoslavia, gave scholarships. It also brought assistance from USA through Fulbright grants. In 1963 or so, University of Peradeniya had 2 visiting professors from USA, Georg Lerski was one and also two Fulbright undergraduates.
The socialist ideology started to come in. Many writings from the Communist bloc were translated and circulated throughout Sri Lanka including rural areas. Books on socialism were available at low prices in bookshops.
There was also an influx of films from these communist countries. University of Peradeniya showed many well made communist bloc films. They came from at least three different communist countries. From Poland came the films of Andres Wajda.
Bandu de Silva said that this socialist policy was due to Philip Gunewardene, not SWRD. Bandu compared the MEP manifesto of 1956 with the SLFP manifesto of 1951. The MEP manifesto displays the uncompromising position of Philip Gunawardena more than the pacifist position of SWRD.
Bandaranaike was the first to open diplomatic relations with the Peoples' Republic of China and the Soviet Union. In August 1956 SWRD sent a delegation to visit China and Russia and report back on the feasibility of establishing diplomatic relations, said Wiswa Warnapala. Diplomatic relations were approved in September 1956. SWRD informed Britain and USA of his intention to open diplomatic relations with China and Russia, thus avoiding abrasiveness in implementing foreign policy decisions, observed Bandu de Silva.
There was a public debate on the ambassadors for these two countries. The choice was of critical importance. Competent individuals had to be selected. Wilmot Perera went to China. Since India was sending Sarvapalli Radhakrishnan to Moscow, SWRD also sent an academic, G.P. Malalasekera. Malalasekera had to cover Czechoslovakia, Yugoslavia, Poland, Austria and Rumania as well.
SWRD established diplomatic relations with China in 1957. Chou en Lai visited in February 1957 during his tour of Asian countries. He came with Vice Premier He Long. Chou had been invited to participate at the ninth celebrations of Sri Lanka's Independence. Chou en Lai toured the island. He offered flowers at Dalada Maligawa, climbed Sigiriya, visited a colonization scheme and met colonists.
Bandaranaike and Chou issued a joint statement. China gave a loan of 75 million rupees for a period of five years. Scholarships to study in China were offered. Bandaranaike was specially honored by Chou en Lai with the gift of a conference hall which later became the BMICH, said VLB Mendis.
Chinese culture arrived in Sri Lanka, notably Beijing Opera, followed by other Chinese dance and drama troupes. Chinese literature, including Mao's speeches started flowing into the country, said Nissanka. Sinhala writers translated Chinese revolutionary literature to Sinhala.
There were cultural exchange programmes. Ceylonese artists performed in China. In the early 1960s, there were beautiful Chinese paper cut outs, book marks and other such items, for sale in Chinese stalls at exhibitions. Reprints of Chinese paintings were also available. The scroll with a black flying horse was very popular. High quality books on Chinese culture were available at exhibitions in the 1970s too.
Bandaranaike established diplomatic relations with Russia In 1957. Wiswa Warnapala found, when he went to USSR as Counselor, in the 1970s that during Malalasekera's time, the ambassadors from India and Sri Lanka had had easy access to the top leadership of the Soviet Union, including Khrushchev, then General Secretary of the Communist Party. Malalasekera had given talks at Russian universities on Sri Lanka. Russian magazines had published articles on Sri Lanka, including some on native Sinhala medicine.
In Sri Lanka, Russia gave scholarships to Sri Lankan students, to study medicine and engineering at prestigious Russian universities. Sri Lanka exported tea, rubber, coconut oil and coir products to Russia. Tea was the major export item to Russia.
Sri Lanka signed 3 agreements with Russia in 1958. The most important agreement was the agreement on cooperation in economic and technical spheres. Through this agreement Sri Lanka was able to gain Russian assistance in many fields'. The projects including Oruwala Steel Mill, Modera Flour Mill, Kelaniya Tyre Factory, Samanala Weva hydro-energy project, Russian aid and technology. Sri Lanka also received heavy machinery such as tractors, tippers, cranes. Russia helped some housing projects, too.
This agreement referred to above listed 16 areas of assistance. They were Kelani Ganga flood control, Malwatu oya dam and irrigation canals, clearing of jungle land for sugar cane at Kantalai, clearing of land at Hambantota for cotton, mining of peat at Muthurajawela, pilot plant for extracting flour form manioc, setting up factory for motor car tyres and tubes, metal works centre, a flour milling plant with an annual capacity of up to 70,000 tons of wheat , construction of a grain elevator up to 20,000 capacity, plant for building materials and prefabricated units for house construction, cold storage plant for 200 tons of vegetable and fruits, assistance for utilizing by products of salt manufacture, development of fisheries and assistance for science laboratories in schools.
There was a flood of Russian literature into the country. There were low priced, well bound editions of the writings of Marx Engels, Lenin, also Tolstoy, Chekhov, Dostoevsky, and recalled Nissanka. A three volume version of Das Kapital was available at less than two US dollars. The Russian novel was studied in the Sinhala Departments of the University .Modern Sinhala works were translated into Russian, by Russian scholars who had learned Sinhala in a very short time.
The Sinhala intelligentsia became aware of Russia's role in science and technology. The public also saw plenty of Russian films, including the ubiquitous 'Cranes are flying'. Russian film festivals were held in Colombo and University of Peradeniya. I saw 'Ivan the Terrible' by Eisenstein at Peradeniya. The image of Russia as a land of cold winters, regimentation, purges and forced labor, began to fade, observed Nissanka.
The link with Russia had another benefit, later on. During the visit of Prime Minister Sirimavo Bandaranaike to Russia, in the 1970s, Sri Lanka asked Russia to provide a statue of SWRD. . Lev Kerbel was asked to do it, as he had done many such statues. Kerbel observed that most of the monuments in Sri Lanka were colonial. He wanted his to be different.
Kerbel said he wanted to portray SWRD as a people's leader. He worked on the premise that it was SWRD who had brought real freedom to people of Sri Lanka. The statue was to be the posture of dynamic personality striding forward anticipating numerous vistas of political and social change. That was the answer to the question, why such a big monument to such a small made individual.
In order to do the statue Kerbel studied Sri Lanka history, people and culture and also the political philosophy of SWRD. Kerbel had also spoken to the family, SLFP politicians and the Left. I had to visit him at every stage of the work to discuss certain aspects, recalled Wiswa.
The Arts council of Russia had to approve the clay statue while the political committee too examined it. Deputy Minister for Foreign affairs, Firubin, and Sudrikov, Head of Asia Department of foreign ministry wanted it to be a political contribution. Firubin had been to Sri Lanka and had met SWRD.
Bandaranaike's foreign policy had far reaching benefits. By linking with the Communist bloc, and also with several other countries in Europe and Asia, Bandaranaike had expanded the world view of the Sri Lanka public. They were now shown a more diverse view of the world. This was something new for Sri Lanka who till then only knew the views of it colonial rulers. It enabled Sri Lanka to get out of the orbit of Britain and the Commonwealth. Cultural links with other countries was encouraged. USA, China and Russia started to communicate directly with the people of Sri Lanka.
However, Bandaranaike's far reaching foreign policy was not given the recognition it deserved until H.S.S. Nissanka took up the subject for his postgraduate study in the 1970s. The work was published under the title, The Foreign Policy of Sri Lanka: Under S.W.R.D. Bandaranaike by H. S. S. Nissanka, Department of Government information, Sri Lanka, 1976.
Nissanka was one of the first, if not the first, to introduce S.W.R.D. Bandaranaike's foreign policy to the world through an academic contribution said Bandu de Silva. His book remained for a long time, a standard reference work among students of Sri Lankan foreign policy.
Marshall Singer of the University of Pittsburgh who supervised the thesis said, he found it to be an outstanding thesis which added considerably to our understating of Sri Lanka's foreign policy of the time. It should be made available to as wide a group of scholars as possible as a publication".
In 1956, when Bandaranaike became Prime Minister, there were only 14 Officers in the Foreign Service. The first recruits had been personally selected by D.S. Senanayake. There was no separate Ministry of Foreign affairs. The Foreign Service was an extension of the Defence Ministry.
Some officers lacked any knowledge of international affairs. One officer told Bandaranaike that Ceylon's foreign policy was same as Nehru's. The Foreign Relations Advisor, who was a top Civil Servant, had pretended he had not heard of the Suez invasion and Bandaranaike wanted him removed from the Ministry by noon.
Bandaranaike wanted a strong Foreign Servicewith experienced diplomats trained in the art of conducting foreign policy, which would support a dynamic foreign policy.He saw the importance of having career diplomats, who could rise up in the service as in other countries.
Bandaranaike removed the Civil Service hold on the Foreign Service. Bandaranaike gave orders to device a new scheme of recruitment. "I want a scheme to take in people with foreign experience." he said. Two batches were selected through a competitive interview, alone. We had two batches recruited during Bandaranaike's premiership who were entirely recruited on the basis of interviews said Jayantha Dhanapala.
Jayantha Dhanapala observed that Bandaranaike did this, because he realized that interview skills were vital for a potential diplomat. Bandaranaike met these two batches of recruits. That was the first time a Prime Minister had met new recruits, though that was a common practice in many other countries, recalled diplomat Bandu de Silva. (Continued)