PRESIDENT TELLS SLFP DELEGATES THAT A DECISION TO HOLD WHICH ELECTION FIRST WILL BE ANNOUNCED SOON
Posted on November 15th, 2009
By Walter Jayawardhana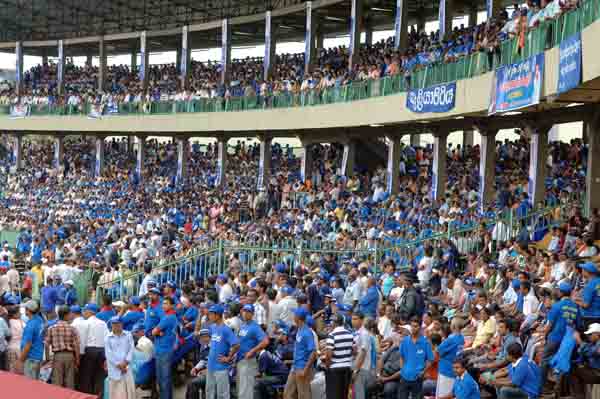 President Mahinda Rajapaksa addressing the national convention of the ruling Sri Lanka Freedom Party (SLFP) said a decision to hold a Presidential election or a parliamentary election before the other will be announced very soon.
He said whatever comes first that comes at a time the LTTE had been wiped out from the political map of Sri Lanka.
He said there were political parties who had prepared their election manifestoes to suit the LTTE through fear when they were a power to reckon with and today they must thank the government for eradicating that fear.
Continuing to address around 100,000 delegates who converged on the R. Premadasa stadium the President said he was proud to lead a party formed by such leaders as the Late SWRD Bandaranaike and DA Rajapaksa that has now done justice to its name by defeating terror. He reminded the delegates it had fulfilled 99 percent of the election promises.
The President said the main opposition party which had such great leaders like the late DS Senanayaka is going around the country looking for a suitable candidate for the Presidential election.
The President said the government would surprise the world with a swift march towards the development . He said the oil wells will bear results in 2010 producing oil for our own consumption.
He noted that today the SLFP had come a long way from its humble beginnings and was a strong party that could face all challenges.
President Rajapaksa also added that the SLFP was a party which thought of today's children and those to be born. "Our party has created a free nation for generations to live without fear", he stressed.