UN representative Sir John Holmes pays a courtesy call to President Rajapaksa
Posted on November 21st, 2009
By Janaka Alahapperuma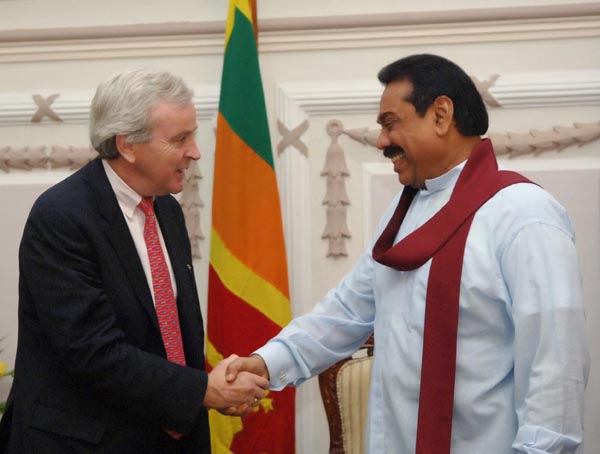 (Pix by: Chandana Perera)
UN Under-Secretary General for Humanitarian Affairs and Emergency Relief Coordinator Sir John Holmes paid a courtesy call to President Mahinda Rajapaksa at Temple Trees this afternoon on 19th November.
 Sir Holmes visited Sri Lanka on a three day facts finding mission in connection with the resettlement of the displaced people who have been staying in the welfare camps. He visited the Settikulam welfare village and toured the areas where badly affected by decades of brutal terrorism. Sir Holmes who observed the entire welfare village inquired about the facilities provided by the Sri Lankan Government to the IDPs who have taken shelter there.
Holmes also monitored the resettlement of the displaced in their own villages and amazed over the facilities provided to such a large number. He was grateful to the Sri Lankan Government for giving the civilians in the Welfare Camps and those who had been resettled, an opportunity to lead happy and peaceful lives.
Mr Holmes last visited Sri Lanka in May after eradicating Tamil Tiger terrorism. He has visited Sri Lanka in February and April during the final phase of the humanitarian mission carried out by valiant Sri Lankan Forces to rescue thousands of innocent lives those who were kept as a human shield by terrorists.