The Travels of a Journalist—51 A FAMILY VISIT TO MOUNT ST HELENS— PELE REFUSES TO GIVE HER CONSENT
Posted on January 7th, 2011
By Shelton A. Gunaratne © 2011 Professor of mass communications emeritus, Minnesota State University Moorhead
I am a shameless volcano buff. That's why I spent an entire day in the Volcano National Park on the Big Island late January 1984 despite the fury that Pele, the goddess of fire, unleashed on me  (see Travels-41b). I tried to be chummy with Pele again on a Saturday in late July 1989 during my stint with the (Longview, Wash.) Daily News from 10 July""'25 Aug.
Longview (pop. 34,660) with its twin city of Kelso (pop. 11,895), located on the north-south Interstate 5, was comparable in population size to Moorhead, Minn. (pop. 32,177) with its twin city of Fargo, ND (pop. 95,556), located on east-west Inerstae-94. However, my research revealed that the crime rate in Longview was almost double that of Moorhead because of several interconnected reasons. A major reason was that many more criminals traversed the I-5 than the I-94. An interconnected reason was the year-through warmer weather conditions in the Pacific Northwest in contrast to the cold winters in the Midwest.
Despite the adverse crime situation in Longview, I brought my entire family""'Carmel, 5; Junius, 9; and spouse Yoke-Sim""'with me to Longview for the six-week stint. In addition, my mother, then 76, and my elder sister "Rani" kept us company for most of our stay. All six of us joined forces on most of my exploratory forays in Washington State.
One memorable adventure was our foray into the 45,000-hectare Mount St. Helens National Volcanic Monument (MSHNVM) established in 1982 in the aftermath of the 1980 eruption of Mount St Helens volcano in Skamania County.

Picture 1:A 360° panorama from the summit of Mount St. Helens (11 Oct. 2009). The ice-covered crater rim is in the foreground.
(Photo by Gregg M. Erickson. Source: Wikimedia Commons.)
 The volcano (Picture 1) is located in the Cascade Range and is part of the Cascade Volcanic Arc, a segment of the Pacific Ring of Fire that includes more than 160 active volcanoes. The Cascade Volcanic Arc includes nearly 20 major volcanoes, among a total of more than 4,000 separate volcanic vents. 
In 1980, on the morning of 18 May, a 5.1 magnitude (Richter sale) earthquake triggered a massive landslide on the north face of Mount St. Helens, a stratovolcano""'meaning, a tall conical composite volcano built up by many layers of hardened lava, tephra, pumice, and volcanic ash. The North Slope avalanche of rock debris spread over and destroyed an area extending to some 15 miles (25 km) from the volcano's summit (elevation = 8,365 ft; prominence = 4,605 ft). It killed 57 people and destroyed 250 homes, 47 bridges, 15 miles of railways, and 185 miles of highway. Wikipedia says it was "the deadliest and most economically destructive volcanic event in the history of the United States."
Nine years later, we decided to see for ourselves the devastation the volcano inflicted on the surrounding area. So, on Saturday 29 July, all of us got into my Toyota Camry wagon and set forth on our 246-mile tour of the MSHNVM (see Figure 1).
Figure 1: Roundtrip Route from Longview-Kelso (A/K) to Mount St Helens National Volcanic Monument (G). (246 miles)
A=Longview, WA; B=Castle Rock, WA; C=Silver Lake, WA (Mount St Helens Visitor Center on SR 504); D=Kid Valley, WA; E=Mossyrock, WA; F=Randle, WA; G=Mount St Helens National Volcanic Monument. H=Bear Meadow, WA; I=Ape Cave, WA; J=Cougar, WA; K=Kelso, WA.
 From Longview, we headed 13 miles north to Castle Rock, WA (pop. 2,130), the gateway to Mount St Helens. There, we turned east on SR 504, which the state government named Spirit Lake Memorial Highway in 1982 in honor of Spirit Lake and the 57 people killed by the eruption. Normally, SR 504 is a 52-mile stretch of secondary highway connecting Castle Rock with the MSHNVM and Spirit Lake recreation areas. Castle Rock derives its name after a 190 ft high volcanic rock formation resembling a castle.
But on the day we traveled, we could drive only 19 miles up to Kid Valley on SR 504 because the rest of the highway, some 33 miles, was closed for reconstruction following the destruction the massive avalanche caused. Thus, we missed visits to the Coldwater Ridge Visitor Center (opened in 1993 but permanently closed in August 2010) and the Johnston Ridge Observatory, which were also under restoration at the terminus of SR 504. Literature attests that a half-mile trail from the observatory provides views of the lava dome, crater, pumice plain, and landslide deposits. We also missed the Forest Learning Center located inside the blast zone of Mount St. Helens on SR 504.
For the time being, we were satisfied with the view of the visible volcanic destruction that Kid Valley offered. We had to retrace our way and take the longer northerly route via SR 505 (north) and U.S. 12 (east) to reach the national volcanic monument.
However, our first stopover about five miles east of Castle Rock on SR 504, the Mount St. Helens Visitor Center (opened in 1987), amply prepared us to visualize the degree of destruction. Built in the Cascade style architectural mode, the center's large glass windows and sweeping, upward lines exposed the visitors to panoramic views of the Cascade Range. In addition to the various exhibits on display at the center, we saw a movie and a slide show on the 1980 volcano eruption. More than 300,000 people visit the center every year.
 (In 2000, the 192-hectare Seaquest State Park absorbed the visitor center, which lies across the road from the park entrance. The park offers more than a mile of Silver Lake shoreline, as well as six miles of woodland trails, for hiking and bicycling.)
Nine years after our tour, former pastor Lloyd Anderson and his spouse Doris set up another museum in Silver Lake (4749 Spirit Lake Highway) called The Seven Wonders Museum of Mount St. Helens. The Andersons claim that it offers creation evidence to support the Bible as "without error in the original writing."
From Kid Valley, we drove 40 miles northeast to Mossyrock, WA (pop. 486), a logging town in Lewis County. On the way to Mossyrock, we stopped at St. Francis Mission in Toledo; Lewis & Clark State Park; and the adjoining Jackson Court House State Park in Chehalis (all on SR 505). After turning east on U.S. 12, we tarried at three more recreational areas""'Mayfield Lake Park, Ike Kinswa State Park and the Hopkins Hill Viewpoint. Located about five miles off Mossyrock, the crest of Hopkins Hill offered all of us a chance to see the ferocious volcano 25 miles to the south.
From Mossyrock, we drove another 30 miles east to Randle, WA (pop. 2,813), the northern entry point to MSHNVM, a part of the Gifford Pinchot National Forest established in 1908.
It was 3 p.m. when we reached the Quartz Creek Big Tree interpretive site, 10 miles southwest of Randle, on Forest Road 25. (Within the boundaries of the national forest, only forest roads exist for travel.) We ate a late lunch relaxing in the shade of the giant Douglas fir trees, some 10 feet across (diameter at breast height) and up to 750 years old. Walking through this cool, dark forest, we found it difficult to believe Quartz Creek is just one mile from the devastated forest in the volcanic blast area.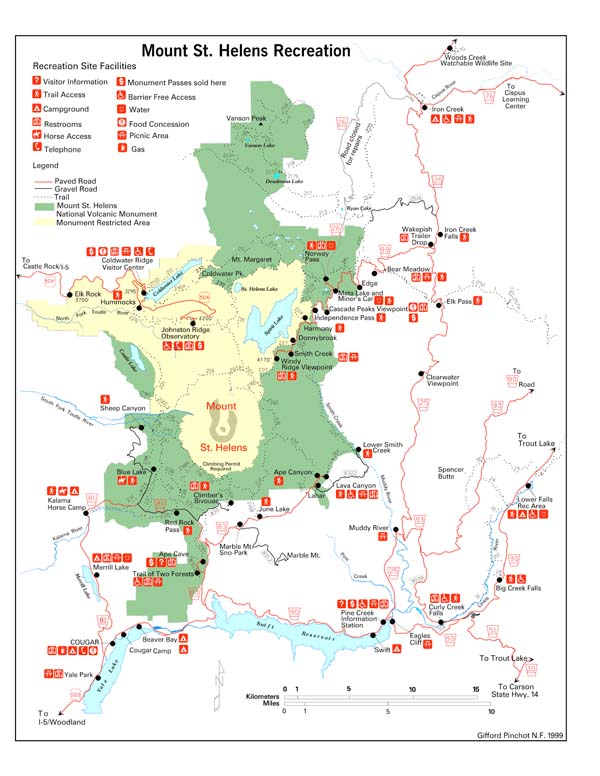 I had hopes of a friendly welcome by Pele now that we were once again so close to the crater of a volcano.  We decided to hike the 2.25-mile trail to Norway Pass on the north side of Spirit Lake. Forest Road 99 connected the points of interest studded along the eastern shore of Spirit Lake, e.g., Meta Lake, Cascade Peaks Viewpoint, Independence Pass, Harmony, Donnybrook, Smith Creek and Windy Ridge. The volcano lay further to the southwest of Windy Ridge.
My mother was too frail to do the arduous hiking. The rest of us""'Carmel, Junius, Yoke-Sim, Rani and I""'let my mother mind the car and took off on the hike to Norway Pass, where we were able to explore Spirit Lake at close range. However, we could not see the crater because of the thick cover of "floating ash" surrounding it. Obviously, Pele was unwilling to welcome me on this occasion either.
So the question of climbing Mount St. Helen to see its crater did not arise. It took us two hours to complete our hike and return to the car park. However, Rani, who was unaccustomed to outdoor recreation, let us know about her unhappiness for putting her through this miserable experience!
We left the Quartz Creek interpretive site about 5 p.m. Then, we drove south on FR 25, and turned west into FR 99 at Bear Meadow to drive past Meta Lake and Independence Pass, all the way to Windy Ridge, where we arrived about 6.45 p.m.  Now, we were just five miles from the volcano; yet, the "floating ash" continued to hide the crater from our prying eyes. Because FR 99 terminated at Windy Ridge, we had to backtrack to Bear Meadow to join FR 25 and drive further south until it joined FR 90 West.
Before leaving the MSHNM, Carmel, Junius and I wanted to visit the Ape Cave on the south side of the volcano. Driving west on FR 90, we reached Ape Cave (off to the north on FR 83) about 9 p.m. We explored the cave, a lava tube, with help of torchlight after eating a late dinner on the roadside. In terms of passageway length, it is the longest continuous lava tube in the continental United States, at 13,042 ft (3,975 m).
We said goodbye to Pele and the MSHNVM as we left the monument on SR 503 via Cougar, WA (pop. 122).
We had to drive another 50 miles to reach Longview. Both Rani and my mother were relieved that the "ordeal" was over when we reached home.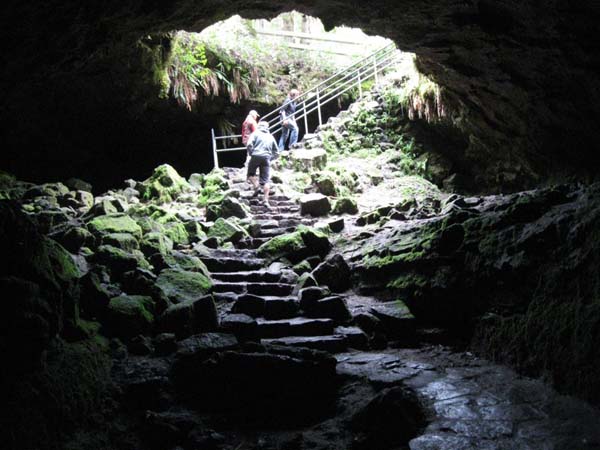 PICTURE 2: We visited the Ape Cave on the south side of Mount St Helens just before leaving MSHNVM. (Source: Wikimedia Commons. Photo by Iwona Erskine-Kellie, 2009)