Rangabhisheka – Kala Eli Mangalyaya-First Time Ever In New Zealand & Outside Sri Lanka
Posted on February 11th, 2012
Dr. Chula Rajapakse MNZM, Wellington NZ 11.2..12
Over three hundred Sri Lankans in Wellington New Zealand and their Kiwi friends , were treated to a scintillating display of a wide array Sri Lankan dancing, for over three hours, on Saturday the 4th of February at the Memorial Theatre in the Victoria University  Wellington .  This Rangabhisheka  show was a celebration of excellence achieved by four graduating students of the  Sri Lankan Dance Academy of Wellington New Zealand, Ruwangi De Silva, Nirosha Gunawardana, Thilini Nanayakkara & Yasassvie Sunderapperuma. The show ,followed a consecration or crowning of the four dances with the femininely modified Kandyan  Vess outfit that included a religious ceremony at the Buddhist temple in Tawa  , Wellington , administered by resident monk Bhante Jinalankara.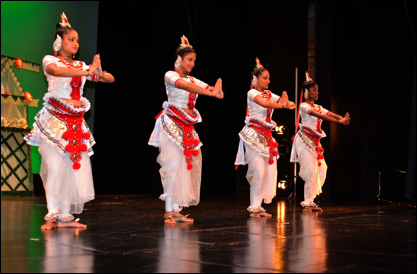 The months of intensive training leading to this graduation was spear headed by famed dancing Guru from Sri Lanka Mohan Sudusinghe, specially brought in  by the Dance Academy to build on the years of training already received under the Director of the Academy , Dayani Gonsalkorale. The exquisite timing and   coordination, the graceful and complex movements involving the whole body, keeping time with the drumbeats of Guru Mohan  and the exquisite costumes, were both a treat to watch and testimony to the untiring efforts of pupils , teachers, parents and wide array of helpers.
Performances by other senior , intermediate  &  junior students  added to the variety and color of the evening.
The presentations of the evening drew praise from Mr. Ian McKinnon, Deputy Mayor of Wellington , the chief  guest for the evening. Mr McKinnon  who was well aquainted with the academy through much of it's history of over  two decades, acknowledged the significant contribution made by the academy to the cultural diversity and richness of Wellington. The ability to make regular  & quality presentations  of Sri Lankan dance through out this two   decade history, thousands of miles away from Sri Lanka is both unique and testimony to  the dedication and enthusiasm of all involved with the academy.