UK Buddhists protest against arson attacks on Buddhist temples and villagers in Bangladesh
Posted on October 6th, 2012
British Sri Lankan Forum
There were many brutal arson attacks on innocent & peaceful Buddhist villages, religious buildings and ancient Buddhist monasteries on 29th October 2012 in Chittagong, Bangladesh. These shocking atrocities are one of many that have been carried out against innocent and peaceful Buddhists and other minorities in recent past.
Bangladesh Buddhist Association- UK and British Sri Lankan Forum strongly condemn these inhuman attacks carried out in the name of a religion. We all, with one voice, would like to request the British Government and all other EU countries to put immediate and appropriate pressure on the Bangladeshi government to prevent future attacks & arrest the culprits.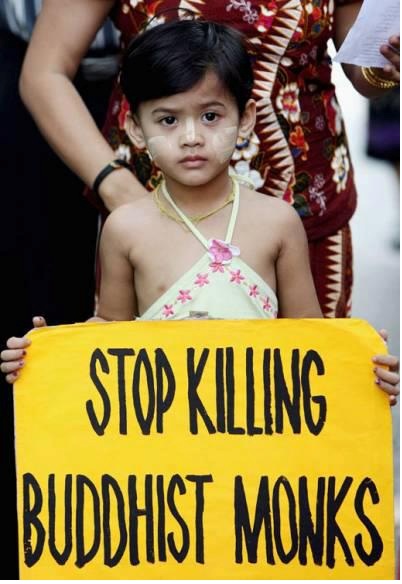 Place: In front of British Parliament, London SW1A 2TT
(Nearest tube: Westminster- Jubilee, District & Circle Lines)

Date: 11 October 2012 (Thursday) 2.00- 4.00PM

We also request the Bangladesh Government to take the following actions immediately:
1.     Conduct a neutral and thorough investigation of the incident and put those responsible on trial
2.     Provide full compensation for the physical, mental and property damage of the villagers as a result of the brutal arson attack, including rebuilding houses and Buddhist monasteries
3.    Ensure guaranteed protection against future attacks on Buddhists and other minorities in the country
4.    Provide a transparent and public account of the persons or groups that were the master minds behind this atrocity
5.    Promote religious tolerance in Bangladeshi society and include strategies for developing mutual respect in the country's education system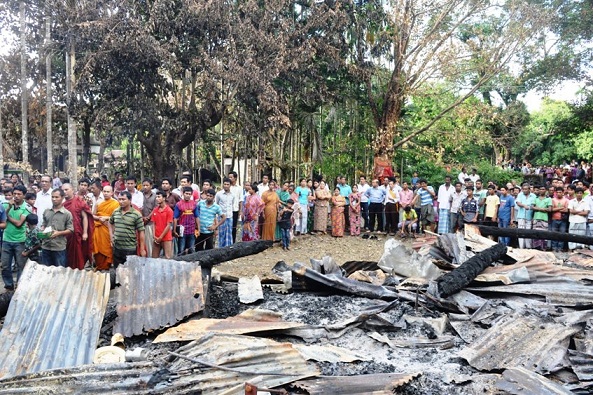 Respect other religions & faiths. This world is for all of us!
All Peace loving people are welcome!
Bangladesh Buddhist Association- UK & British Sri Lankan Forum
Dear Venerable Bhantes, Sayadaws and Devotees of the temples
We are writing you on behalf of Bangladesh Buddhist Associations- UK  & British Sri Lankan Forum. As you may have heard about the recent brutal arson attacks on Buddhist temples, Buddhist villages and Hindu temples across Chittagong, we are holding a demonstration at the Parliament Square, London to show our solidarity with the victims. The attacks were too much to bear for the minorities and Buddhist followers around the world.  If we do not have sympathy on Buddhist minorities in Bangladesh, the minorities' religions (Buddhism or Hinduism) will soon be over from the ancient Buddhist lands. History tells us that the faiths of peaceful religion i.e. Buddhism had been destroyed by invaders and killed them if not converted into their religions. The evidence suggests the same history is repeating again and will continue till our existence and our Buddhist faiths come to an end in the world. The peaceful existence of Buddhists and other religious minorities in Bangladesh are an example and now being under serious threat as the radicalized and extremist Muslim groups are systematically working to eradicate them from the country or disturbed their peaceful livelihood.
Buddhists in Bangladesh never do against Muslim livelihood or their beliefs but we don't know why they are so aggressive to us or to other religions. Buddhists in Bangladesh are lesser than one percent and they live in fear and trauma.  How can we see their suffering simply because they are not Muslim? Why do they attacks on minorities by the name of religion?
Why should you not sacrifice a few hours or a day for the victims out of your compassion by joining us in the protest against such brutal attacks on innocent Buddhists and other minorities? Buddhism and other minority religions may not survive without your help and cooperation although Buddhists live in this country since the birth of Buddhist religion.
We will be very much appreciated and grateful for your presence for this good cause!!!
Demonstration Date: 11th October 2012 (Thursday) at 2.00 to 4.00pm
   ( After the demo down to 10th Downing Street & Foreign Office to hand over the petition)
Place: Parliament Square, London SW1A 2TT
(Nearest Tube: Westminster- Jubilee, Circle & District lines)
Buddhists Want Peaceful Existence!!
Yours Sincerely,
On behalf of Bangladesh Buddhist Association- UK & British Sri Lankan Forum

Venerable Nagasena Bhante- 07951382407
Janaka Alahapperuma- 07885973128
Sujan Barua- 07921040893
Paban Barua- 07908207915

Emails: [email protected]; [email protected],
If you need any more information please do contact one of these numbers above!
http://www.narinjara.com/main/index.php/buddhist-temples-homes-burned-looted-in-ramu/
http://www.thedailystar.net/newDesign/news-details.php?nid=252147
http://www.bdnews24.com/details.php?id=233691&cid=2
http://www.weeklyblitz.net/2617/isi-behind-attack-on-buddhist-temples-in
Sri Lanka's Buddhist Monks Protest Bangladesh Violence
Courtesy: VOA
Hundreds of Buddhist monks demonstrated in Sri Lanka Thursday to protest a recent wave of violence targeting their religious community in Bangladesh.
Reverend Galagodawatte Ghanasara told the crowd in Colombo that Buddhists are hiding in jungles in fear of their lives after rampaging Muslims reportedly torched more than 20 temples and over 100 businesses in southern Bangladesh near the Burmese border. He said innocent people have been massacred.
Meanwhile, Bangladesh's high commissioner to Sri Lanka, Shafiur Rahman, tells VOA that some 800 people peacefully protested in front of the Bangladesh Embassy and had discussions with the staff.
A day earlier, the Associated Press reported that representatives of Sri Lanka's minority Muslim community also condemned the violence and demanded that authorities punish those responsible. The human rights group Amnesty International also released a statement urging Bangladeshi authorities to protect minority populations.
Thousands of Bangladeshi Muslims rioted Saturday and Sunday, targeting Buddhist temples in Cox Bazar and surrounding areas. The attacks began after Muslims found a photo of a burned Quran and blamed it on a Buddhist man.
Bangladeshi Home Affairs Minister Mohiuddun Khan Alamgir has accused radical Islamists and opposition party activists of instigating the riots as a "premeditated and deliberate" attempt to disrupt communal harmony.
Bangladeshi authorities say they have detained about 300 people in connection with the riots
The Earth is for everyone: Buddhist tells Muslims
Holding signs with slogans including "The Earth Is for Everyone, Not Only for Muslims" and "Stop Insulting Buddhism", the robed monks staged a short protest outside the Bangladesh embassy in the former capital.
The rally ended when police asked the monks to disperse.
Sectarian tensions have been running high along the country's joint border since June when deadly clashes erupted between Buddhists and Muslim Rohingya in Myanmar's western Rakhine state.
Myanmar's government and many Burmese view Myanmar's stateless Rohingya population as illegal immigrants from Bangladesh.
Bangladesh police said Tuesday they had arrested nearly 300 people in connection with a wave of violence in the southeast of the country where Buddhist temples and homes were damaged and set on fire
The following photographs were taken in Thailand where Muslims attacked and killed Buddhist Monks