Top Ambassadors witnessing Mannar IDP plight first-hand-Seven visiting Ambassadors and a 1st Secy sympathise on the sad state
Posted on April 1st, 2013
PRESS COMMUNIQUE ""…" MINISTRY OF INDUSTRY & COMMERCE, SRI LANKA
A delegation consisting of seven top Ambassadors to Sri Lanka -and a First Secretary- witnessed the plight of Muslim IDP settlements in the Mannar region when they toured the region on 30 March.
The delegation, led by HE Abdulaziz Bin Abdurrahman Al-Jammaz (UAE Ambassador to Sri Lanka), consisted of several diplomats. They were the Ambassadors to Sri Lanka from Iraq (HE Kahtan Taha Khalaf), Iran (HE Dr. Mohammad Nabi Hassani), Palestine (HE Anwar al-Agha), Pakistan (High Commissioner Maj Gen (R) HE Qasim Qureshi), Turkey (HE ƒÆ'-¾°skender K. Okyay), Malaysia (HE Mr. Azmi Zainuddin, High Commissioner), and Indonesia (represented by the First Secretary Mr Albert Abdi). The y12 aircraft carrying the delegation landed on Mannar's Thallady Camp Air Strip at 8.25am on 30 March and was promptly escorted to be welcomed by Rishad Bathiudeen, Minister of Industry and Commerce in Mannar.
Under the guidance of Minister Bathiudeen, the delegation visited Muslim IDP resettlements in Talaimannar Pier area, the Museli division, and the Marichikatti divisions. "They witnessed the plight of these helpless IDPs first-hand and lent a sympathetic ear to their issues. I thank the UAE Ambassador to Sri Lanka HE Abdurrahman Al-Jammaz for his leadership in this delegation" said Minister Bathiudeen addressing the media when the tour concluded at 7.00 pm on 30 March.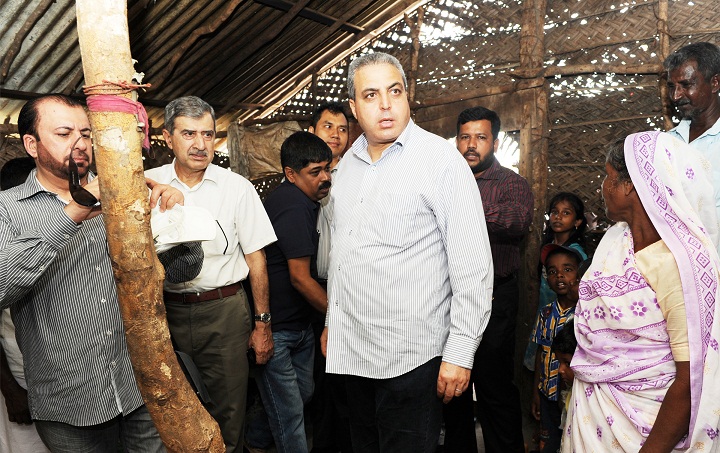 Minister Bathiudeen, addressing the delegation in his pre-tour briefing, said: "According to para 5.137 of LLRC Report, 75000 families were expelled from the Northern Province by the LTTE in a systematic and organized manner during a two week period in 1990. They were mainly living in Puttalam and other districts such as Anuradhapura, Kurunegala, and Colombo etc. According to the Report, around 14,000 Muslim families have returned to Mannar in 2011, and 2,455 to Mullaithivu district. Due to landlessness, the original land becoming jungles, non-availability of infrastructure facilities and lack of assistance from the donor communities they couldn't resettle themselves fully in their places of origin.  The displaced during the height of war and later were accommodated at Menik Farm -the new IDPs- were all resettled. However, the protracted IDPs expelled in 1990s are yet to be resettled. Also, The process in this regard is taking place as per the government promise."