Sri Lanka president arrives for Commonwealth summi
Posted on May 11th, 2013
President  Mahinda Rajapaksa of Sri Lanka has jetted into Uganda today to participate in the Commonwealth Local Government conference.

Mahinda  was received at Entebbe international Airport by Foreign Affairs minister (International cooperation) Henry Okello Oryem and Uganda's high commissioner to Sri-Lanka, Nimisha J. Madhvani at about 1:00 pm.

Vellupillai Kanathan, consul general for Sri Lanka in Uganda, said the head of state would spend four days here. "He will be a key note speaker at the conference.  The next commonwealth will be hosted by Sri Lanka this year and so he will be its next chair," Kanathan said.

He said there were a number of Sri Lanka investors in Uganda and more have showed interest in coming.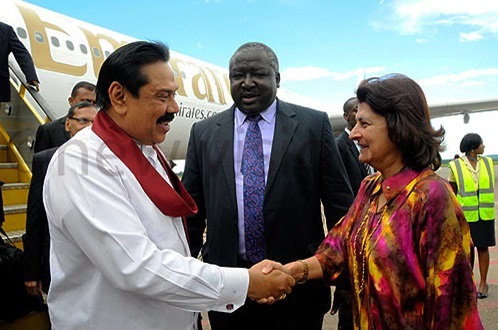 Last November Museveni visited Sri Lanka at the invitation of his counterpart. During the visit Sri Lanka agreed to refurbish Masulita Vocational Training Center in Kakiri.

During his visit, Rajapaksa will visit Lugazi sugar corporation to promote cooperation in sugar production. Sri Lanka is a leading sugar producer.

Sri Lanka has per capita income US$2,877 compared to that of Uganda of US$500. The main economic sectors of the country are tourism, tea, clothing, rice production and other agricultural products.

In addition to these economic sectors, overseas employment contributes highly in foreign exchange.

Sri Lanka is an island in the northern Indian Ocean off the southern coast of the Indian sub-continent in South Asia. Known until 1972 as Ceylon, Sri Lanka shares maritime borders with India to the northwest and the Maldives to the southwest.

Sri Lanka has been called 'The tear drop of India' because of its shape and location and is known as 'The Pearl of the Indian Ocean' because of its natural beauty. It is also known as 'The nation of smiling people.'

The island contains tropical forests, and diverse landscapes with high biodiversity.