News report stating that MP Rathika Sitsabaesan is under house arrest in Sri Lanka
Posted on January 2nd, 2014
Mahinda Gunasekera  Agincourt, Ontario, Canada
The Editor
Toronto Star
 Dear Editor,
News report stating that MP Rathika Sitsabaesan is under house arrest in Sri Lanka
I refer to the news report carried on page A2 of today's edition stating that Ms. Rathika Sitsabaesan, MP for Scarborough-Rouge River is being held under house arrest in Sri Lanka.  Your report cites one Thasan Ganeshalingam who is said to be the President of the NDP's Riding Association as the source for the story based on his not having received a response to a text message sent by him to the MP who is currently visiting Sri Lanka.  Contrary to your report, I understand that the MP concerned is freely moving about in the Jaffna peninsula meeting with members of the Tamil National Alliance which is the proxy party of the Tamil Tigers, who subscribed to the position that the proscribed Liberation Tigers of Tamil Eelam (LTTE) was the sole representative of the Tamils of Sri Lanka.  It is regrettable that such publicity is given to unverified news reports in your columns.
It is also shocking to find that Canada's Minister of Foreign Affairs rushes to act on an unverified news report, merely to vituperate Sri Lanka based on his misguided views aimed at wooing the votes of Tamils in the GTA who funded the 30 year terrorist violence of the Tamil Tigers in Sri Lanka from Canada.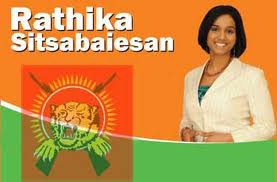 .  Picture of MP Rathika Sitsabaesan with the Tamil Tiger flag is enclosed. MG
Ms. Rathika Sitsabarsan, MP, has travelled to Sri Lanka as a tourist when she is an elected representative who is required under normal protocol to notify Sri Lanka's High Commission in Canada about her need to visit the country.  She apparently decided to conceal her visit from the Sri Lankan authorities but same came to light when the local media caught up with her meddlesome activities.  Furthermore, her association with the banned terrorist group as displayed in her facebook boldly standing beside the Tamil Tiger flag and hostile actions both in and outside the House of Commons would naturally cause the host country to take note of her secretive visit to that country.
Yours sincerely,
Mahinda Gunasekera