Re: Article titled 'Diplomats fear Australia will wreck UN probe into Sri Lankan war crimes
Posted on March 3rd, 2014
Mahinda Gunasekera Tambrook Drive Agincourt, Ontario, Canada
February 6, 2014
 By E-mail
Mr. Scott Reid, MP
Member for Lanark- Frontenac-Lennox  and Addington
Chair of the Sub-Committee on  International Human Rights
Of the Standing Committee on Foreign Affairs and Int'l Dev.
House of Commons
Ottawa
Dear Mr. Scott Reid,
Resumed Hearings on the Human Rights situation in Sri Lanka : Nov 7 to Dec 10,2013
Further to my earlier communications, I have pleasure in forwarding an article published in the Colombo Telegraph on February 14, 2014, written under the pen name of 'Mango', which gives a detailed analysis of the various guesstimates and  official counts of war related deaths said to have occurred during the period from January 1 to May 18, 2009 in the military action taken by Sri Lanka against the Tamil Tiger terrorists.  In the analysis undertaken by the writer, he has done a comparison of the numbers deemed killed (KIA) and others wounded in action (WIA), to show the validity or absurdity of some of the figures claimed by various rights groups, UNSG's Panel, Gordon Weiss, Frances Harrison, Channel 4, and the Government of Sri Lanka's census outcome of 2012.
In this regard, I have pointed out in my response to Frances Harrison's presentation submitted on February 6, 2014, that the count taken by the UN Resident Representative's office in Colombo in the amount of 7,721 deaths, the Sri Lanka census count of 7,432 and that announced by the Tamil Tiger's propaganda arm called the Tamilnet of 7,398 vary by a few hundred from each other.  None of these three have distinguished between combatant and civilian deaths leaving one to conclude that these numbers include combatants killed in action as well.  Nearly every report including that of the UNSG's POE said that the Tamil Tigers blurred the ranks of combatants and civilians as many combatants did battle in civilian attire which is even confirmed by some
of the enclosed photos captured from the LTTE.  The number of 40,000 and more civilian deaths has no basis whatsoever to support this guesstimate which puts the UNSG's POE report into serious doubt, Gordon Weiss' padding of the numbers to sell his book titled 'The Cage' to the million strong Tamil diaspora, and Frances Harrison's hallucinations where she is "still Counting The Dead' into the realm of malicious distortion.
The document sent in attachment is one authored by Padraig Colman and Prof. Michael Roberts of Adelaide, Australia on the subject :
http://thuppahi.wordpress.com/2013/12/27/the-fog-of-war-envelopes-the-last-phase-of-eelam-war-iv/ 
They have mentioned that most the western journalists covering the armed conflict in Sri Lanka were partial to the Tamil Tigers and failed to report what was taking place and instead were being led by Tiger propaganda and putting their spin on the stories.  Well known AP reporter Ravi Nessman had claimed that it was a 'War without Winesses',  whereas he is himself seen being taken to the battlefront as confirmed by the pictures carried in the article.  Jeremy Page of the UK Times had reported that 1,400 of the rescued Tamil IDPs were dying each week in the transit camps in Vavunia where they were being taken care of pending demining over 6,200 sq. km. (approx. 1/10 of the island's total land area) which had been contaminated with landmines and IEDs planted by the LTTE and putting in place necessary infrastructure prior to their being resettled.  This was a fabrication by Page to demonize Sri Lanka and mislead his readers.  They have commented on the UNSG's POE report, Channel 4 coverage and many more, and described the work of the western media as 'Churnalism'.
Please read and get an idea of the harm done to Sri Lanka's image by the western media who obviously came with preconceived notions fed to them by the well funded Tamil Tiger propaganda wing, which Sri Lanka is finding great difficulty in correcting as little or no coverage is given to Sri Lanka's story and views.

Yours sincerely,
Mashinda Gunasekera
Encl.  (1) Article annexed: Sri Lanka's War In Its Last Phase: Where WIA Figures Defeat The Gross KIA Estimates
(2) Article sent in attachment : The "fog of war" envelopes the last phase of Eelam War IV
https://www.colombotelegraph.com/index.php/sri-lankas-war-in-its-last-phase-where-wia-figures-defeat-the-gross-kia-estimates/
Sri Lanka's War In Its Last Phase: Where WIA Figures Defeat The Gross KIA Estimates
February 14, 2014 | Filed under: Colombo Telegraph,Opinion | Posted by: COLOMBO_TELEGRAPH
By Mango –
Millions of words have now been written about the numbers of Tamil civilians killed during Sri Lanka's victory over the Tamil Tigers in May 2009; probably more words than the millions of bullets fired during the war. But something didn't ring true.
Missing from this civilian casualty toll inflation is any mention of an immutable fact of warfare: the ratio of dead to wounded. This was first analysed in a ground-breaking study in the British Medical Journal (BMJ) in 1999, which examined casualty ratios in wars from 1940 to 1988. The study showed that the "number of people wounded is at least twice the number killed and may be 13 times as high" depending on the conflict type, weapons used and other factors.
Applying this ratio to Sri Lanka's civilian casualty numbers during the last stages of Eelam War 4 shows a truly appalling misuse of civilian casualty numbers by international humanitarians, whose jaundiced view on Sri Lanka's victory has led them to disregard basic mathematics, statistics, facts and logic.
Counting the Dead and Ignoring the Wounded
The number of wounded vary from 18,479 to 440,037. Odd.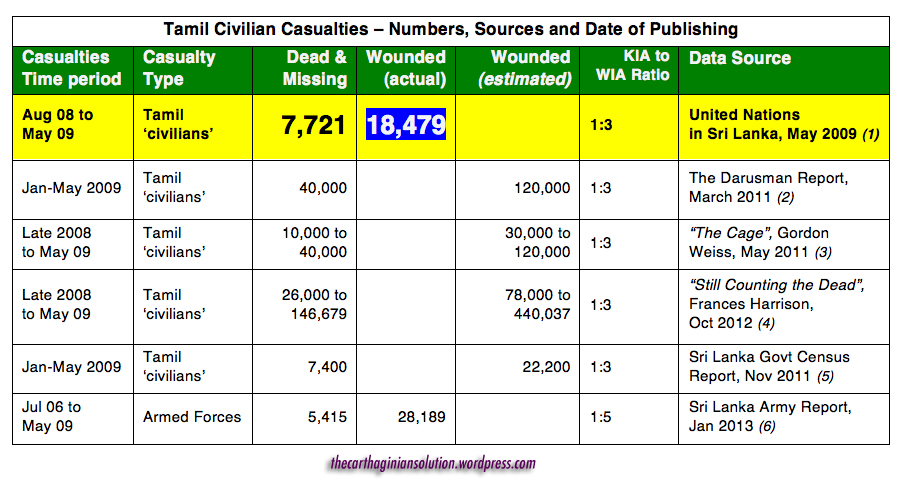 Casualty Chart, KIA to WIA including Sri Lanka Army's own casualty data © The Carthaginian Solution 2013
Spot the Glaring Error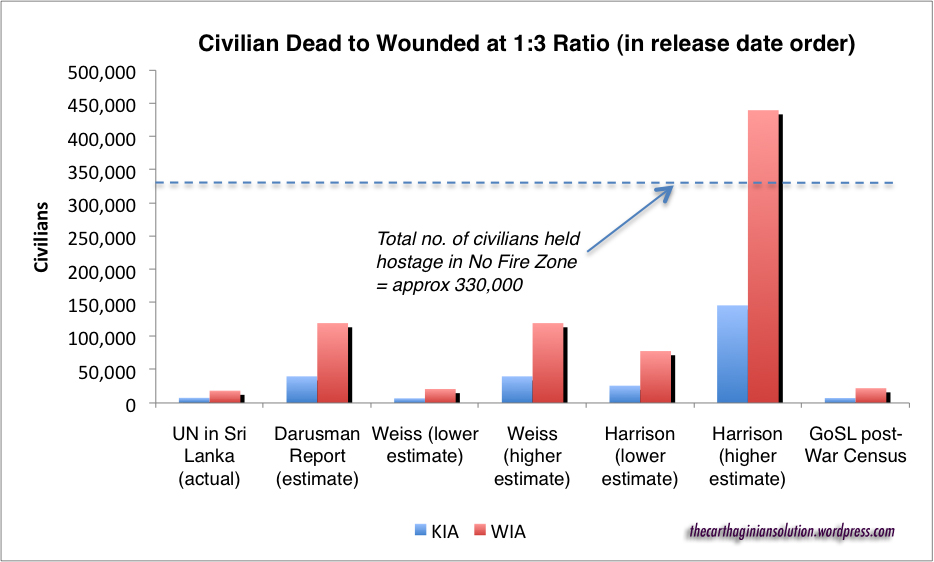 KIA to WIA at 1:3 ratio with data shown by release date order, from 2009 to 2013. © The Carthaginian Solution 2013
The United Nations in Sri Lanka's Casualty Numbers
In 2009, the UN's "Crisis Operations Group" in Sri Lanka first established the numbers of Tamil civilian casualties with any degree of authority and confidence. They estimated 7,721 killed and 18,479 wounded arriving at a killed to wounded ratio of 1:3. This is a low ratio and is in line with the fact that wounded civilians in the combat zone did not have quick access to high quality medical facilities.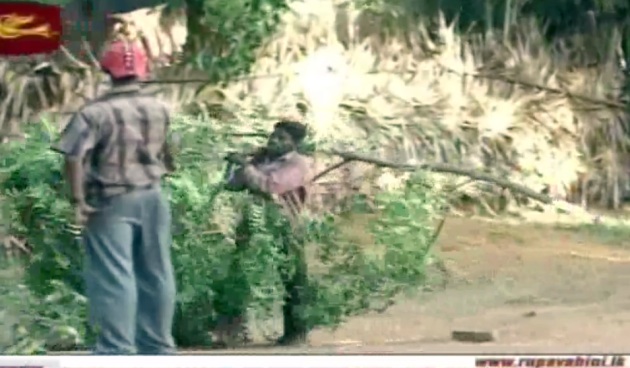 This screenshot shows an unarmed civilian work group lead by an armed, uniformed LTTE cadre " May 2009
The Darusman Report's Casualty Numbers
This report's authors gave credence to the "40,000 dead civilians" meme in a masterful display of officialese stating, "A number of credible sources have estimated that there could have been as many as 40,000 civilian deaths. …. but multiple sources of information indicate that a range of up to 40,000 civilian deaths cannot be ruled out at this stage." Oddly, none of the Committee's highly qualified members noted the discrepancy between the number of dead civilians and the lack of correspondingly (high) number of wounded survivors.
Gordon Weiss's Casualty Numbers
In his book "The Cage" Gordon Weiss (ex-Colombo based UN staffer), upped the ante by raising the civilian dead total to between 10,000 and 40,000. Applying a conservative ratio of 1:3 (dead to wounded), we arrive at wounded totals ranging from 30,000 to 120,000. Weiss merely noted in passing that the UN counted about 20,000 wounded Tamil civilians, and completely ignored the stunning implication this has on his inflated civilian deaths numbers.
Frances Harrison's Casualty Numbers
Frances Harrison (ex-Sri Lanka based BBC hack and ex-Amnesty International staffer) raised the civilian dead total even higher ranging from 26,000 to 146,679. Assuming a ratio of 1:3 (dead to wounded), we arrive at wounded totals ranging from 78,000 to 440,037. Here things start getting slightly insane as there were only 330,000+ civilians held hostage in the No Fire Zone.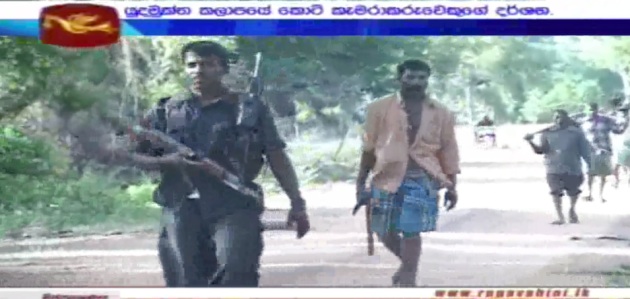 Civilian helper helping to camouflage a LTTE personnel carrier, overseen by an armed LTTE cadre dressed in civilian clothes
Using Harrison's upper estimate of 146,679 'civilians' dying and thus producing 440,037 wounded gives a total 586,716 people killed and wounded. This is almost double the number of civilians thought to be in the No Fire Zone area at the time.
Sri Lanka Army's own Casualty Numbers
The Security Forces admitted 5,285 combat deaths (KIA) and 28,189 wounded (WIA). This gives a dead to wounded ratio of 1:5, which is broadly in line with the BMJ study. Troops had access to better medical care than the wounded civilians, thus explaining the 1:5 ratio, when compared to the 1:3 ratio applicable to civilian wounded. Comparing this ratio to a well-equipped Western force like the US Army in Iraq, which by 2012 reported 4,487 US soldiers killed and 32,223 wounded since in 2003, produced a dead/wounded ratio of 1:7.
How Do You Define A Civilian?
There were at least three types of civilians caught up in combat in the No Fire Zone. LTTE cadres (in uniform and in civilian clothes), semi-trained LTTE auxillary forces and press-ganged civilians who carried out military duties for the LTTE.  When killed in action, all could (and would be) counted as civilian casualties. In the LTTE's glory days, cadres killed in action were often stripped of their uniforms and dressed in civilian attire to increase the 'dead civilian' count. But it's doubtful if the LTTE had time for such niceties as they fought to stave off annihilation, in May 2009.
LTTE cadres dressed in civilian clothes firing a ZU-23 heavy machine gun
This captured LTTE combat video (above) from May 2009 shows all three categories of civilians in action in the "No Fire Zone". Screenshots taken from the video clearly show the various types of civilians at work, helping to shore up the LTTE's defensive line.
So How Many Civilians Were Killed?
The best guesstimate predicts between 10,000 to 15,000 dead (including LTTE cadres), which ties in with the UN's casualty total of 15,000 to 20,000 wounded civilians.
Show Me the Money… er…. the Wounded
It's entirely possible that over 146,679 Tamil civilians were killed in Eelam War 4. But for that to be true, (and allowing for the large margin of error evident in anything to do with casualty numbers in Eelam War 4), those who make that claim have to conjure up at least another 440,037 wounded Tamil civilians, who " so far " are proving difficult to find and are conspicuous by their absence.
Source data notes:
(1) "The UN's Country Group in Sri Lanka established a total figure of 7,721 killed and 18,479 wounded." International Crisis Group.
(2) "The United Nations Country Team is one source of information; in a document that was never released publicly, it estimated a total figure of 7,721 killed and 18,479 injured from August 2008 up to 13 May 2009, after which it became too difficult to count." [paragraph 134, Darusman Report]
(3) "..by late June, when all civilians were inside the [post-war IDP] camps, a collection of aid agencies had made a preliminary calculation of 15,000-20,000 wounded civilians". p. 321, "The Cage", Gordon Weiss
"I believe that between 10,000 and 40,000 [deaths] is a reasonable estimate. I think most likely it's somewhere between 30,000 to 40,000 [deaths] ", Gordon Weiss on Australian TV & interviews
(4) "..anywhere from 26,000 to 146,679 people unaccounted for, presumed dead." p.238, Frances Harrison, "Still Counting the Dead: Survivors of Sri Lanka's Hidden War"
(5) Sri Lanka Government's post-war census report recorded that about 7,400 people died of undefined or "other" causes during the months leading up to the end of the war. Source: http://www.statistics.gov.lk/PopHouSat/VitalStatistics/EVE2011_FinalReport.pdf
(6) from July 2006 (Mavil Aru) to May 2009 (Nanthi Kadal) 5275 were KIA, 28,189 were WIA, and 140 were MIA. This is for the whole operation…. almost one-fourth of the Army losses that occurred during the entire two and a half year operation were sustained in the final stages. My note: KIA and MIA have been combined as generally, those missing in action are presumed dead. Source: http://www.army.lk/docimages/image/LLRC_2013.pdf