US GSP renewal: Hype and reality
Posted on July 9th, 2015
By Subhashini Abeysinghe Courtesy FT.lk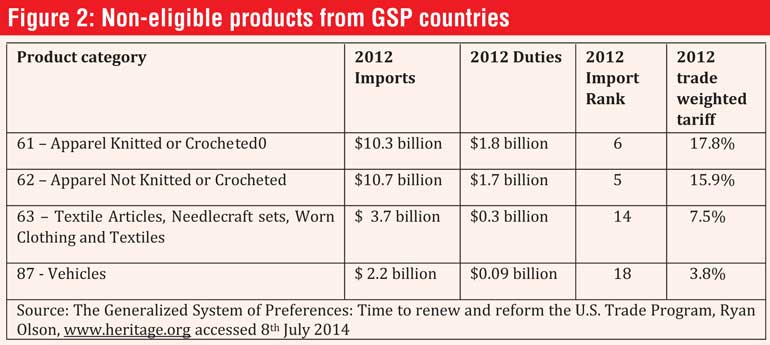 The renewal of the Generalised System of Preferences (GSP) of the United States is indeed welcome news for exporters from developing countries, not only Sri Lanka. It is a scheme that provides non-reciprocal, duty free access to certain products imported from designated Beneficiary Developing Countries (BDCs).
Some of the articles that appeared on newspapers about the US GSP renewal however carried inaccurate information and exaggerated the perceived benefits. For example, some claimed the renewal was due to the improved human rights record of the Government, and that this is a big boost to Sri Lankan exports destined to the United States, especially apparel. These are false claims.
Expiration or renewal of US GSP had nothing to do with Sri Lanka
The expiration of the US GSP scheme on 31 July 2013 or the renewal of the scheme on 29 June 2015 had nothing to do with Sri Lanka. The US GSP program is subject to periodic renewal by Congress. This is not a country specific review.
The GSP program was most recently extended until 31 July 2013, and congress failed to renew it on the due date, therefore the GSP scheme expired. As a result all 122 GSP beneficiary countries lost duty free access given by the scheme for selected products exported to the United States.
Also, it is not the first time this has happened. It was in fact the eighth time the scheme has expired without being renewed in a span of 30 years. The US GSP scheme when it is renewed after a lapse of several months/years, is renewed retrospectively; i.e. the US Customs will reimburse U.S. importers for tariffs paid on eligible products during the gap period.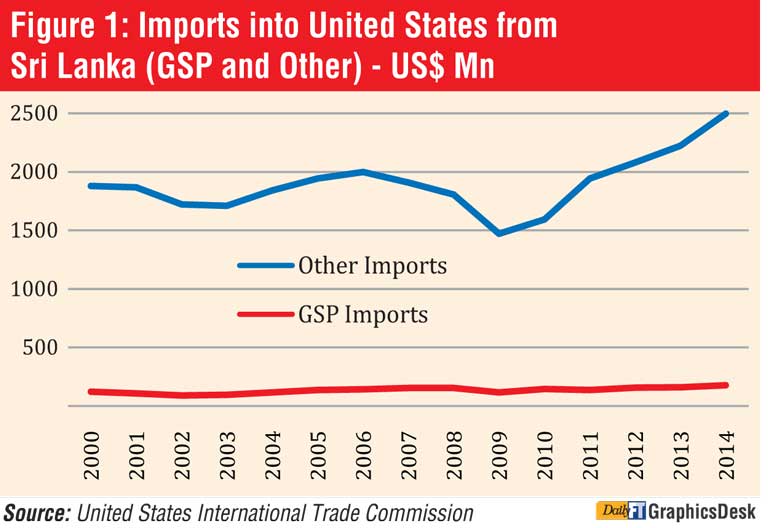 Only 8% of Sri Lankan exports to USA benefits from US GSP scheme
The reports also claim that the GSP program provides duty-free entry for 5,000 products exported from Sri Lanka. The product coverage is much less for developing countries like Sri Lanka; it is roughly about 3,500 products (and it is at HS 8-digit level, which makes the actual coverage even smaller).
The least developed beneficiary developing countries (LDBDCs) receive duty free status to an additional 1,500 products. Therefore it is these 43 LDBDCs that actually have duty free access to 5,000 products.
According to statistics published by the United States International Trade Commission (USITC) the percentage of exports from Sri Lanka that benefits from US GSP is very low. As a percentage of total exports from Sri Lanka to the United States, it has been around 8% (refer Figure 1).
According to a report published by the Congressional Research Service on the GSP scheme, imports that utilised the GSP concessions from the 122 beneficiary countries amounted to only 1% of total imports into US in 2012, whereas the total imports from these countries into US was 12%. Overall, the benefits of the scheme for beneficiary countries is important but not large.
Textile and apparel is not eligible for GSP concessions
The US GSP scheme does not give concessions to certain import sensitive" products such as textile and apparel exports from developing countries (refer Figure 2). Apparel account for nearly 80% of total exports from Sri Lanka to the United States. This is the key reason for the low level of utilisation of GSP concessions by Sri Lankan exporters. Therefore the renewal of the US GSP scheme will not give a big boost to Sri Lankan exports destined to US.
Sri Lanka's eligibility for US GSP was reviewed in 2012
GSP country and product eligibility are subject to annual review. The country review takes into consideration whether the country is eligible by assessing the level of economic development, the level of diversification of exports, and their competitiveness both globally and relative to GSP eligible products. Based on this assessment, countries considered economically advanced and competitive are graduated out of the scheme.
The countries are also reviewed on other criteria such as worker rights, intellectual property protection, existence of trade distorting investment policies etc. For example on June 27, 2013, the US President announced the suspension of GSP benefits for Bangladesh on the grounds that it has not taken or is not taking steps to afford internationally recognised worker rights to workers in the country".
In fact Sri Lanka was also under review, in 2012. The review however was not about human rights record of Sri Lanka, and US did not suspend concessions given to Sri Lanka. It was a review of country practice on worker rights. After reviewing the status and measures taken by the government, on 29th June 2012, the United States Trade Representative (USTR) confirmed that Sri Lanka will continue to receive GSP concessions.
Conclusion
Thus the current renewal of US GSP has nothing to do with the current political developments in Sri Lanka and its human rights record. Sri Lanka was of course one of the many developing countries that lobbied for early renewal of the scheme.
Further, contrary to some reports, only a small portion of Sri Lankan exports to the United States benefit from the GSP concessions. Hence, US GSP renewal, while benefiting some exporters to United States, is not going to give a big boost to overall exports from Sri Lanka to the United States.
(The writer is an expert on international trade and Head of Research at Verité Research)
– See more at: http://www.ft.lk/article/442917/US-GSP-renewal–Hype-and-reality#sthash.FQKoWdmZ.53zg1ApG.dpuf