Centre for Gandhian studies launched in Meghalaya university
Posted on July 12th, 2015
By NJ Thakuria
With an aim to spread the philosophy of Mahatma Gandhi on peace & brotherhood among the northeastern youths, an international centre for Gandhian studies' (ICGS) was launched on 9 July at the University of Science & Technology, Meghalaya (USTM).
Arunachal Pradesh Governor Jyoti Prasad Rajkhowa while inaugurating the centre pointed out that 'Gandhi's thoughts are always relevant- be it in the past, the present and the future'.  He also appreciated the initiative of USTM for setting up such a unique centre.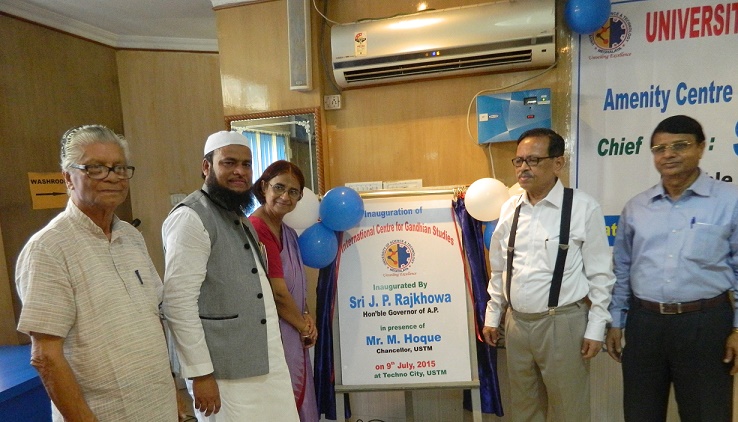 The centre is expected to spread the vision, philosophy and teachings from the life of Mahatma Gandhi through various social, educational and cultural programmes, emphasizing upon the contemporary relevance of Father of the Nation's thoughts and method of actions based upon the principle of truth and non-violence.
Dr Alaka Desai Sarma, a faculty of the higher educational institution, while explaining the purpose of the centre elaborated that it would provide a six-month course on Gandhian studies. The centre hopes to groom the students to work towards inclusive co-existence and conflict management, she added.
Governor Rajkhowa, in presence of  USTM chancellor M. Hoque, economist Dr Jayanta Madhav, educationist Dr Anuradha Dutta with many other dignitaries, also inaugurated an amenity centre in the university premises for the benefit of students as a place for spending leisure time as well as for taking food and beverages