KEERTHI WARNAKULASUIRIYA WAS RECOGNIZED AS THE BEST DEFENSE COLUMNIST
Posted on November 12th, 2015
Ranjith Soysa
The veteran journalist Keerthi Wanakulasuriya was recognized as the best defense columnist in presenting the most factual and accurate report about the recent UNHCR sessions at which Sri Lanka opted to co-sponsor a resolution  to investigate accountability for war crimes against herself. He was given the award by Mr Sarath Wijesinghe, the President of 2050 Forum of Sr Lankan Professionals in Colombo.
Keerthi,who has been compiling a detailed defense column for well over 15 years for Sunday Divaina was awarded  a certificate in recognizing for reporting the proceedings at the UNHRC from Geneva  providing information including on the anti -Sri Lanka fronts  active at the meeting and how they influenced the decision makers. His reports included the names of the anti-Sri Lanka organizations , their main activists and the meetings they had with influential leaders at the UN and other international leaders.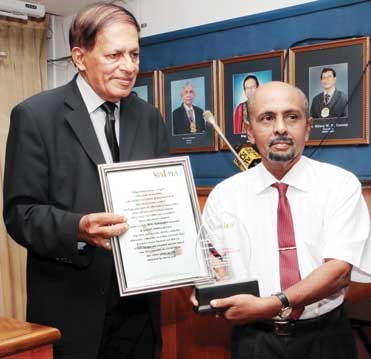 He also commented on how some of the anti-Sri Lankan organizations were able to mislead the UN and obtain registrations to participate at the sessions as NGOs and while  some others did so illegally  with the connivance of the UN registration section.
He was cautioned by the ruling political parties on several occasions  for his efforts to provide accurate information to the Sri Lankan public and had also  received threats from the  political leaders.
Keerthi Waranakulasuriya continues to serve the nation with pride and dedication.
Ranjith Soysa