Govt. loses Rs.1bn a day due to high-handed attitude: the joint opposition
Posted on September 22nd, 2016
Courtesy The Daily Mirror
The Government's high-handed attitude had triggered trade union action crippling the activities of three main revenue-collection institutions causing a loss of one billion rupees a day, the joint opposition said today.
MP Dinesh Gunawardane told a news conference that the employees of the Sri Lanka Inland Revenue Department, the Sri Lanka Customs and the Excise Department had resorted to trade union action over what they described as undemocratic action of the Government.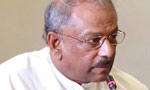 "The activities of these three institutions are at a standstill today. Customs employees have resorted to TU action on the Government's ad hoc approach with regard to amendment of the Customs Ordinance. We have heard that retired officials have been called for duty," he said.
MP Bandula Gunawardane said the Finance Ministry had prepared a document on amending the Customs Ordinance through a committee appointed on an ad hoc basic.
He said the trade unionists were demanding that their views be accommodated through a transparent process. (Kelum Bandara and Yohan Perera)
– See more at: http://www.dailymirror.lk/116260/Govt-loses-Rs-bn-a-day-due-to-high-handed-attitude-JO#sthash.Rl6ohSyV.dpuf