ARRESTS, THUGGERY AND YAHAPALANA
Posted on November 27th, 2017
KAMALIKA  PIERIS
The Yahapalana government, as soon as it came to power, started arresting or fining people for all sorts of offences. I found  traffic police  in Colombo charging drivers for  various traffic offences, One offence, for which cars were regularly stopped, was for turning right just  before the Tunmulla roundabout at the end of Bauddhaloka Mawatha. I have used this turn for years. It was a sensible turn which reduced congestion at the roundabout.
The Consumer Affairs Authority   conducted raids on the traders of Galle, Matara and Hambantota on the orders of the District Secretaries. 95 sudden raids were carried out in the Matara district, 76 raids in the Galle district and 108 raids and mobile inspections in the Hambantota district. The traders were prosecuted in the Magistrates' Courts and a total of Rs. 1,031,500 was collected through court fines.
The  traders were indicted on counts of sale and display for sale food items unsuitable for human consumption, sale and display of expired food items, selling rotten food and food eaten by rats, weevils and insects, altering set prices marked on labels and selling them at excessive rates, selling electrical appliances without issuing warranty cards, sale of rice and cement above set prices, non- display of price tags, hoarding essential food items and violating orders, rules and regulations imposed by the Consumer Affairs Authority.
A weekly fair in Mahiyangana was raided in September 2017 to check for unhygienic food. They found a stock of bad fish and tea adulterated with wood dust. The items were sent for testing to the Government Analyst and the traders were taken to courts. The raid was conducted by 15 Public Health Inspectors from the MOH offices of Girandurukotte, Kandaketiya, Mahiyangana, Meegahakivula and Rideemaliyadda.
Raids were conducted on trains in railway zones of Colombo, Nawalapitiya and Anuradhapura.  6,129 fraudulent commuters were caught and fined. Their offences were travelling in class 1 and 2 compartments with class 3 tickets, travelling without tickets and passing destinations specified in tickets. The fine was Rs. 2,500.
Police reported to the Colombo Municipal Council that they had prosecuted 2,655 people in Colombo on illegal waste dumping charges since the beginning of 2017.  697 persons were prosecuted for illegal disposing of garbage. Another 803 persons were arrested on 20 consecutive days in July, for illegally dumping garbage on roads. Sri Lanka Navy has filed lawsuits against 20 people for disposing their garbage into canals said this news item.
The police conducted its 'biggest ever all island raid' in March 2017, from midnight on a Saturday till the 'wee hours of Sunday' and arrested 1,246 criminals. The operation was carried out under the direct supervision of the Inspector General of Police with 11,792 police from 479 stations countrywide. Among those arrested were suspects with warrants on them, those who were loitering with intent and errant drivers. 110 IRCs, 7  army deserters, 87 rapists, 45 persons with ganja in their possession, 26 heroin peddlers, 567 persons with warrants against their names, 609 criminals who were absconding, and  383 persons who violated traffic laws, including 76 drunk drivers.
The Yahapalana regime has faced demonstration after demonstration. Yahapalana dealt  firmly with these. When the demonstrators reach Presidents House, or Parliament,  barriers are drawn up and the police are waiting.  When they try to storm the police barriers, they are repulsed by water and tear gas.  Once the demonstration is broken up, the police arrest as many as possible and prosecute them in the law courts. People can be arrested and remanded   under many provisions. When a person is brought before a magistrate , the magistrate has no option but to remand.  Bail can be given only in a higher court.  This takes time and till then the suspect is behind bars, observed Chandraprema.
Hambantota was the location for three  spectacular demonstrations. Firstly, 480 temporary dock workers employed in the Hambantota port staged a protracted strike in December 2016, when it was announced that Hambantota was to be given to a Chinese firm. They feared for their jobs. They blocked the port and took control of two ships in the harbor.
The Navy was sent to rescue the vessels. The naval ratings arrived carrying assault rifles and wearing body armor. If the protestors had turned violent and started hurling stones, sticks, bottles and other such missiles, the Navy would have had no option but to open fire because that was the only means of retaliation they had, said Chandraprema. A major disaster was averted only because of the restraint shown by the workers.  It was utterly irresponsible for the present government to send in the navy armed with assault rifles to deal with the Hambantota protest, said Chandraprema.
After  the navy  arrived, a very odd thing happened. The burly Navy Commander, Vice Admiral Wijegunaratne wearing T-shirt and shorts leaped at a  journalist, who  was held by naval ratings, and hit him. We all saw this. It was prominently featured in television news and the print media. Island  had a photograph showing the Navy Commander pouncing on the journalist, with the headline 'Navy chief goes berserk, manhandles Island correspondent'.
Yahapalana government said the journalist was at fault. The journalist had broken through a perimeter defense line set up by naval ratings.  'No one can enter a high security zone without permission, especially when international ships are held hostage.' According to international requirements the  Navy Chief had to be present when such situations arose, added Yahapalana . The Navy Commander's duty is to free the ships and  he even has the power to shoot anyone who does not allow that to be done, said Yahapalana.
About ten journalists had turned up to cover the event. They said no areas has been designated  as  'No Go zones'.  I was assaulted despite identifying myself as a media person and even displaying my media accreditation card issued by the Government Information Department," said  Pradeep Kumara  who had received the blow. He was a provincial journalist, who was covering the strike. Several television stations broadcast video footage in which obscene language was uttered by Navy personnel against the journalist. A Naval rating on duty shouted umbata gahanney umba media hinda" – you are being assaulted because you are from the media.
Demonstrations have been held throughout the country over the manner in which the Navy Commander had manhandled a journalist, said Chandraprema.  This was the first time that the country has seen a service commander doing crowd control work, shouting obscenities and aiming blows at people. The attack on the journalist also drew reactions from international media organizations, including International Federation of Journalists.  But the Government took no action against the Navy Commander. The Navy Commander however, had made a report on the matter to Prime Minister Ranil Wickremasinghe.
There was a second Hambantota incident in January 2017. Premier Wickremesinghe and Chinese Ambassador Yi Xinliang inaugurated a special industrial zone in Hambantota adjacent to the port. It was done amidst strong protests  A  large crowd  led by Buddhist monks from nearby Ambalantota took to the streets at the opening ceremony. They were met by mobs of government supporters, who attacked them with clubs and fists. The demonstrators fought back, throwing rocks. The Police fired tear gas and water cannon and brought  the situation under control. The injured were taken away in ambulances.
The media commented on the incident. We saw pro-government thugs operate openly in full view of the police, assaulting protesters, with absolute impunity, said Island. They pelted stones at a group of Opposition activists protesting against the signing of a controversial port deal with China Police shamelessly shielded the rock throwing thugs.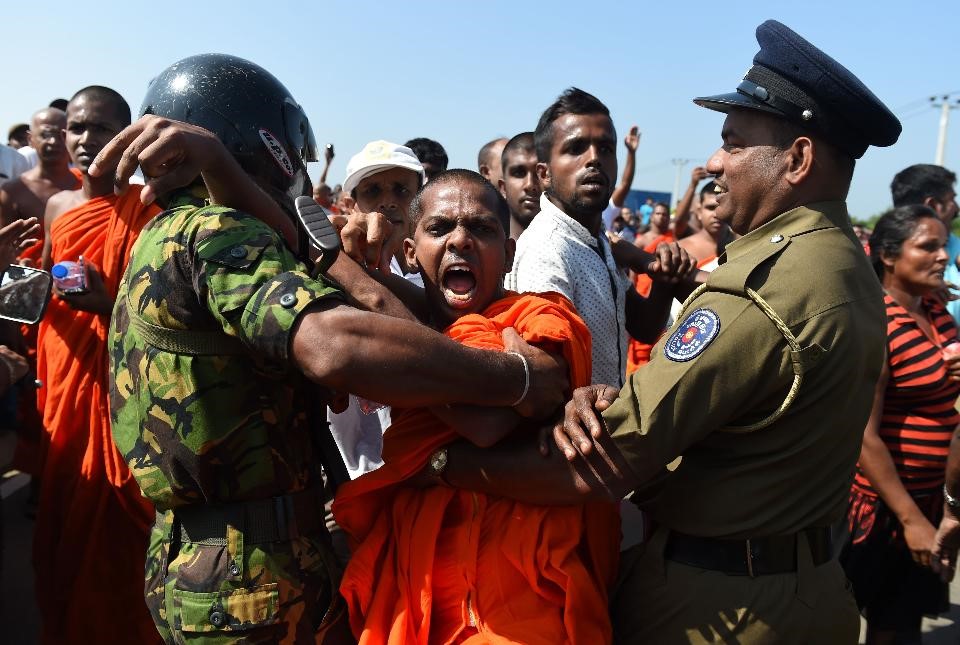 http://colombogazette.com/wp-content/uploads/2017/01/960×0.jpg
The third Hambantota demonstration came in October 2017. Joint Opposition  activists demonstrated before the Indian consulate in Hambantota against the government decision to hand over the Mattala airport to an Indian company. They also opposed the Hambantota port lease agreement with China. The protestors included former Speaker Chamal Rajapaksa , MPs Namal Rajapaksa,  Prasanna Ranaweera,  G.L. Peiris, Mahinda Yapa Abeywardena  Kumar Welgama and Mahindananda Aluthgamage.  They were joined by provincial councilors and former local government members.
The group had earlier planned to hold their protest outside the Mattala Airport but the Police obtained a court order to prevent them from engaging in any protests outside the airport. The court order prohibited the group from holding protests within the jurisdiction of the Hambantota Court premises and the Magampura Port and prohibited obstructing roads and entry points to the Indian consulate. The group had however, gone to the Indian consulate and handed over a memorandum.
At the Indian Consulate, a tense situation arose, which led to clashes between the Police and protesters, reported Daily News.  'The Police clashed with hundreds of supporters protesting before the Indian Consulate' said Island. Police anti-riot squads   used teargas and water cannon to disperse the crowd. Police arrested 26 of the protesters.  Apparently, a mother taking lunch for her children was also arrested.
Those arrested on this occasion were charged with several offences, violating a court order, contempt of court, damaging public property, assembling illegally and disturbing duties of the police officer and assaulting them. Television news showed the Tangalle ASP approaching a journalist who had been arrested and giving him a resounding slap. This was shown over and over again on television news. The assaulted journalist Susantha Karunaratne, who had been reporting for   'Sunday Apple', later  complained to Supreme Court. The case is proceeding.
Yahapalana government said police intervened only when  the protest turned violent.  Police complained that four policemen were injured when the demonstrators pelted stones. Police vehicles were also damaged. The police added that  they were  scrutinizing the video footage and photographs of the incident to identify others responsible.  Joint Opposition said they had staged a peaceful protest. They did not damage property as alleged. They were trying to save national property not damage property.
'First, we were attacked by government sponsored thugs. Police did nothing to prevent them. Thereafter, the anti-riot squads were sent in. Many were injured due to tear gas and water cannon attacks,' said Joint Opposition.  They also said that a toxic chemical harmful to humans may have been added to the water in the water cannons, because those who had been hit by the water cannons had fallen sick.
Southern Provincial Council member D.V. Upul, said thugs who came from behind the police barricades had attacked the protesters. The police looked the other way while government sponsored thugs were mercilessly assaulting us," he said. Around 20 of our protesters have been injured." Namal Rajapaksa and others were later summoned to Magistrate's Court for an inquiry into the matter. Instead of an inquiry, they were promptly taken into custody and placed in remand.
The SAITM issue  also  led to demonstrations. Yahapalana government tear gassed and water cannoned  SAITM  parents  and  SAITM students as well as those who opposed SAITM. As the protests increased,  the police started losing patience. The climax came with the anti-SAITM  demonstration of October 10. 2017. At the request of the police, the Magistrates Court issued a restraining order on the Inter-University Student Bala Mandalaya, Medical Students' Action Committee and the University Bhikku Mandalaya. They must conduct their anti-SAITM demonstration and protest in Colombo Fort in a peaceful manner subject to the following restrictions. They should not cause obstruction, danger or inconvenience to people and their vehicles or hold a march or try to enter the Presidential Secretariat by force in a manner that would breach the peace..
However, the demonstrators defied the court order and tried to march to Presidents House in a very forceful manner.  Police blocked their way but they refused to move and  were exposed for half an hour to water cannon. Then since they  still did not disperse, the police baton charged them. The ferocity of the attack   was clearly visible on television news. (e.g. Derana news of 10.10.17) Island ran a half page of photos on this incident. 13  persons were   admitted to hospital for treatment.
There were other less spectacular demonstrations  where Yahapalana used riot control. Some demonstrations were for a national purpose but Yahapalana did not care. In February 2017, the police used force to disperse JVP led port workers demonstration, which demanded that the Yahapalana government abandon plans to privatize Colombo, Trincomalee and Hambantota harbors. .  The demonstrators refused to call off the protest and the police fired tear gas. For a photograph  see Island 2.2.2017. p 2.
The Petroleum Corporation workers took industrial action in July 2017, against India getting the Trincomalee  oil farms. The government broke the strike   and hauled 16 of its leaders   to  courts in police vans. This was shown on television news. Thereafter thugs attacked the protestors left behind.  Television news showed them coming in with chains and poles.  Chief Opposition Whip and JVP leader Anura Kumara Dissanayake stated in Parliament that police had given protection to  the thugs who attacked the striking workers of the Ceylon Petroleum Corporation.
Dissanayake said that the Officer in Charge of Welikada police had assaulted a trade unionist, while the latter was in police custody. The unionist is a highly educated person by the name of Ranwala. He was arrested with other union leaders and taken to the Welikada police station. There, the OIC grabbed Ranwala by his neck and hit him, said Dissanayake. Later, Ranwala lodged a complaint with police headquarters.
There were strong public protests against the dumping of garbage in residential areas. Yahapalana government  made  obstructing the clearance or dumping of garbage a punishable offence . But protests continued. Yahapalana went to court against JVP activists who obstructed the dumping of garbage in Piliyandala. Garbage   from Colombo was dumped at Karadiyana under a police guard which included elite police commandos as well as ordinary police.
Television news showed police with shields and batons trying to control protestors at the garbage dumps in Oragodawatte and Muturajawela. Garbage protestors blocked the road at  Maligawatta Waste Management Centre at Dompe and police were compelled to use tear gas and water cannon to disperse them.  at Wattala, police assaulted protestors who said they did not want the Colombo garbage.  There were many protestors and it was a prolonged fight . The fight continued even after the garbage trucks  unloaded and went back. The  Catholic priests of the area  had to intervene. The use of police and military to quell protests against the transfer of garbage, was objected to. Minister Champika Ranawaka  however openly called for the forcible suppression of the garbage protests.
A protest march was organized by the Inter University Bhikkus Federation  in April 2017. The Federation was demanding an immediate increase of the university intake this year. The police used tear gas and water canon to disperse the march. The newspapers ran a photograph of a member of the police anti-riot squad grappling with a Buddhist monk at the Lotus Junction.
On February 6, 2016, the National Freedom Front staged a protest march against the visit of United Nations High Commissioner for Human Rights, Zeid Ra'ad Al Hussein. Police informed Court that the suspects who organised the procession had failed to obtain the prior permission from police to organize the march, they had used loudspeakers without a valid license and blocked the main road at Bauddhaloka Mawatha towards Havelock Town, causing disturbance to the people and the normal flow of traffic. Police informed the Colombo Chief Magistrate that they would file charge sheets against National Freedom Front leader and Member of Parliament, Wimal Weerawansa and six other party activists for allegedly providing leadership to this protest.
Five civil activists, including Gunadasa Amarasekera who had supported the disabled soldier strike in 2016 were noticed to appear in court for allegedly causing disturbance to public peace and disrupting traffic.
Yahapalana  also took repressive action against those who actively opposed Yahapalana policies.  Yahapalana sealed the  shops of  traders who opposed the VAT increases in 2016.    Public health officers raided the sathipola, hotels, restaurants and supermarket   at Arachchikattuwa and took legal action against 15 traders who kept outdated and unhygienic food items for sale. That was because Joint Opposition had won the cooperative elections at Arachchikattuwa. When Joint Opposition had a protest demonstration  in Kiribathgoda  objecting to Sarath Fonseka's comments on General  Jagath Jayasuriya, Yahapalana  had an anti riot squad stationed there.
Yahapalana was not prepared to tolerate demonstrations of a lesser sort either. Legal action will be taken against people who conducted a protest campaign opposite the Ambewela Milco Milk Factory in October 2017, as they have caused damage to a large number of factory assets and robbed several other equipments,  said Yahapalana  . The protest campaign had been launched while much needed water filtration machines were being installed at the new factory building.
Yahapalana then turned to the media. The Media Ministry Secretary had written to Derana TV on October 25, 2016 informing Derana that an inquiry was being held into their coverage of the President's speech on October 12.  Derana TV wrote back saying that their broadcast of that day was in accordance with a statement issued by the Presidential Media Division on October 12, 2016 which stated very clearly that the President had said that he cannot agree with the manner in which the former Defence Secretary and three former commanders of the navy had been hauled before courts. Derana TV  pointed out that the same statement had appeared on the President's official website as well. Furthermore, all newspapers had reported the President's words the next day in much the same manner as Derana had reported it.
The Ministry had initiated an inquiry into the matter. The lawyer for Derana wrote to Media Ministry Secretary stating that unless he explains under what authority and law the Media Ministry Secretary was appointing a committee to inquire into this matter, Derana was not able to nominate a representative to serve on this committee of inquiry. No reply had been received by Derana TV to this letter and therefore, no one had represented Derana TV at the inquiry.
On April 5, 1971, the Secretary to the Media Ministry wrote to Derana TV declaring that they had been found guilty by a three member committee appointed by the ministry of distorting and broadcasting a speech made by the President, of damaging the President's image by that illegal act, of misusing the frequencies which are public property for this purpose. Another accusation made was that when the Media Ministry Secretary had taken steps to investigate Derana TV they had tried to tarnish the Media Secretary's name. .
The letter further stated that even though the Media Ministry had written to Derana TV asking for a representative to serve on the committee, there was no response from them therefore the inquiry had gone ahead without a representative of Derana TV being present.  The letter has asked Derana TV whether they have anything to say before 'action' is taken against them. After receiving this letter, the Directors of Derana TV had a meeting with  President Sirisena and Media Minister  and settled the matter.
The purpose of all this is obviously to make an example of Derana TV so that everyone else will fall in line, said critics. In months past, the Prime Minister was openly threatening newspapers and TV stations and even naming individual journalists. Since that did not appear to be working they seem to have decided to take stronger measures such as this operation against Derana TV. If this attempt at intimidation is allowed to succeed, that will be the end of media freedom in this country. Every media organization and individual journalist should rise up against this outrage, said Chandraprema.
There is now a crackdown coming on the media, said  critics. The government was planning to suppress various websites and social media networks, said Joint Opposition. These were sites where Yahapalana first spoke of 'duva' and 'putha' during the election campaign, now they were being castigated by the government. The government is keeping close watch on certain websites, said Yahapalana. Government will set up an independent board to regulate content of news in print, broadcast and websites. The Telecommunications Regulatory Commission which can block websites is under the President. Laws will be introduced if necessary against print and electronic media, confirmed Yahapalana.