Debacles suffered by our forces under Chandrika's reign – Part III
Posted on January 13th, 2018
By: A.A.M.NIZAM – MATARA.
Victor Ivan's notorious Bandit Queen Chandrika in her dementia keeps on telling the blatant lie that it is she who completed ¾ of the 30 year' of war.  Although this claim is not even believed by her trusted friends and acolytes this is part III the final part of the article that disproves her malicious claim with some detailed accounts of facts outlining the misery and setbacks suffered by our armed forces during her reign.
The military losses and civilian massacres during the reign of Chandrika.
1995
May 25: Kallarawa massacre: LTTE cadres attack a fishing village in Kallarawa, and hacked and shot to death 42 civilians (22 males, twelve females and eight children)
May 26: Ven. Kithalagama Sri Seelalankara Thera, the chief prelate of Dimbulagala Raja Maha Viharaand his driver Anton Silva were shot and killed by LTTE members, when they drove to a fruit and vegetable farm, two and a half kilometers away from the temple in Polonnaruwa District. An acolyte, H. Bauddhasara Thera, who too was in the vehicle was critically injured.
August 7: Colombo: An LTTE suicide bomber exploded a suicide rickshaw killing 22 civilians.
October 20: Kolonnawa, Colombo: LTTE attacked the oil storagecomplexes at Kolonnawa and Orugodawatta. At least three suicide bombers fought their way into the tanks and blew themselves up destroying the tanks. LTTE lost four cadres in the action while killing 22 security personnel and destroying diesel, kerosene, aviation fuel and crude oil worth over US $10 million.
October 21: Mangalagama: LTTE cadres killed 16 civilians.
October 25: Panama: LTTE cadres killeed twelve Sinhala farmers.
November 11: Colombo: A LTTE suicide bomber caused an explosion near the Slave Island railway station resulting in the death of 15 children and two soldiers
November 24: Colombo: An attack by two LTTE female suicide bombers on the Sri Lanka ArmyHeadquarters resulted in the death of 16 people
December 11: Colombo: Two LTTE suicide bombers blew themselves up at the Army Headquarters, resulting in the deaths of 15 civilians and three soldiers.
December 23: The LTTE attacked an army detachment in Batticaloa district, killing 32 troops.
1996
January 31: Central Bank bombing: An attack by the LTTE on the Colombo Central Bank killed 90 and injured a further 1,400 civilians, damaging other buildings also in the process. It was the most deadly LTTE attack on a civilian target in the history of the group's operations.
June 11: Lunuoya LTTE killed 14 civilians. According to Amnesty International, this attack was reportedly led by an LTTE member whose family had been killed in communal violence.
July 4: Jaffna: An attack by an LTTE suicide bomber on a Sri Lankan minister resulted in the death of 25 people.
July 18: Battle of Mullaitivu (1996): The LTTE overran the Sri Lanka Army camp at Mullaitivu. The number of killed in action and missing in action Sri Lankan soldiers from this attack was over 1200. The LTTE appear to have burnt alive hundreds of Sri Lankan soldiers who had surrendered during the attack on the Mullaitivu army camp.
July 24: Dehiwala train bombing (1996): The LTTE exploded 4 bombs on Colombo-Alutgama train at Dehiwala killing between 60 and 70 civilians. The technique of simultaneously exploding multiple bombs in several carriages was used during this attack.
1997
10 February – The Muslim village of Oddamavadi in the Batticaloa district was attacked by a group of LTTE terrorists who shot dead 5 civilians and 3 others
12 May – The Morawewa village and the Police Station in the Trincomalee district were attacked LTTE terrorists and butchered 5 civilians.
2 July – The Muslim village of Erakkandy in the Trincomalee district was stormed by a group of over 100 LTTE terrorists wielding sharp weapons, clubs and firearms and butchered 34 civilians.
1998
January 25: 1998 Temple of the Tooth attack: Four members of the Black Tiger squad drove an explosives-laden truck into the Temple of the Toothin Kandy, killing seven and injuring 25. The attack took place just days before foreign dignitaries were expected to attend celebrations of the fiftieth anniversary of Sri Lankan independence at the temple.
March 5: LTTE exploded two bombs aboard buses in Colombo killing thirty-two civilians and injuring 252 others
May 14: A member of the Black Tiger squad jumped in front of a vehicle carrying Sri Lankan Brigadier Larry Wijeratneand detonated explosives, killing the general and two guards. Wijeratne was the commander of Sri Lankan forces in the Point Pedro area of the Jaffna peninsula. Press reports described the assassination as a "serious blow" to the government's war effort in the area.
May 17: Jaffnamayor Sarojini Yogeswaran was assassinated near her home. In 1987, her husband,  Yogeswaran, was assassinated in 1987.
August 29: The LTTE shot down an AN-24Lionair Flight 602 with 55 passengers (including 48 Tamils) and crew while it was flying over LTTE held territory. Everyone on board was killed.
September: 1998 Battle of Kilinochchi: In a massive LTTE offensive 1,500 soldiers were killed, 3,000 wounded and 500 were missing.
1999
April 11:Bus Bombing in Kandy Central Bus Stand by a LTTE suicide bomber killed 2 civilians.
June 2: Eleven Sinhalese civilians were murdered at Inginiyagala.
July 29: An LTTE suicide bomber killed Sri Lankan Tamil MP Neelan Thiruchelvamalong with two others. Six civilians were injured. At the time of his death Dr.Neelan Thiruchelvam was working on Chandrika's constitutional package aimed at ending the decades long ethnic conflict in Sri Lanka
September 18: Gonagala massacre: LTTE cadres massacre at least 50 Sinhalese civilians in three villages in Ampara District.
November 1: Oddusuddan offensive (1999): An LTTE attack on an army camp at Oddusuddan resulted in an SLA defeat with 800 soldiers killed or missing and another 1,200 deserted
December 11 – January 2, 2000: 212 soldiers are killed in heavy fighting. Also another 37 are missing and 2,118 are wounded.[34]
December 18: A LTTE suicide bomber killed 23 civilians in the attempt to kill Chandrika at a pre-election rally in Colombo.
December 18: In Colombo LTTE suicide bomber Skandaraja Ashoka killed eleven people and retired Sri Lanka Army Major General Lucky Algama.
2000
January 5: An LTTE suicide bomber blew herself up outside the office of the Prime Minister of Sri Lanka killing 13 civilians and three police officers.
January 7: An LTTE suicide bomber killed Sri Lankan Industrial Minister V. Gunaratneand and 24 civilians.
January 27: LTTE bombed a post office killing eleven and injuring 70
March 11: 14 civilians and six police officers died when four LTTE suicide bombers attempted to assassinate the defence minister. 46 others were injured
April 22: Second Battle of Elephant Pass: The LTTE overran the most important military base in the Northern province, the Elephant Passbase
May 17: An LTTE bomber killed 23 and injured 70 at a Buddhist temple in Batticaloa during celebrations of the Vesak holiday
June 26: LTTE suicide boats sunk a chartered private ship M.V. Uhana. Five civilian crew and three navy personnel died.
September 15: A suicide bomber exploded in front of the main government hospital in Colombo resulting in seven civilian deaths. And 28 civilians were injured.
October 3: An LTTE bomb killed parliamentary candidate Mohammed Baithullah and more than twenty others in Muttur. At least 49 others were injured.
October 5: In Medawacchchiya, Anuradhapuraan attack by an LTTE suicide bomber on the Health and Indigenous Medicine Deputy Minister Tissa Karaliyadda resulted in the death of seven civilians and injuries to 40 civilians.
2001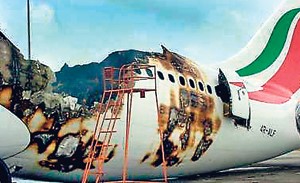 LTTE terror attack on Sri Lanka's civilian
24 July – Bandaranaike Airport attack: An LTTE 14-man suicide squad attacked the Sri Lanka Air Force base and the adjoining Bandaranaike International Airport and destroyed many aircraft, crippling the country's economy and reducing tourism. The death toll amounted to 21.
2005
12 August – Lakshman Kadirgamar, the world renowned Foreign Minister of Sri Lanka and an ethnic Tamil was shot by a LTTE sniper.
List of combat and other aircrafts and security personnel lost by our forces with relevant dates during the period of war under Chandrika's tenure of office.   
It is shameful  and at the samr time hilarious to find her claiming with all these setbacks that she completed 3/4 of the war.
The forgoing details the accounts of the humiliation our gallant soldiers suffered under the reign of Chandrika but it were the same soldiers who shattered in less than 9 years the myth that the tiger terrorists cannot be defeated militarily and vanquished them including their megalomaniac leader Prabhakaran and several other prominent tiger terrorists under the commandeership of Mr. Mahinda Rajapaksa and the right guidance provided by Mr. Gotabhaya Rajapaksa.
However, since Mrs. Chandrika keeps on claiming that she completed 3/4 of the war we would apprciate if she let the people of this country know at least through her minions the extent of territory captured and liberated by her from the terrorists with details of their locations, the approximate number of terrorists killed when and where with names of killed terrorist leaders, weapons, armoury and aetillery captured from the terrorists with approximate details, the number of terrorist camps destroyed or captured with details of their locations without just making rubbish speeches at trivial meetings sparsely attended.Hope the people will soon get the opportunity of knowing these details.  (concluded)