Britain's VVIP Terrorists the LTTE: Case of Brigadier Priyankara Fernando
Posted on February 9th, 2018
By shenali Waduge
We want truth & justice" – oh yes, so do we. But we need to get some facts cleared first. Can the British Government please explain to the world why LTTE remains banned in the UK since 2001 while LTTE supporters are free to carry LTTE flags, hold pro-LTTE rallies and scream Our Nation Tamil Eelam – Our Leader Prabakaran? We are a little puzzled why banned terrorist movements get police protection for these rallies too. Why should the British Government molly-cuddle LTTE terrorists & their supporters. We would very much like to have an answer to this. British MPs are openly canvassing for LTTE fronts. This is totally against every protocol the Brits preach and nowhere near the supposed gentlemen's behavior the British are so cocky about. Britain has a lot to answer in giving VVIP status to a terrorist organization that remains banned in the UK and it is damn hilarious to find the perpetrators of crimes pointing fingers and getting away because Governments like the UK are playing footsie.
Let's first start with the issue at hand.
On 4th February 2018 Sri Lanka celebrated what we presume to be 70 years of independence. That same day a bunch of people holding LTTE flags decided to stage a protest outside the Sri Lanka High Commission in London. For what reason the Mission decided to send its officials out of the compound, we do not know, but we did see Brig. Priyankara Fernando serving as the Defense Counselor giving a hand message to the terrorist supporters. Let's get it clear that there were LTTE supporters as they were all carrying LTTE flags and screaming Our Leader Prabakaran.
Our nation : Tamil Eelam
Our Leader : Prabakaran
https://www.youtube.com/watch?v=7WhDtGLWBzQ pro-LTTE protest
https://www.youtube.com/watch?v=4uTiyacA22w pro-LTTE protest
https://www.youtube.com/watch?v=bwcn7l6qABQ&feature=youtu.be the video of Brig. Fernando making a throat slitting hand gesture.
https://www.youtube.com/watch?v=mu6T5nfLZmA – an Indian questioning the Brig about 500 Indian fishermen killed… another fairytale
The video having gone viral over social media, suddenly has the Foreign Ministry suspending the Brigadier & recalling him back to Colombo sans investigation or explanation which days later led to the intervention of the Sri Lankan President to revoke the suspension.
Protestors carrying LTTE flags and shouting Our Eelam and Our Leader Prabakaran are NOT representing Tamil civilians. Let's get that cleared. UN & International Community are on record and enough evidence is available to conclude that Tamils were kept as human shields and hostages during the final stages of the conflict despite appeals to release them and plenty of Tamils were shot by LTTE when trying to flee and enter Sri Lankan Government areas. Therefore, anyone commenting on the incident has to realize that the protestors were promoting LTTE and Eelam and using civilian slogans as a camouflage only. Anyone promoting a terrorist organization are no cherubic angels!
What a farcical tragi-comedy unfolded thereafter. The Transnational Government of Tamil Eelam – that 'government' in the sky which continues to, by the way remain banned under UNSC 1373 as an LTTE front is urging the British Government to take action against the Brigadier for war crimes, genocide. The hilarious part about this allegation is that the intellectually-weak who actually believe and accept this notion have not thought for a minute to check the population statistics and wonder how Tamil population can be increasing while a genocide is taking place. Hilarious isn't it? Maybe they all need a new maths teacher!
Meanwhile, the real crusader of truth, Chair of All Party Parliamentary Group on Sri Lanka, Lord Naseby remarked: If there is any genocide in Sri Lanka it is by the Liberation Tigers of Tamil Eelam who hold civilian Tamils by force as a human shield in the war. This talk about genocide is rubbish. The only people who are causing genocide are the LTTE who are holding the civilians as a human shield." (March 2009)
While the TGTE members, that government in the sky has been living in the UK and other foreign climes, making hay with the money generated from the very lucrative LTTE business kitty of illegal and legal activities, it was people like Brig Fernando who liberated many Tamils who were kept as hostages and human shields by the LTTE and the Tamil people he saved continue to shower praise.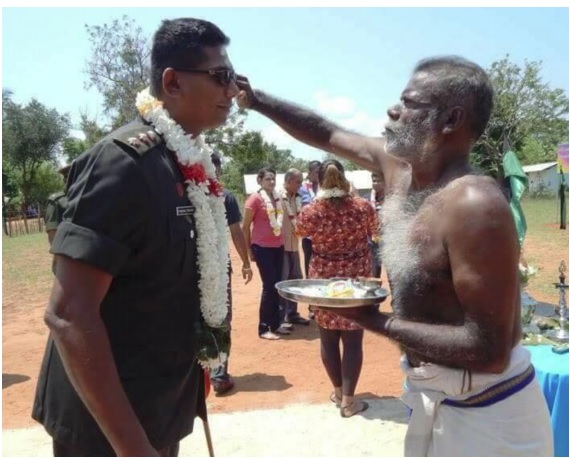 https://www.youtube.com/watch?v=t8QhSNwcau4
About Brig. Priyankara Fernando
https://www.youtube.com/watch?v=B7nWiGffJ7I a friend's version of Brig. Fernando
The social media circulated 2 letters the first letter was sent by Joan Ryan & Siobhan McDonagh.
This letter addressed to Boris Johnson, Secretary of State for Foreign & Commonwealth Affairs and signed by MPs Joan Ryan and Siobhain McDonagh on 5th February 2018 claimed that Members of the Tamil community had been 'congregating peacefully' outside the Sri Lanka High Commission wherein Brig. Priyankara Fernando had made a throat slitting hand gesture and should be expelled from UK.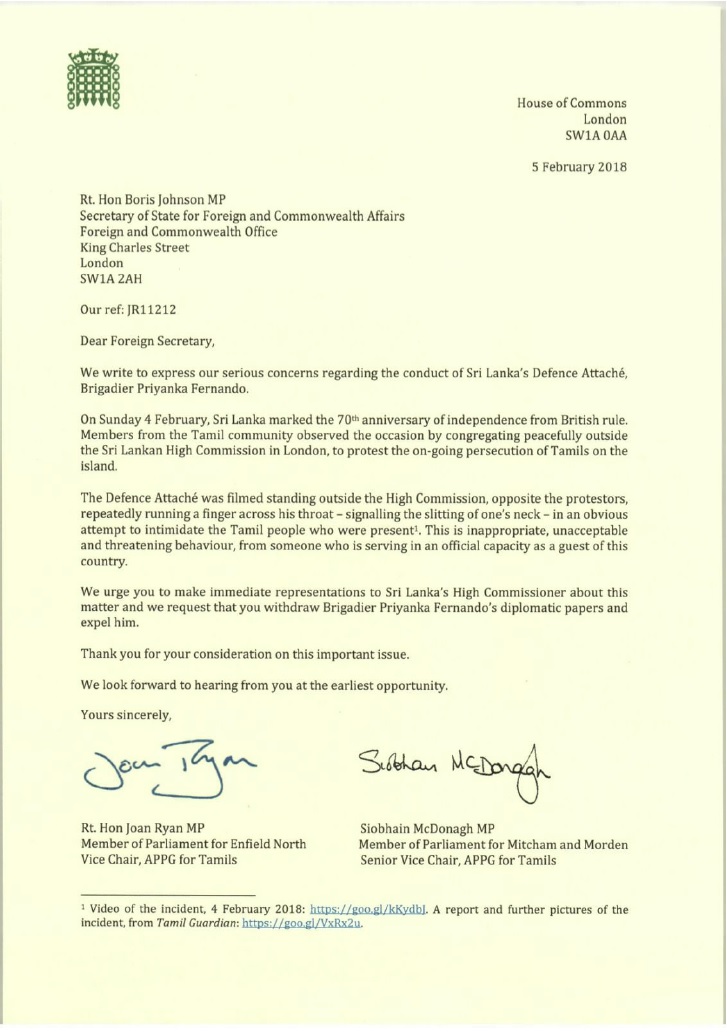 Who is Joan Ryan? Joan Marie Ryan, is a former Labour MP from Enfield. She is presently the CEO and Policy & Communication Advisor of the British Tamil Forum (named as a LTTE from in 2014 and removed by the present Government in 2015 and part of the umbrella organization headed by Global Tamil Forum also banned in 2014 and ban removed in 2015)
Her election campaign was helped by Dr. Muregeshu Vinayagamoorthy from Nottingham who provided Pratheepan Thavarasa, a former bodyguard of Prabakaran & later deputy head of LTTE procurement safe haven in his home. Dr. Moorthy was jailed in US for 4 years having attempted to bribe US officials to delist LTTE. His right to practice was also removed in the UK.
The All Party Parliamentary Group is one of the 4 Advocacy Lobby wings of the British Tamil Forum explicityly set up to lobby UK MPs. The other 3 groups are the Tamils for Labor, British Tamils for Liberal Democrats, British Tamil Conservatives. The tapped British MPs are in turn able to influence British Public Officials and the Commonwealth Office. Why else did David Miliband dash over to stop the military offensive in 2009 J The authenticity of this was confirmed in a wikileaks that revealed Milibands trip had nothing to do with human rights but everything to do with obtaining Tamil votes.
Now you can guess why British MPs are 24×7 issuing statements against Sri Lanka! How else are fronts associated with the LTTE able to hold inauguration sessions inside the British Parliament. You won't find Al Qaeda or ISIS being so lucky – so what's this special treatment the Brits are giving to LTTE?
If anyone is in doubt about the LTTE links, here's another example the 1st President of BTF was Kandiah Senthilkumar who was an associate of then LTTE UK Chief Shanthan (cousin of Prabakaran's wife) who was arrested by the British police in June 2007. The LTTE web site www.eelam.com was registered in A. C. Shanthan's name, with the LTTE HQ, Eelam House, 202 Long Lane, London SE1 as the registered address
This is what former Tamil Guardian editor Rajasingham Jayadevan wrote of the LTTE-BTF relationship
Shanthan used the services of Liverpool basd Dr. N Satchthananthan & Senthilkumar to extend his forceful takeover efforts. Senthilkumar who is the present head of the British Tamil Forum who successfully brought the IBC and TTN under LTTE control while Dr. Satchithananthan played his role obediently to take over the Tamil Guardian. Those who did not co-operate were branded traitors & treated with contempt".
The BTF set up the APPGT in May 2007 and its Chairman was Keith Vaz Labor MP who was investigated for corruption and of late for pimping too J APPGT Vice Chairman was MP Simon Hughes.
Anything coming out of their mouths is therefore controversial and biased given that they are holding portfolios in these fronts.
Incidentally, Simon Hughes constituency is Southwark and Burmondsey in London where the international headquarters of the LTTE is (Eelaam House 202 Long Lane, London) Britain you seriously need to redefine what a banned organization is because we are somewhat puzzled how a banned terrorist organization can openly run an international office in London itself!
By 2011, the BTF managed to expand APPGT to 69 British MPs which included Lee Scott as Chair, Virendra Sharma, Siobhain McDonagh, Gavin Barvell, Robert Halfon. It is alleged that the LTTE through its regional finance head Vasanthan from Southall funded the by-election which Sharma contested.
The 2nd letter's authenticity is very much in question given that the date was 2nd February 2018 (2 days before the pro-LTTE protest) and signed by Mangala Samaraweera as Foreign Minister though he is no longer the Foreign Minister and does not have any mandate to sign as Foreign Minister. What is shocking about this letter is that it is claiming that the PM recommended to the President to suspend the defense attache and court martial him upon his return.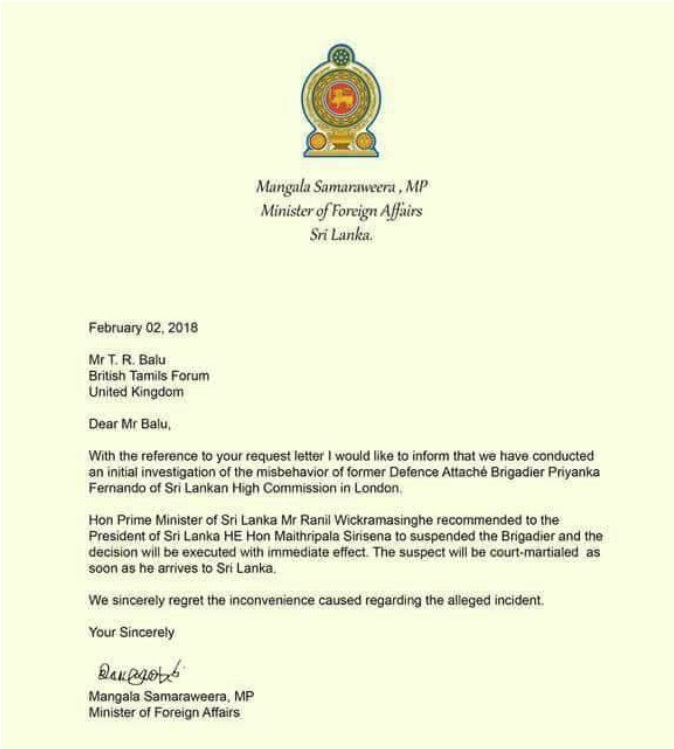 It is at the behest of the letter by pro-LTTE British stooges that the Foreign Ministry of Sri Lanka issued a media release on 6 February 2018 suspending the Defense Attache.
Foreign Ministry response on 6 February 2018 – http://www.mfa.gov.lk/images/stories/MediaRel-SLUK.pdf
The manner that the British MPs holding posts in the pro-LTTE fronts called for the removal of the Brigadier and the foreign ministry reaction automatically reasserts the allegation that Sri Lanka foreign policy was being decided and lobbied from overseas. This allegation gathers further momentum in the 2013 Singapore Principles where the former Foreign Minister and present promoter of a new constitution assured to change the Sri Lankan constitution to meet the desires of the LTTE diaspora lobby that they met in Singapore. 
UK banned LTTE (British Terrorism Act 2000) in February 2001 months before 9/11. Nevertheless, LTTE had been operating Eelam House" located in Mitcham, Surrey since 1970s which was opened by Bishop Rayappu Joseph. Anton & Adele Balasingham freely operated from UK. Adele who trained females & Tamil children to kill and even commit suicide lives very happily in the UK. What is stopping the UK government from pursuing criminal charges against her?
Are these ban's worth its weight if the promoters of the banned organization get to hob-nob with British MPs and determine policy through their lobbying?
Every country that has banned LTTE but allow its fronts to influence foreign MPs are violating the rights of the citizens of these countries. British politicians are voted to represent the British people not citizens of foreign nations.
Here are a number of events that questions the policy of the British Government.
2013 – Feb 27: Global Tamil Forum 3rd anniversary conference held at House of Parliament, Committee Room 14 – Speakers ere Nick Clegg, Ed Davey MP, Ed Miliband MP, Simon Hughes MP, Keith Vaz MP. Baroness Warsi, Yolanda Foster (Amnesty International), Erik Solheim, David Miliband and Callum Macrae. Vote of thanks was delivered by Rt. Hon Joan Ryan, Policy Advisor, GTF.
2012 – Nov 10 – World Tamil Conference held at British House of Parliament.
2011 June 15: After release of Channel 4 documentary, UK presses Sri Lanka to investigate alleged war crimes or face international inquiry.
2009 – Jun 19: Arunachal Chrishanthakumar (A C Shanthan) of British Tamil Association jailed for 2 years for providing equipment for LTTE.
2009 – May 31: Demonstrations outside UK Parliament by pro-LTTE demonstrators for 43 days has cost UK police 8million sterling pounds (Metropolitan Police Commissioner Sir Paul Stephenson). Police had to reduce policing in London streets, demonstrators had pelted stones and other missiles at the Indian High Commission breaking the bullet proof windows and even stoning SL High Commission. Pro-LTTE supporter also waved LTTE flags with LTTE insignia – all violations of UK anti-terror laws.
2009 – May 24: Pro-LTTE supporters attack 5 'Sam' Chicken' outlets owned by Sam Chandrasingha in Wembley, Kingsbury, Wilsden, Sudbury Hill and Cricklewood.
2009 – May 14: Sri Lankan Buddhist temples in London attacked by LTTE
2009 – May 13: Sri Saddhatissa International Buddhist Center in Kingsbury North West London attacked with stones. Ninth occasion that the temple has been attacked.
2008 – Aug 7: Sri Lankan Tamil jailed in UK for 2 years and 9 months after confessing cloning credit cards of British customers for LTTE – sterling pounds 175,000 theft to LTTE.
2008 – May 8: British police charge 4 Tamils for conspiring to support LTTE – Arunachalam Chrishanthakumar alias AC Shanthan, 51; Jegatheswaran Muraleetharan alias Muralee Tharan, 46; Jeyatheswaran Vythyatharan alias Vithy Tharan, 39; and Murugesu Jegatheeswaran alias M Jegan, 33.
2008 – Apr 22: London Mayor, Ken Livingstone, addresses meeting co-organized by British Tamil Forum, an LTTE front though warned at highest diplomatic levels about terror links. At a BTF meeting held at Excel Center, Docklands on 27 Nov 2007 a video message from LTTE leader Prabakaran was played where he praises suicide bombing.
2008 – Jan 22: a 2008 Calendar depicting LTTE logo and map of separate state of 'Tamil Eelam' sold outside Hindu temples in London on Jan 1st at the rate of five pounds and 10 pounds each.
2008 – Jan 16: British Tamil Forum calls for boycott of Sri Lankan Airlines to deny estimated earnings of £12 million every year from British Tamils travelling to Sri Lanka – head of BTF Ivan Pedropillai also urged British tourists not to travel to Sri Lanka.
2008 – Jul 16: British Tamil Forum organizes photo exhibition in British Parliament attended by UK MPs, Members of House of Lords, former cabinet ministers, mayors, international and UK organizations, even 3 MPs of TNA Ms Padmini Sithamparanathan MP, Jayananthamoorthi MP and Gagendran MP.
2007 – Aug 28: LTTE cadres receiving 'police' training in UK after 2002 ceasefire agreement probed after arrest of LTTE suspect Kalimuttu Vinodkumar who informed that he was one of 12 LTTE cadres sent for a 3month training to Northern Ireland after CFA was signed and conducted by foreign instructors with help of Tamil translators.
2007 – Jul 8: UK places LTTE as 2nd most dangerous terrorist group after Al Qaeda. UK has 44 groups on its list of terrorist organizations.
2007 – Jul 5: UK Court freezes bank accounts of LTTE leader A C Shanthan – Krishnatha Kumar and wife. 28 charges are filed againt Shanthan including extortion, operation of business enterprises, printing press and oil storages with ill-gotten wealth. All employees were LTTE members. These businesses had earned sterling pounds 4billion upto Jul2nd. Goldan Lambert arrested along with Shanthan is under house arrest. Lambert faces charges of kidnapping for ransom and extortion. Pakyadevi a LTTE female cadre is absconding.
2007 – May 16: London court told that Senthuraj Thavapalasingham alias 'Psycho' of Romford is leading LTTE extortionist gang called 'East side boys' in Newham. Chief Inspector Derrick Griffiths says 'to my knowledge there are around 5 Tamil gangs operating in London. This is a gang of about 30 young men aged between 15 and 32 years paid by an organization called the LTTE. They were paid to extort money from local businessmen and residents. Their victims were paying anywhere between Pounds 5,000 and 25,000 a year. In one case a businessman was paying 25,000 a year for four years."
2007 – May 6: BBC report on Armulmihu Hindu temple in Tooting south London said to raise nearly £500,000 each year, is said to have links to the LTTE in Sri Lanka.
2007 – Jan 19: Chennai police arrests G Elango, LTTE agent carrying a British passport along with 28 ATM cards. Elango withdraw INR30 lakhs from ATMs and sent to UK. Elango is a shareholder in 'Thamilini' a cash and carry grocery shop in UK.
Pro-LTTE Organizations
Tamil Rehabilitation organization (TRO)  –banned in the UK in August 2005 but not before it transferred its funds £1.3 million to White Pigeon. TRO quickly re-registered as ITRO. One of the trustees of TRO, UK, N. Sathyamoorthy is a director of ITRO. TRO has declared to the British authorities that since 1995 approximately 2.5 million pounds have gone from Britain to LTTE control, tax free, via the charity under the guise of rehabilitation work". TRO has raised approximately 3 million pounds since 1995 and have no staff costs, most of those who canvass for the TRO are working for the other two charities and the Housing Association and are receiving salaries courtesy of the British tax payer. The total salary costs since 1995 of the Housing Association and the two charities (excluding TRO which has no salary costs) is approximately 1.5 million pounds.
White Pigeon transferred approx. £500,000 (SL Rs 98.64 million) from its account at the National Westminster Bank, Sutton branch. It regularly transmits funds to the Bumiputhra Commerce Bank in Kuala Lumpur which is the bank account of the World Tamil Relief Fund for procurement of military hardware for the LTTE.
World Tamil Movement (WTM),
Tamil Coordinating Committee (TCC),
Tamil Youth Organisation UK (TYO UK)
British Tamil Association (BTA)
British Tamil Forum(BTF) – launched in 2006,
Tamil Youth Organization (TYO),
London Tamil Manram
Tamil Co-ordinating Committee
Eelam Solidarity Campaign
Tamil Information Centre
International Federation of Tamils – publishes Kalathil a Tamil journal, N Satyendran, son of late S Nadesan QC legal brain of LTTE is its advisor
World Saiva Council
International Tamil Rehabilitation Organization (ITRO registered immediate after TRO was delisted).
The Tamil Refugee Action Group even got a British National Lottery grant of 78,450 pounds on 2nd December 1998.
Tamil Refugee Education and Training Centre received a British National Lottery grant of 155,484 pounds, on 4th March 1999.
The two leading LTTE front organizations are the BTF and the GTF (launched on 24 Feb 2010 at the UK House of Commons in the presence of then British Foreign Secretary David Miliband). There is also the All Party Parliamentary Group for Tamils (APPG-T). The Chair is Lee Scott MP, Ilford North while Siobhain McDonough MP Mitcham and Morden is Vice Chair. MP Robert Halfon (Treasurer and Secretary)
Both BTF and GTF were launched in the UK.
GTF is led by 75 year old Catholic priest Father S J Emmanual
British Prime Minster Gordon Brown met with representatives of the GTF. The Conservative shadow" foreign secretary William Hague, and his Liberal Democrat counterpart, Ed Davery, addressed the GTF conference. Conservative Party leader David Cameron and Robert Blake, the current US Secretary of State for South and Central Asia and a former US ambassador to Sri Lanka, sent greetings. Reverend Jesse Jackson, who was introduced as President Obama's friend," gave a speech welcoming the GTF's founding. Is this not imperialistic patronage at its best?
http://www.defence.lk/new.asp?fname=YOUR_MAJESTY_Are_you_aware_that_UK_MPs_openly_support_LTTE_terrorist_fronts_20130306_03
Human Rights Watch 'Funding the final war- LTTE intimidation and extortion in the Tamil Diaspora, a case study of UK and Canada' – extortion range from £2000 to £100,000 from Tamil families and businesses. Killings for non-payment ex: Subramaniam Sivakumar, a Tamil businessman operating a grocery (Apna Bazaar) in North West London was killed on 5 January 2006
Tamil gang violence – stabbing to death of a Tamil on 16 February 2006 at McDonalds, Tooting. In 2005, 16 killings were reported involving Sri Lankan Tamils.
Kovils collecting money – Sivayogam Temple in Tooting sending explosives as tsunami aid, sponsoring LTTE boatyard at Sampoor 
Annual remittances from UK is about £10 million through extortion and other illegal activities
UK Government watches LTTE stage 2 annual events held on 27 Nov (Prabakaran's Birthday) and 25 July (Black July) 
If UK has banned LTTE in 2001, is it correct for
Keith Simpson to address British Tamil Conservatives in January 2010?
Siobhain McDonagh MP to demand UK take action against Sri Lanka – hansard transcript http://www.publications.parliament.uk/pa/cm201011/cmhansrd/cm101027/debtext/101027-0001.htm#10102752000011
Hon. Douglas Alexander to call for an international commission on inquiry at a Tamils for Labor event?
MP Gareth Thomas raising concerns about UK decision to deport Tamil asylum seekers?
MP Lee Scott who is the Chairman of the All Party Parliamentary Group for Tamils calling for 'justice for Tamils'
41 British MPs to write to David Cameron in 2011 calling for an international inquiry against Sri Lanka?
Attendance of many UK MPs and foreign VIPs at the World Tamil Conference held in the British Parliament in 2012 where a resolution calling for the removal of the Sri Lankan military in the north, stopping Sinhalization of Tamil Homeland, stop decimation of Tamil Nation were endorsed
British MPs should focus on finding out how many Britishers who go to fill petrol and pay by credit card have their details cloned and their money illegally sent out to fund terror? LTTE operatives in the UK are key culprits of this crime.
British voters must demand that its Parliamentarians and the UK Prime Minister get hold of the organized crime taking place under their very noses.
LTTE fronts were forcing Tamil Diaspora to make 'voluntary' donations now every Britisher is being targeted. How many British citizens are aware that their money is being indirectly used to fund terror?
There are 9500 petrol sheds across the UK – calculate how many of these have LTTE operatives working in them and the credit card scams that take place. Already 200 filling stations have been identified in Edinburgh, Norwich, Bury St Edmunds, Peterborough, Nottingham, Leeds, Bristol and Hull. Conservative Party MP Andrew Selous wife was also a victim with 1000 pounds stolen from her account (in New York)
British MPs should find out how many other LTTE charities are manipulating the kindness of the British public and using their donations to buy arms and ammunition sending out the money tax-free.
British MPs should be concerned about how LTTE a foreign terrorist organization has defrauded the British Treasury, Her Majesty's Inland Revenue and Her Majesty's Customs and Excise of over 1million pounds by raising over 3million pounds in the UK without paying value added tax on turnover and transferring over 2.5million out of UK since 1995 exploiting the 'charity status' it has deceptively acquired.
British MPs must begin to wake up to the fact that LTTE fronts are at the center of everything from credit card frauds to money laundering, drug trafficking to international narcotics trade and operating illegal shipping network as well. With LTTE ground force now no more why have these LTTE fronts not discontinued its money collection? Annual remittances from UK through various illegal activities is around £10 million – this money belongs to Britain and not to LTTE fronts.
What can be more treacherous or diplomatically incorrect than a Brigadier showing a gesture with his hands & a government co-sponsoring a legally flawed, procedurally questionable resolution that accepts that its own national army committed war crimes and is agreeable to create tribunals in order to punish them? Anyone is welcome to take their time to answer the question.
Shenali D Waduge