Father Premadasa, a disciple of Adolf Hitler?
Posted on November 1st, 2019
C. Wijeyawickrema
Everybody knew about RP's affinity for Malayalam witchcraft, black magic oils, etc. but who could have guessed that he was also an admirer of Hitler. Ex-CCS officer cum minister Sarath Amunugama had known this since 1968 according to a short note that I accidentally came across when surfing the Internet.  Appended below is that note copied from the website, Colombo Telegraph. Our knowledge about a person depends on the quantity and quality of information we have about him/her. Without reliable information, it is GIGO, garbage in and garbages out. For a book chapter that I am engaged in, titled, sins and crimes of Sri Lankan PMs and Ps, I have a long section on R Premadasa, and I have decided to release some of it in this short essay for one important reason. RP's words and actions make one wonder whether as a politician he struggled with an unbalanced mind, and I find his son, a presidential candidate, exhibits at least some traits that his father then possessed. To add insult to injury the son says at election rallies that his strength is his father's work and vision and that he will follow his father's political path. In a separate essay, I plan to compare Sajith with Gota and one or two other Vikalpa candidates.
The King of Seetawaka, Rajasinghe I, came under the spell of Malayali gurus and destroyed Buddhist temples. According to H.L.Seneviratne, RP built more Viharas (10-15?) than any other king in Sinhale. Now, Sajith plans to build over 1000 Viharas. Sri Lankan PMs and Ps, except perhaps, D.B. Wijetunga had been mixed bags of good and bad.  As Panchaskandas full of Lobha-Dwesa-Moha, each one has had his/her own share of baggage, hence RP is not unique at all in his anti-national deeds. However, of these politicians, starting with DSS, the worst culprit was RP. All politicians, including Ranil, Mahinda and Sirisena went to South Indian Kovils, but RP's case is one of going to the extreme and one of confusion: building viharas left and right and hosting Malayalam Gurus and letting his goons to force monks to attend his meetings/functions.
Like any other human being, a PM or a P must be judged by his/her character and not by personality. Whether the person is honest, sincere, ethical, moral and unselfish about the nation's long-term survival and prosperity, and not whether his nose is long or short, voice is coarse, or a good public speaker, ought to be the criteria of quality of a genuine ruler. Compare, for example, the election stage talks these days of Hirunika, Ranjan Ramanayaka, Vijithamuni Zoysa, Sujeeva Serasinghe, Mervyn Silva or the monk Dambara Amila with the so-called 'uneducated' Paba when she was an MP of the Gampaha District. She was so innocent, exuberating her quality upbringing as a descent child. Even Sarath Fonseka and Fowzie talk about killing the opposition candidate, without any reprimand from either Sajith or Ranil.
JRJ used Prof. W.S. Karunaratne and RP for his 1977 election and he had no choice but to give PM's job to RP. It was even more revolutionary than the 1956 silent revolution, and JRJ mentioned about RP's caste indirectly at his Dalada Maligava maiden speech. The problem was that RP could not overcome his own inferiority complex even after he became P. As if it was telepathy, Sajith now speaks of his superiority complex at election rallies, not realizing that one who speaks of superiority has inbuilt inferiority. Contrary to what Sirisena Cooray reveals now, RP used thuggery to dissuade JRJ from seeking a third term. Finally, JRJ did not attend RP's tragic funeral. His affair with Dudley was more dramatic. It was a case of baby snakes fed with milk. Dudley went to the extent of giving a portion of his ancestral Woodlands land to the RP family and built a house. Yet, RP was so ungrateful, arguing with Dudley in writing in public, while Dudley was in the hospital. As a heart patient, Dudley was prevented from reading the newspaper replies from RP. This treatment by RP was considered as a reason for aggravating D's health condition, and not surprisingly RP had a hard time getting permission to see the coffin.
Only a Hitler-worshipping type of man can be this cruel with those who gave him a helping hand. RP used Premadasa Udugampola to kill JVPers but then Udugampola had to hide and run to India to escape from RP's goons. I know personally that Prof. Tilak Rathnakara who helped RP tremendously to grow-up had to leave the country in fear of death! Then at the funeral, he came to shed crocodile tears before the widow!  Once when Felix Dias came to RP's office asking some minor help, he was treated like a dog. One can gauge one's honesty and character traits with one or two incidents without a long list.
I first came to know about him when newspapers reported that he said at an election rally that PM's chair will have to be washed monthly if the widow Mrs. B becomes PM. Now repeating history, his son says sanitary pads for women is a national problem that deserves priority attention! Yes, AnuraB insulted him saying that he was selling lavaria (sweetened rolled string hoppers) on Panchikawatte streets, but it is on record in the Hansard that RP brought the name of Duncan de Alwis, SWRD's private secretary to the debate. UNP election rallies use more filth, perhaps in desperation because of a sure election defeat, not realizing that such behavior is an insult to the listening public and our culture.
Another incident that I know personally is how RP got officers to move out of government houses in Colombo 7, to be sold later at exorbitant prices. One such officer got a call from RP's secretary K H J Wijedasa, asking him when he was going to move out, warning that Lokka (RP) is angry about the delay. The officer refused to vacate. A monk living in Texas tole me how monks were forced to attend RP's various functions, and he once attended a meeting because RP's goons threated to white van him if he refused.
A family I know living in Wellawatte who had a group photograph with faces of almost all the PMs before RP. One day RP borrowed this photo and the daughter of the mother who was also in the picture, who told this story to me when she was visiting the USA was puzzled when I asked her why RP did that. My wife told me that her brother and others went home from their youth society meeting at Pita Kotte, to change their trousers and come back wearing sarongs after RP gave a speech. This was during the 1950s-1906s. But this same RP made government officers wear ties during office work as a mark to separately identify them from civilians. When RP said that he can write the Budget on a bus ticket and that he wanted baas and not engineers, there was some truth hidden behind such statements, a mind of a young man saturated with nationalism. A. E. Gunasinghe, a labor leader was his teacher. From my discussions with a close original Colombo 7 lady friend, I gathered the idea that the Colombo 7 crowd and the black-white establishment did not respect RP and even ridiculed him behind his back. I suspect RP himself felt this and reacted despising them as well as by placating them. Who knows, getting Col. 7 govt officer bungalows and selling them could have been money-making as well as a revenge tactic.
The trio, RP, Wijeweera, and Prabhakaran marked a sad interlude in the country's history. His suffering under caste prejudice by the Federal Party leadership created a cruel Prabhakaran. Wijeweera's support base was the so-called low caste village youth. A. E. Gunasinhge's daughters had a hard time getting married, because of caste conflicts. When we think of it, since the 1930s, when Govigama and Karawa castes controlled/dominated public politics, lower castes gravitated toward leftist/Marxist names. In 1935 LSSP opened-up an opportunity for them. In 1952 SLFP performed better than UNP in this regard. It is amazing how under the new election laws this- now you see, now you don't- caste card is operating at the local-village-town level.
To my knowledge, Dayan Jayatilaka and Imthiaz Bakeer Markar are the only two individuals who praise RP as a political-administrative genius. To me, a ruler, who lived alone with his loyal driver Mohideen in a lonely house, waking-up his married officers calling them at 4 A.M. was a Hitlerian act. My relative told me that RP's Gam Udava, in most cases ended as a waste, disturbing the life and ecology of an already surviving locality, resulting in clock towers rusting and broken. This reminds me of how he sent masons to a suburb in London to build a Vihara, which became dilapidated in no time due to weather and climate conditions there. Gam Udava was used by the evangelical missionaries to distribute truckloads of bibles to villagers shipped from abroad. Sajith is accused of selecting Buddhist archaeological sites (e.g. Vijithapura) and ecologically sensitive locations for his one and only project of creating new villages with funny names. And, the houses apparently are not free, but on housing loans.
After RP's death questions arose about where he studied in Colombo and what grade he passed. Did he attend St. Joseph College or some other school? His opponents called his government the clique of the seven (seven men with grade seven). Interestingly this kind of question did not arise with DSS or Mrs. B, because they did not disrespect educated people. Sajith got into a similar problem with regard to his basic education due to the fact that he bragged about his LSE education. Speaking in English after a foreign stay does not make one a degreed person after hard work. Mrs. CBK also had this problem with her higher educational qualification during her stay in France. Some people are simply not O.L. or A.L. material and do not have to worry about higher educational qualifications.
I mentioned these aspects of RP's life characteristics so that it helps one to gauge his mental state before and after he became president. One last information I have is what the late PM/President D. B. Wijetunga told his close relative when they were residing at the Temple Trees. After RP's demise, ballot boxes full of money were taken out of his Sucharitha home/office, and Sirisena Cooray ought to be the person who knew where they were taken.  After all, it was SC, who got Somawansa Amarasinghe out of the country when Wijeweera was captured. Mulgirigala rock temple picture missing from the Queen's House was found at an auction in London and RP's son-in-law was the suspect. His daughter was caught in an illegal money printing case and MahindaR gave her protection. How RP who began as a patriotic young man well versed in Buddhism left this world leaving his widow and daughter who became evangelical Christians and then Sajith with a Christian spouse visiting a church at Kirulapona on a regular basis is a relevant public issue, because Like RP, Sajith is also too much into saving or decorating Buddhism.
Everybody is barking at Arjuna Mahendran and RanilW for robbing the Central Bank, but nobody knows that Pakaralingam is with Ranil since 2015. Paskaralingam was RP's link to Prabakaran, and he pumped, information, money, and material to the LTTE until the day of RP's demise. The next day itself Paskaralingam escaped and joined the tiger crowd in Australia. Apparently, like RP, RanilW is so attached to Paskaralingam.  What this means is that if Sajith becomes president because of the very bad karma of Sri Lanka, just by saying Sir and Sir, Paskaralingam will have two servants, not two masters.
Just think of the harm done to Sri Lanka by RP with Paskaralingam sitting next to him or under his table to display his fake loyalty.
He betrayed the Sinhala people by agreeing with Asroff to reduce the district voting cut-off point from 12 to 5%. This was done in a Hitlarian manner just two days before the 1988 presidential election to get Asroff's support. Then, since 1994, Sinhala politicians became dog tails of Muslim MPs.
He secretly gave arms, materials, and money to Prabakaran to fight against the IPKF, which were later used against the SL army by Prabakaran.
His decision to order the police to surrender to Prabakan resulted in the cold-blooded massacre of 600+ police/army personnel.
His decision to increase the number of GSN units from 4,000 to 14,000 without any scientific basis created an army of grama sevaka niladharees without any basic education but UNP goons in villages.
Hitler was wiser in his statecraft, but RP could not handle wisely at least a man from his social class, Wijeweera. The IPKF left Sri Lanka not because of RP's demand but the Indian government could not control Tamilnad state training and nursing tigers wounded in fighting against IPKF in Jaffna. After treatment in Tamilnad hospitals they returned and fought again! Therefore, trapped in its own political game, a weak Delhi govt decided finally to withdraw after heavy loses. In the meantime, RP watched in agony how his blind faith in Balasingham and Co. made him literally, a prisoner of war. The story was that he asked Wijedasa to help him to come out of the mess. It was a tragic saga. If Mohideen, his life-long, loyal driver was the conduit pipe that Prabakaran used to get Babu into the business of shaving RP's beard, one could imagine the level of dysfunction in the president's own world. What was so sad was the fact that when he was blasted into pieces beyond recognition, his severed head or his hand or a finger with his ring found later in a mortuary full of parts of dead human flesh, people all over the country lighted fire crackers, perhaps as revenge for the killings that took place during 1988/89 JVP revolt. In the case of Saddam Hussein and Muhammar Gaddafi it was foreign manipulation.
RP lived with insecurity, fearing if a potential rival would emerge. He suspected Sarvodaya Ariyaratne and appointed an NGO commission to silence him. He was afraid of Denzil Kobbekaduwa's popularity and the threat of Athulath Mudali-Navin Dissanayake challenge. People were not sure if tigers killed them or if tiger or JVP friends of RP did it. It is better for Sajith not to talk about his father's legacy which is like opening a can of worms.
Why Did Premadasa Admire Hitler?
By Rifat Halim –
Ranasinghe Premadasa was a fascinating leader, who deserves a much better biography than the ones that Bradman Weerakoon and Evans Cooray have produced.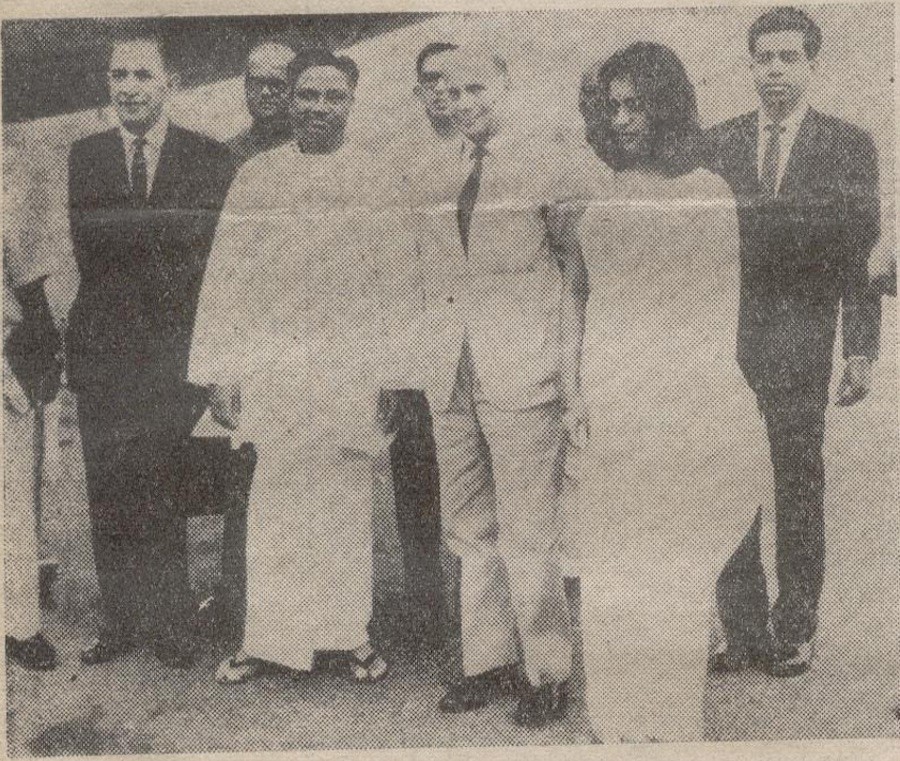 Premadasa, then Parliamentary Secretary to the Minister of Local Government with the Minister of Local Government Senator M Tiruchelvam QC (In the White Suit) in the Colombo Airport in 1968.
There are three questions that come to mind on his 25th death anniversary:
(1) Why did he admire Hitler?
Premadasa served as the Parliamentary Secretary (colloquially known as the Deputy Minister) to the Minister of Local Government Murugeysen Tiruchelvam QC from March 1965 to September 1968. Tiruchelvam was the Federal Parry's nominee in Dudley Senanayake's Cabinet. He succeeded Tiruchelvam as Minister, when the latter resigned in September 1968.
In early 1968, the Frederich Ebert Stiftung (FES), a think tank controlled by German Social Democratic Party (SPD), invited Minister Tiruchelvam to study local government in West Germany. The Minister declined the invitation and nominated his Deputy Premadasa, Dr. Sarath Amunugama (who was then a coordinating secretary in the Ministry) and one more official. Dr. Sarath Amunugama is now a Cabinet Minister.
When they arrived in Bonn (West Germany's capital), Premadasa asked Amunugama to purchase books on Adolf Hitler. Premadasa told Amunugama that he was a long-standing admirer of Hitler. This was the first and only time that Amunugama had met a fan of Hitler.
Amunugama had to look long and hard for books on Hitler in Bonn. The Americans had restricted all pro-Nazi literature from the bookshops. When a few books were produced, Premadasa was delighted. He exclaimed that he wished that his late mentor AE Goonesinghe (who modelled the Ceylon Labour Party on the Nazi Party) could have been in Bonn.
Former UNP MP Asoka Somaratne (who resigned after the accord) has written that Premadasa enjoyed watching Hitler's speeches, even if he could not speak one word of German. Premadasa even adopted Hitler's mannerisms in his own speeches.
(2) Why did he save Asia's Hitler?
Nobody who values democracy can forgive Premadasa for giving Asia's Hitler Velupillai Prabhakaran the lease of life during the Ali – Koti (Elephant-Lion) alliance of 1989-90. The IPKF had brought the LTTE to its knees, but Premadasa inexplicably entered into negotiations with them in April 1989.
He not only talked to the LTTE, but he armed them. Former Defense Secretary General Cyril Ranatunga has written in page 103 of his book From Peace to War, Insurgency to Terrorism that President Premadasa had decided to give arms to the LTTE".
When the TULF leader Appapillai Amirthalingam was killed by the LTTE on 13th July 1989, both President Premadasa and Minister of State for Defence Ranjan Wijeratne defended the LTTE. They absolved the LTTE of any responsibility.
When Mahathaya admitted that the LTTE killed Amirthalingam and Yogeswaran in October 1989, Ranjan Wijeratne still refused to blame the LTTE.
Eventually, their Karma caught up with them. Both Ranjan Wijeratne and Ranasinghe Premadasa were killed by the same organisation that they defended.
(3) Was his success due to luck or ability?
Premadasa, the only non-Govigama leader in the country's history, had a generous share of good fortune.
He was lucky that his Minister (Tiruchelvam) was a Senator. Only the lower house can present legislation and Premadasa presented several important bills. This meant Premadasa had a much higher profile than any other Deputy Minister. He presented the Tamil language Special Provisions bill in 1966 on behalf of his Minister. Premadasa often quipped that he (a man without formal qualifications) was representing a Queen's Counsel.
He was lucky that Tiruchelvam resigned in September 1968, which paved the way for his entry into Cabinet.
He was lucky to hold his seat during the UNP debacle in 1970. This elevated him to the top tier in the UNP hierachy. He was lucky that the JVP disrupted the 1988 Presidential elections. Mrs. Bandaranaike would have won if the turnout was higher.