PRESIDENT SAYS RECENT VICTORIES REFLECT PEOPLES DETERMINATION NOT TO BETRAY THE COUNTRY AND THEIR URGE FOR DEVELOPMENT
Posted on October 12th, 2009
By Walter Jayawardhana
President Mahinda Rajapaksa said in Kalutara after declaring open Vernon U.Fernando Memorial Soccer Stadium that the meaning of recent victories reflects the determination of the people not to let the country to be betrayed and their great ambition for the country to be developed.
The PresidentƒÆ''¢ƒ¢-¡'¬ƒ¢-¾'¢s obvious reference was to the series of electoral victories of his government had gained during the last few months that climaxed with the victory of obtaining a historical two thirds majority at the Southern Provincial Council elections, few days ago.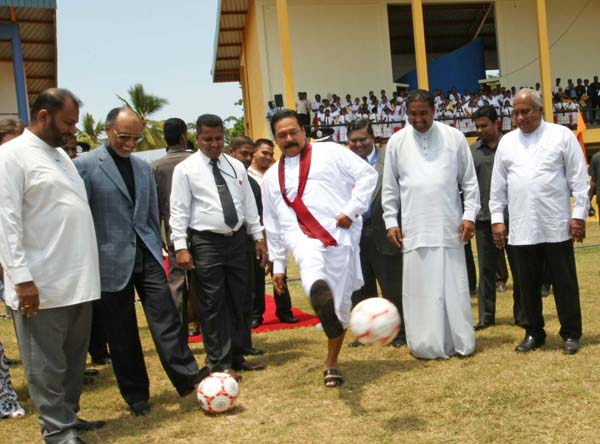 photos by Sugath Silva
President Rajapaksa who was in a jubilant mood at the opening ceremony of the stadium which was built at a cost of 82 million Rupees with the personal contribution of Manilal Fernando, Vice President of the Asian Football Federation and the aegis of the International Football Federation kicked off a soccer ball to symbolically start the operation of the sports arena. The stadium is equipped with all modern amenities and it is the second such stadium to be opened in Sri Lanka. Mother of Manilal Fernando also presented a memento to the President , marking the occasion.
He also unveiled a plaque signifying the occasion.
The President further said it is the onus of the people to safeguard everything gained out of all these victories.
Mahinda Chinthana, the manifesto accepted by the people determined that problems should not be passed on to the future generations. He said thatƒÆ''¢ƒ¢-¡'¬ƒ¢-¾'¢s how, ƒÆ''¢ƒ¢-¡'¬ƒ…-The country has entered a victorious era. It is the motherland that is protected through these victories. I would not permit the betrayal of the country.ƒÆ''¢ƒ¢-¡'¬ƒ"š'
President of the Asian Football Confederation Mohamed Bin Hammam in his address said that vast development had taken place in Sri Lanka since his last visit. Development is not being witnessed only in the football(soccer) sector but also in the country. The significant achievement is the peace. Mr. Hamman said that the President is not only the hero of war but the hero of peace.
Ministers Gamini Lokuge and Rohitha Abeygunawardena also spoke. Ministers Nirmala Kotalawela and Nandana Gunatilake, Western Province Chief Minister Prasanna Ranatunga and President of the ƒÆ''¢ƒ¢-¡'¬ƒ…-Tharunayata HetakƒÆ''¢ƒ¢-¡'¬ƒ"š' Organisation Namal Rajapaksa were among the large gathering present.