Relocate the Bambalapitiya Children's Court and existing rehabilitation centre in Ambepussa
Posted on November 11th, 2009
Media Secretary for the Minister of Justice and Law Reform
The Committee appointed by the Minister of Justice and Law Reform Milinda Moragoda, to consider reform to the juvenile justice laws presented its report to the Minister yesterday (10.11.2009). The Committee was chaired by Hon. Justice Shiranee Tilakawardene, Judge of the Supreme Court.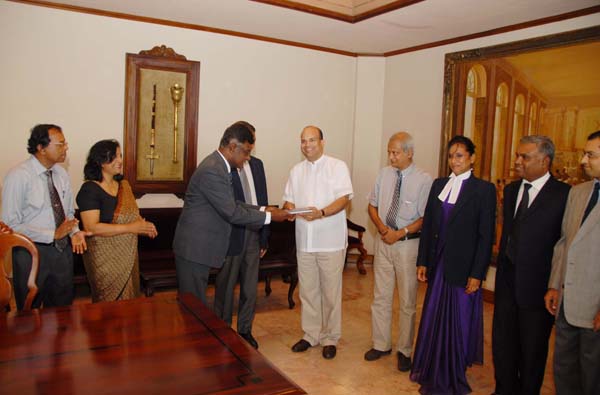 Photo Show Justice L. K. Wimalachandra, former appeal court Judge handed over the copy of final report of reform to the juvenile justice laws to Minister Milinda Moragoda. Shiranee Tilakawardene, Judge of the Supreme Court, Justice N. K. Udalagama, Judge of High Court, Judge Wasantha Kumara, Magistrate-Kurunagala, Prof Diyanath Samarasingha, Prof. Harendra De Silva, Kamalini De Silva, Additional Secretary of the Ministry and other committee members were participate this event.  
The report examines issues relating to juvenile justice under three heads, namely, the Law, the Implementation of the Law and Awareness Raising and contains immediate, short term and long term recommendations with a view to resolving same. Amongst the key recommendations are the immediate needs to revisit certain provisions of laws relating to children – the Children and Young Persons Ordinance No. 48 of 1939 in particular, to establish children's Magistrate's Court in the country and the urgent need for increased funding to be allocated by the State in order to facilitate full implementation of the laws and recommendations contained in the report.
 The Minister Moragoda expressed his firm commitment towards the above and stated further that immediate steps will be taken to relocate the Bambalapitiya Children's Court to the identified building for this purpose in Battaramulla and the Training School for Youthful Offenders (currently situated in Pallansena) to the existing rehabilitation centre in Ambepussa, within 45 days.
A ministerial sub-committee is to be appointed for the purpose of overseeing the relocation of the Children's Court which will be facilitated by financial support from Save the Children in Sri Lanka.