Legitimate grievances and national problem of the Hela/Sinhela people
Posted on March 30th, 2010
Anura Seneviratna, Dr. MB.Ranatunga, Sumith de Silva, Ira Mediwake, Asanka Haradasa, Sapumal Watteaarachchige, Ranjith Wijetunge, Ranjith Wijetunge, Dhanapala Godagangdeni, Sam Samararatne (for expat Hela team).
The endless rhetoric of alleged legitimate grievances and national problem pertaining to the non indigenous Tamil minority in Heladiva (SL) is rampant. But if looked at impartially with justice and truth at the core, it is a self-evident fact that the legitimate grievances and national problem in the Island Country is wholly of its pre-historically ancient indigenous Hela people and NOT of the non indigenous Tamil ethnic minority of Tamil Nadu (Tamil Country) origin, who are none other than INCLUSIVE members of the Hela Nation.ƒÆ'-¡ƒ"š' ƒÆ'-¡ƒ"š' ƒÆ'-¡ƒ"š'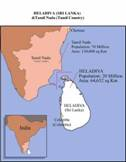 The legitimate grievances and national problem of the Hela/Sinhela people is vast and extreme and to expose these facts, a few gross violations against the Hela Nation as follows:-
The robbed island country of SinhaleƒÆ''¢ƒ¢-¡'¬ƒ¢-¾'¢ was not reverted to at least SinhaleƒÆ''¢ƒ¢-¡'¬ƒ¢-¾'¢ or corrected to its pristine identity of Heladiva (island of Helas). Instead, ƒÆ''¢ƒ¢-¡'¬ƒ…-LankaƒÆ''¢ƒ¢-¡'¬ƒ"š' a nickname used by foreigners was installed by the past pseudo anti-Hela/Sinhela politicos ƒÆ''¢ƒ¢-¡'¬ƒ¢¢"š¬…" in violating the national name of the land deed. This opened a loophole for non indigenous Tamils to be considered as an official entity when ƒÆ''¢ƒ¢-¡'¬ƒ…-TamilƒÆ''¢ƒ¢-¡'¬ƒ"š' should ONLY be designated to Tamil Nadu and nowhere else.
Tamil language, culture and Hindu religion of Tamil Nadu were given official status in gross violation of the Hela Nation in our national motherland.
The national sovereignty status of the National flag was tainted with the Tamil national colour band.
Apartheid type foreign Tamil enclave in the north was allowed and to practice racist policies against the very indigenous nation of Hela people of our national Island Country.
When other robber nations like Portuguese, Dutch, British left the island as the crime of robbing is not a right, while only the earlier Tamiloid ƒÆ'-¡ƒ"š' Dravidian attempting to convert the crimes to rights is crassness or shamelessness.
While every minority in host countries attempt to merge with the host nation as a refined, civilized and a political norm, Tamil minority in the host country of Heladiva, trying to extinct the host nation and rob the host country in a blatantly vile manner.
Justice for the Hela Nation of Heladiva is long overdue in addressing our legitimate grievances and our national violations.