The Travels of a Journalist—29, L. A. ALSO STANDS FOR LOTS OF AMUSEMENT:VISITING KNOTT'S BERRY FARM AND DISNEYLAND
Posted on May 22nd, 2010
By Shelton A. GunaratneƒÆ'-¡ƒ"š'©2010
ƒÆ'-¡ƒ"š' Our fist excursion beyond Greater Los Angeles during our Fullerton Year 1983 was a three-day outing in Fresno, the gateway city to Sequoia National Park. The purpose was to attend the state conference of the Journalism Association of Community Colleges.
Because I was unaware of the existence of such an organization during my graduate-student days, I decide to attend it with two Fullerton College studentsƒÆ''¢ƒ¢-¡'¬ƒ¢¢"š¬'Ann Craig and Carol Holland. Division Chairman Don DePuy encouraged me to attend.
WeƒÆ''¢ƒ¢-¡'¬ƒ¢¢"š¬'Junius, Yoke-Sim and IƒÆ''¢ƒ¢-¡'¬ƒ¢¢"š¬'left Fullerton on 22 April (Friday) for Fresno and returned on 24 April (Sunday). I gave a slide presentation on ƒÆ''¢ƒ¢-¡'¬ƒ…-Journalism Down UnderƒÆ''¢ƒ¢-¡'¬ƒ"š' and attended several workshops at the conference. My family joined me at the Mail-in Awards Banquet Friday evening and the JACC dinner at Hacienda Inn Saturday evening. They also joined me for a two-hour drive to explore Fresno Saturday afternoon.
Our pursuit of ƒÆ''¢ƒ¢-¡'¬ƒ…-happinessƒÆ''¢ƒ¢-¡'¬ƒ"š'ƒÆ''¢ƒ¢-¡'¬ƒ¢¢"š¬'conversely, the desire (tanha) for limitless travel experiencesƒÆ''¢ƒ¢-¡'¬ƒ¢¢"š¬'began in earnest soon after the Fresno trip.
ƒÆ'-¡ƒ"š' Rather than describing our forays into ƒÆ''¢ƒ¢-¡'¬ƒ…-discoveringƒÆ''¢ƒ¢-¡'¬ƒ"š' GLA chronologically, I will use the more parsimonious method of collating our ƒÆ''¢ƒ¢-¡'¬ƒ…-discoveriesƒÆ''¢ƒ¢-¡'¬ƒ"š' into similar categories and then elaborating on each category with finer detail. These systematic forays began in May 1983 and continued until January 1984 with the frequency of the forays increasing with the time available decreasing.
First, the category themed amusement parks:
KnottƒÆ''¢ƒ¢-¡'¬ƒ¢-¾'¢s Berry Farm
GLA has world-class amusement parks, which attract families with small kids worldwide. On 8 May, a Sunday, Yoke-Sim and I took Junius with us to neighboring Buena Park city to give him the KnottƒÆ''¢ƒ¢-¡'¬ƒ¢-¾'¢s Berry Farm experience. Discounted admission to this 160-acre themed park, with 40 rides, including nine roller coasters and four water rides, cost us $8.45 per adult.
[The 2010 regular admission to KnottƒÆ''¢ƒ¢-¡'¬ƒ¢-¾'¢s Berry Farm was $45 per adult and $24 per junior/ senior.]
The history of the farm illustrates the success story of a farming family. Walter and Cordelia Knott began a berry farm on 10 acres of leased land in 1920. They purchased 10 more acres in 1929.ƒÆ'-¡ƒ"š'  Circumstances forced Cordelia to open Mrs. KnottƒÆ''¢ƒ¢-¡'¬ƒ¢-¾'¢s Chicken Dinner Restaurant in 1934. The couple added 100 acres more in 1941. They set up the Living Ghost House in 1940 as free entertainment, the Steakhouse in 1946, the Bottle House and Music Hall in 1948, the Stagecoach in 1949, the Calico Saloon in 1950, and so on, until it gained recognition as a Wild West amusement park.
We saw the Wild West Stunt Show at Wagon Camp, the Can Can Show at Calico Saloon, the Melodrama at Bird Cage Theater, Dr. SkinnerƒÆ''¢ƒ¢-¡'¬ƒ¢-¾'¢s Medicine Show at Bird Cage Square, and ReneƒÆ''¢ƒ¢-¡'¬ƒ¢-¾'¢s Marionettes at Fiesta Plaza. We thoroughly enjoyed the train ride, the Calico Mine Ride, the Stage Coach Ride, the Log Ride, the Sky Cabin Ride, and the walk through the Haunted House.
We covered all three themed-areas of the parkƒÆ''¢ƒ¢-¡'¬ƒ¢¢"š¬'Fiesta Village, Roaring ƒÆ''¢ƒ¢-¡'¬ƒ"¹…"20s, and Ghost Town. It was wholesome family fun. Although KnottƒÆ''¢ƒ¢-¡'¬ƒ¢-¾'¢s created Camp Snoopy, its fourth themed-area, in 1983, it was still not ready for visitors during our visit.ƒÆ'-¡ƒ"š'  Today, KnottƒÆ''¢ƒ¢-¡'¬ƒ¢-¾'¢s has two more themed-areas: Wild Water Wilderness and Indian Trails. It has renamed the original Roaring ƒÆ''¢ƒ¢-¡'¬ƒ"¹…"20s as The Boardwalk.
To celebrate MotherƒÆ''¢ƒ¢-¡'¬ƒ¢-¾'¢s Day, Junius and I decided to take Yoke-Sim for lunch at Mrs. KnottƒÆ''¢ƒ¢-¡'¬ƒ¢-¾'¢s Chicken Dinner Restaurant. We paid $13.43 for the meal, which included rhubarb in sauce and piping hot buns. People lined up for long periods to taste Mrs. KnottƒÆ''¢ƒ¢-¡'¬ƒ¢-¾'¢s recipe.
My overall sense was that KnottƒÆ''¢ƒ¢-¡'¬ƒ¢-¾'¢s Berry Farm was designed to promote the traditional family values of American farmers. (Update: In 1997, the Knott family sold the amusement park operations to Cedar Fair.)
Disneyland Park
I introduced Disneyland to Junius and Yoke-Sim on 28 May (1983), a Sunday. I had fond memories of my first visit to Disneyland on 24 Dec.1966 during the West Coast tour of the World Press Institute. Visiting Disneyland in Anaheim, next door to Fullerton, just 11 years after its creation, I wrote in an article published in the Ceylon Daily News (13 Jan. 1967):
Walt Disney is dead. But his work is inspiring millions of people throughout the world. Let one go to Disneyland ƒÆ''¢ƒ¢-¡'¬ƒ"š'¦ and enter the small world of happy children. You get on to a tiny boat and enter the world of singing, dancing, laughing children representing over 100 nations. ThereƒÆ''¢ƒ¢-¡'¬ƒ¢-¾'¢s a group of girls pirouetting. HereƒÆ''¢ƒ¢-¡'¬ƒ¢-¾'¢s a teeny-weeny girl winking. The singing takes you to another world. The children are not real. But it was the happiest crew that ever sailed around the world.
In Disneyland, one could have Great Moments with Mr. Lincoln on Main Street, and then enter Tomorrowland, Fantasyland, Frontierland, and Adventureland. He could board the Santa Fe and Disneyland train and go on a journey through the Grand Canyon into the fantastic Primeval World. He could travel by the first complete monorail system in America or travel through tropical jungles and exotic areas of the world on a jungle launch or go on a journey through ƒÆ''¢ƒ¢-¡'¬ƒ…-liquid spaceƒÆ''¢ƒ¢-¡'¬ƒ"š' on an exciting undersea cruise to the North Pole.
Disneyland (Anaheim), which began in 1955 with only 20 attractions, currently features eight themed landsƒÆ''¢ƒ¢-¡'¬ƒ¢¢"š¬'Main Street USA, Adventureland, New Orleans Square, Frontierland, Critter Country, Fantasyland, MickeyƒÆ''¢ƒ¢-¡'¬ƒ¢-¾'¢s Toontown, and TomorrowlandƒÆ''¢ƒ¢-¡'¬ƒ¢¢"š¬'with 58 attractions. Some 600 million people have visited Disneyland (Anaheim) since its inception, including almost 16 million in 2009.
On this weekend family visit to Disneyland, long lines delayed our access to popular attractions such that we had to prolong our stay in the park until almost midnight. We began the day with a Disney Railroad journey around the themed park.
We spent most of the day in Fantasyland, which had just re-opened after a $40 million reconstruction that took two years to complete. We visited the Sleeping Beauty Castle, ItƒÆ''¢ƒ¢-¡'¬ƒ¢-¾'¢s a Small World [my favorite that lulled me into nostalgic fantasy], Mr. ToadƒÆ''¢ƒ¢-¡'¬ƒ¢-¾'¢s Wild Ride, PinocchioƒÆ''¢ƒ¢-¡'¬ƒ¢-¾'¢s Daring Journey, Snow WhiteƒÆ''¢ƒ¢-¡'¬ƒ¢-¾'¢s Scary Adventures, and Peter PanƒÆ''¢ƒ¢-¡'¬ƒ¢-¾'¢s Flight. Junius had a bonanza of treats worth a lifetime. He rode a Matterhorn Bobsled, and made a train trip, as well as a canal boat trip, to Storybook Land.
We ate lunch in Tomorrowland, where we piloted a rocket jet, took a tour in the People Mover, rode the Skyway and took a submarine voyage. We also experienced the Adventure Thru Inner Space, the Mission to Mars, and America the Beautiful. [Currently, new attractions have replaced these 1983 ones.]
In Frontierland, we took a cruise on Mark Twain Riverboat. In Adventureland, we climbed the Swiss Family [now TarzanƒÆ''¢ƒ¢-¡'¬ƒ¢-¾'¢s] Treehouse, went through the Jungle Cruise, and took part in the musical luau in the Enchanted Tiki Room.
We ate diner at the French Market in New Orleans Square, where we sailed to have a look at the Pirates of the Caribbean. We ended the day watching the half-hour Electrical Parade.
In 1983, a one-day admission ticket to Disneyland cost $12 per adult. In 2010, the same ticket cost $72 with juniors receiving a $10 discount.
In 1998, the original theme park was re-named Disneyland Park to distinguish it from the larger Disneyland Resort complex. In 2001, Walter Disney Co. opened a second themed park, DisneyƒÆ''¢ƒ¢-¡'¬ƒ¢-¾'¢s California Adventure Park, adjacent to Disneyland Park.
ƒÆ'-¡ƒ"š' (To be continued)
ƒÆ'-¡ƒ"š' (The writer is professor of mass communications emeritus, Minnesota State University Moorhead.)
ƒÆ'-¡ƒ"š'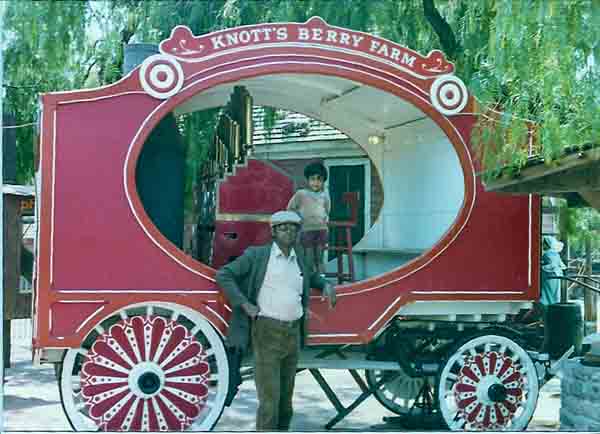 ƒÆ'-¡ƒ"š' Picture 1: The author and his son Junius at the KnottƒÆ''¢ƒ¢-¡'¬ƒ¢-¾'¢s Berry Farm (8 May 1983),
ƒÆ'-¡ƒ"š'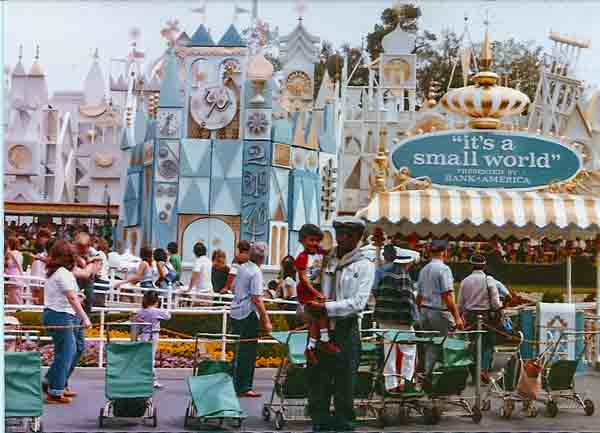 Picture 2: The author gets ready to take his son Junius on an unforgettable voyage of ƒÆ''¢ƒ¢-¡'¬ƒ…-ItƒÆ''¢ƒ¢-¡'¬ƒ¢-¾'¢s a small world.ƒÆ''¢ƒ¢-¡'¬ƒ"š' (28 May 1983)