A new bridge at Hakpitiya (Sangupiddy).
Posted on January 17th, 2011
Yapanaya [Jaffna])
President Mahinda Rajapaksa while vesting with the people the 288-metre-long two-way Sangupiddy Bridge, Jaffna which links the shortest land based route between the South and the Jaffna peninsula yesterday, emphasized that the Government was fully focused in achieving equity in development.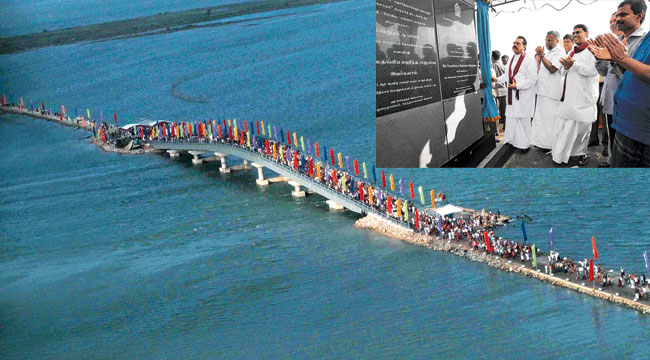 Causeway, Jetty, Ferry, naval clashes near Punranna(Pooneryn). A ferry would connect the 4km lagoon from Sangupiddi to Jaavakaceriya (Chavakachcheri). The word "Sanka", is Sanskrit for Conch shell. The sinhala word, Sanka or Hak, as well as the Tamil ƒÆ'' ƒ"š'®ƒ…'¡ƒÆ'' ƒ"š'®ƒ¢-¾'¢ƒÆ'' ƒ"š'¯ƒ"š'ƒÆ'' ƒ"š'®ƒ¢¢"š¬'¢ƒÆ'' ƒ"š'¯ƒ"š' are both derived from Sanskrit. Sankapitiya or Hakpitiya would hence refer to the fact that this part of the sea has been known for Chank (Gastropoda: Turbinella pyrum) fishery for a long time. Chank shells, or Konches ("Hakgedi") are used in Buddhist prcessions. They are considered sacred in Hindu lore, and are associated with MahaLakshmi. The sinistral Turbinella pyrum (with the spiral turning left when the apex is held up), called Dakshinavarti in Skrt., (i.e., right-turning spiral, with the apex held down) are very rare. Thus the name Sankapitiya reflects the fishing for "Hak-gedi" or Conch shells, crud See also, write up under Hambanthota. A new brdige has now been constructed, and opened in 2011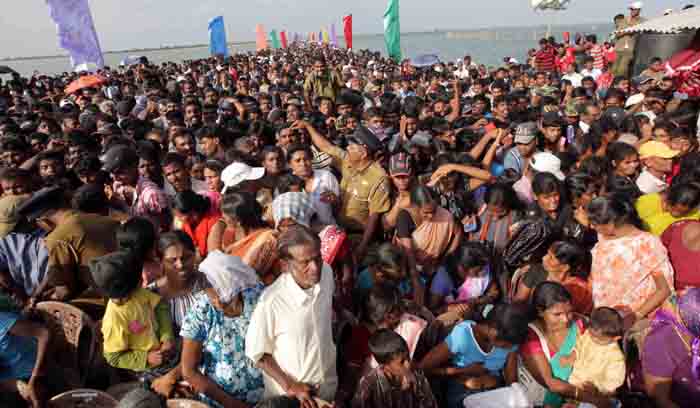 The bridge is seen by the people as a Thai Pongal gift to the people of Jaffna.
The bridge is constructed at a cost of Rs 1,037 million. The United Kingdom has assisted with the funding. The Sangupiddy bridge on the A-32 highway will connect Karaitivu with Pooneryn and will reduce the travel time from Colombo to Jaffna by about three hours. It would lessen the journey by about 110 km.
Cost Rs 1,037 million
* Length – 288 metres
* Width – 7.4 metres
* Situated on the A-32 highway
* Connects Karaitivu with Pooneryn
* Reduced travel time from Colombo to Jaffna by about three hours
*Bridge completed in eight months
* Govt constructed bridge with soft loan from Britain
* Sangupiddy a two-way bridge
* Colombo -Jaffna distance reduced by 110 km
The bridge was constructed by Sri Lankan engineers ahead of schedule. Ministers Basil Rajapaksa, Douglas Devananda, the Tri ForcesƒÆ''¢ƒ¢-¡'¬ƒ¢-¾'¢ Commanders, Northern Governor G A Chandrasiri, Security ForcesƒÆ''¢ƒ¢-¡'¬ƒ¢-¾'¢ personnel and the public were present.