IFC & Sanansa Development Bank Collaborate To Promote Business Efficiencies for Micro Entrepreneurs
Posted on February 10th, 2011
Communications Analyst  IFC – SEDF Colombo
Colombo, Sri Lanka, February 10, 2010""' The IFC, a member of the World Bank Group, signed a Corporation Agreement  with Sanasa Development Bank (SDB), to bring a world class training system ""…" Business Edge TM to clients of the bank. Up to 200 micro entrepreneurs will be trained under the pilot program, with plans to later expand the training course to reach a larger number of micro entrepreneurs. The training will aim to improve business performance and competitiveness through the strengthening of management skills.www.ifc.org.

Business Edge TM is based on an international syllabus, and is then adapted to fit the local context of Sri Lanka. The agreement was signed between Rachel F Robbins – Vice President and General Counsel for IFC, and Dr. P.A. Kiriwandeniya – the Chairman of SDB.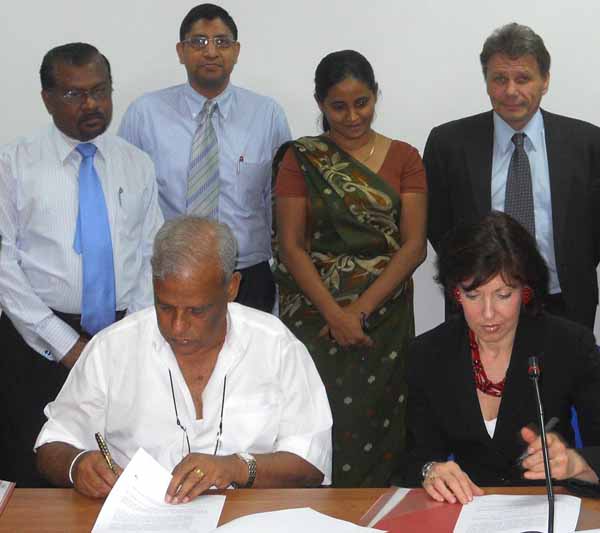 Pictured above: Representatives from IFC and the SDB at the signing of the Corporation Agreement. Seated: Dr. P.A. Kiriwandeniya (Chairman, SDB) and Rachel F Robbins (Vice President and General Counsel for IFC) Standing from (Left to Right): Nimal Mamaduwa (CEO, SDB), Asela Dissanayake (Operations Officer, IFC), Samadanie Kiriwandeniya (DGM-International Relations, SDB), and Per Kjellerhaug (Regional Manager, IFC).
About IFC
IFC, a member of the World Bank Group is the largest development institution focused on the private sector in developing countries. We create opportunity for people to escape poverty and improve their lives""'by providing financing to help businesses employ more people and provide essential services, mobilizing capital from others, and delivering advisory and risk-management services to ensure sustainable development. In a time of global economic uncertainty, our new investments climbed to a record $18 billion in fiscal 2010. For more information, visit