Build friendship bridge among students: Puthumadam students meet new friends from Panagoda Army School
Posted on August 12th, 2011
By Janaka Alahapperuma
A group of teachers and students of the Army school in Panagoda paid a goodwill visit to Puthumadam Roman Catholic Primary School in Inuvil, Jaffna last Sunday on 07 July. This visit was organized by the 513 Brigade of the Security Forces Headquarters ""…" Jaffna as an ongoing coordination programme for last two years to build the friendship bridge among students between the North and South. This worthy project was introduced by the Sri Lanka Army, Security Forces Headquarters under the leadership of Commander of the Security Forces- Jaffna, Major General Mahinda Hathurusinghe.
Twenty teachers and sixteen students of Army School in Panagoda, together with some of their family members, as a goodwill token of new friendship presented parcels of books and other school items to students at Puthumadam R.C. Primary School at a simple ceremony held at the school premises. They also donated some office equipment to the school.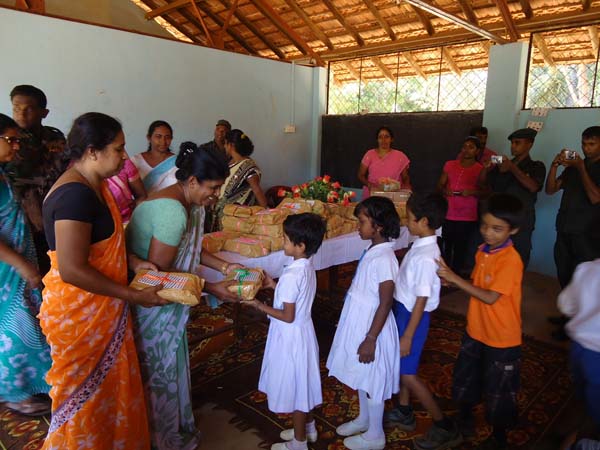 Principal of the Puthumadam RC School, Mrs. S. Sooriyarajan told that the students of her school had a memorable day in their school's history with their counterparts of Army school in Panagoda. She further added that it was a clear sign that the students had built up strong links between them.
Principal of Panagoda Army School Mrs. Sriyani said that having identified needs of their fellow students at Puthumadam RC School- Inuvil, the students of her school in Panagoda guided by their teachers and parents, donated a stock of books, school items and sportswear to Puthumadam RC School. She further stated that they were received with a warm welcome on their arrival at Puthumadam, Jaffna.
General Officer Commanding 51 Division Major General Janaka Walgama participated in the ceremony as the Chief Guest and said after eradicating thirty years of terrorism students of the Southern part of the country have commenced stretching cooperative hands towards those in the North and East in a major friendship-building exercise which was introduced by the Army. So far they have organized hundreds of such events for last two years. Thus, friendship and cordiality between the young of the North and South will get an opportunity to bloom, after 30 years.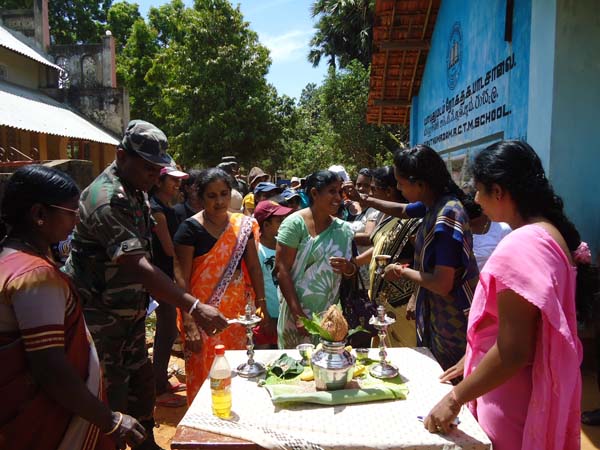 Principal of Panagoda Army School Mrs. Sriyani, principal of Puthumadam RC Primary School Mrs. S. Sooriyarajan, senior Army officers and parents were present on the occasion. The visit was organized by the 513 Brigade of the Security Forces Headquarters – Jaffna as another event of their civil military coordination programme.