An exemplary Politician.
Posted on April 23rd, 2012
By : Ayesh Madhawa De Silva
A great man of our time that I have seen is nobody but late minister Jayaraj Fernandopulle. He was assassinated by a suicide bomb blast along with 11 others when he was flagging off a marathon race as a part of the Sinhala and Tamil new year's day celebration at Weliweriya,Gampaha District on 6th April, 2008.
He entered politics as a youngster and rapidly climbed up the ladder. He was a powerful political figure. He was one of the finest speakers in the parliament and defended the government with all his might. However he maintained friendly relations with members of both sides of the house as the chief government whip. He was very loyal to the party and to his leaders. He played a pivotal role in parliament as the Chief Government Whip.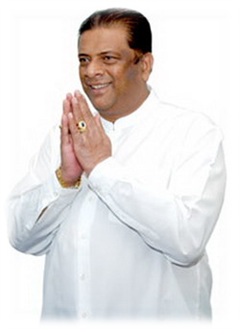 He excelled in all the ministries which were assigned to him. He loved the work for the people and mingled with others without even concerning his security issues. He always spoke according to his conscience. He is the brilliant orator I've seen. He always backed up his arguments with logical reasoning.
He spoke all three languages fluently therefore he could reach out to every community in the country to point out to them the importance of ethnic amity. He has done a yeoman service to bring permanent peace to the county while dedicating his life to uplift the living standards of ordinary people. It is a great loss not only for the people of Gampaha but also for all the people in Sri Lanka.