Ambassador Jayatilleka rejects accusations
Posted on November 15th, 2012
Embassy of Sri Lanka in France
The Embassy of Sri Lanka in FranceƒÆ'-¡ƒ"š'  has described as ƒÆ''¢ƒ¢-¡'¬ƒ"¹…"ridiculousƒÆ''¢ƒ¢-¡'¬ƒ¢-¾'¢ the accusations made by certain pro-secessionist propagandist websites, according to which the military intelligence was behind the assassination of a former LTTE commander in France. Nadarajah Mathinthiran, alias Parithi, was killed on Thursday 8th of November, outside the office of the Tamil Coordinating Committee (TCC), rue des PyrƒÆ'†'ƒ"š'©nƒÆ'†'ƒ"š'©es, in Paris XX. Mathinthiran had left the LTTE movement in the early 90ƒÆ''¢ƒ¢-¡'¬ƒ"š'²s and later coordinated its political activities in France, since 2003.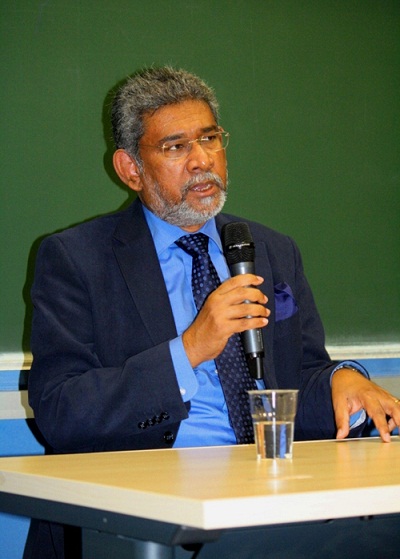 Sharing his viewsƒÆ'-¡ƒ"š' with 'Mirror' on this matter, Dr. Dayan Jayatilleka -Ambassador of Sri Lanka in France, expressed his confidence in the French authorities and judicial system: ƒÆ''¢ƒ¢-¡'¬ƒ"¹…"I have the greatest confidence and faith in the impartiality, professionalism and efficiency of the French law enforcement and investigative authorities and Justice system, and am certain that they will uncover the facts concerning this killing and its motivations. We must give the French authorities the time and space to do so.ƒÆ''¢ƒ¢-¡'¬ƒ¢-¾'¢
In a recent interview, Ambassador Jayatilleka also insisted on the psychological coercion exercised upon and within the Tamil Diaspora: ƒÆ''¢ƒ¢-¡'¬ƒ"¹…"It would not be appropriate for me to comment on something that is obviously under investigation by the French authorities, except to say that the culture of lethal violence of the Tiger/pro-Tiger milieu seems to be very much intact. It is this culture of violence that exercises tremendous psychological coercion upon and within the Tamil Diaspora and prevents the emergence of truly democratic, pluralist politicsƒÆ''¢ƒ¢-¡'¬ƒ¢-¾'¢ he said.