President Rajapaksa declares open Sri Lanka's first Travel Service Centre on an Expressway
Posted on December 7th, 2012
By Janaka Alahapperuma
President Mahinda Rajapaksa declared open the ƒÆ''¢ƒ¢-¡'¬ƒ…-Canonwin ArcadeƒÆ''¢ƒ¢-¡'¬ƒ"š', Sri LankaƒÆ''¢ƒ¢-¡'¬ƒ¢-¾'¢s first travel service center and Rest House on Southern Expressway and the interchange at Welipanna, Kottawa entrance connecting the Southern Expressway to the Colombo Outer Circular Road this afternoon on 06 December. Almost a year has passed since the opening of the Southern Highway; the first Expressway built in Sri Lanka, the newly built travel service centre is an added facility on an environment friendly location at Welipenna at the Kottawa entrance to the Southern Expressway.
President Rajapaksa also inspected the Southern Expressway entrance at Kottawa, Makumbura and the interchange connecting Colombo Outer Circular Expressway. The toll entry point at Kottawa interchange has been set up 13 counters to issue tickets, five entry lanes and eight exit lanes to the Southern Expressway. New expressways have paved the way for speedy development in Sri Lanka. Groups using the Expressway are increasing daily. Accordingly the new service centre and Rest House has been built for the convenience of groups using the Expressway. Sri Lanka Insurance Corporation has invested in this rest house complex quipped with modern facilities, including a shopping complex, restaurants and a special play area for children.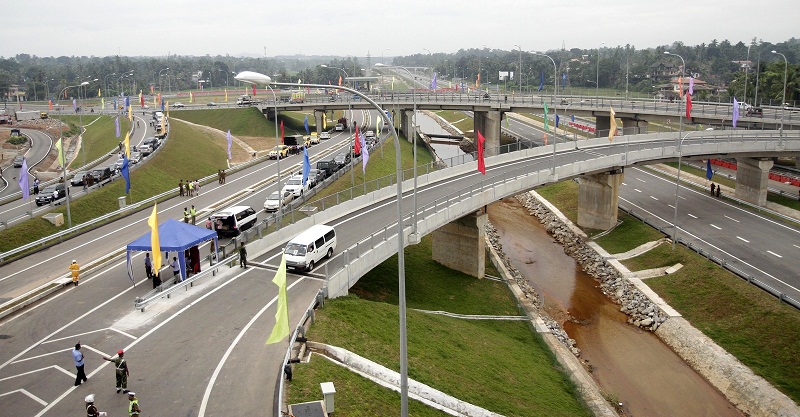 Deputy Minister of Highways Nirmala Kothalawala said that the centre with all necessary facilities will function as an affiliated state institution of the Sri Lanka Insurance Corporation.ƒÆ'-¡ƒ"š'  He stated that construction of the Colombo-Katunayake Airport Expressway is scheduled to be completed in 2013. Already work on the Galle-Matara Expressway extension has been completed by 50 percent. Plans are also underway to construct the highway fromƒÆ'-¡ƒ"š' Matara to Hambantota. Work on the Kandy-Colombo expressway has also commenced. The deputy minister further added that nearly 275 kilometres of the national road network in the Northern Province have already been developed under the Northern Development Project.
Ambassador of Japan in Colombo Nobuhito Hobo, Ministers, Deputy Ministers, parliamentarians, foreign delegates, local politicians and Secretary to the Ministry of Highways R.W Premasiri were present at the occasion.