Shirani sworn in as acting CJ- Where is your dress code lady?
Posted on April 17th, 2013
Justice Shirani Thillakawardene was sworn in as Acting Chief Justice yesterday. Thillakawardene takes oaths before President Mahinda Rajapaksa, while presidential secretary Lalith Weeratunga looks on (Pic by Sudath Silva)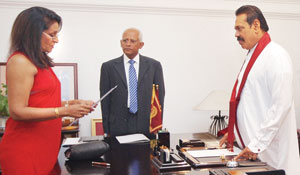 In recent incident in courts, a lady witness  has been reprimanded for failing to observe the dress code. In Sri Lanka, court dress is worn by both judges and counsels. Judges wear black gowns in the District Court, High Court Court of Appeal and the Supreme Court of Sri Lanka while counsel only wear black gowns in the latter three courts. Both judges and counsel dress in white and black, white shirt, black coat, tie and toruses for men and white saree for women. Wigs are only worn on ceremonial occasions by judges of the Supreme Court and the Appeal Court and President's Counsel.
While  judges can dress in conventional business attire in Sri Lanka but  Justice Shirani Thillakawardene, appeared in a summer garden party dress for the sworn in ceremony