Khalifa of Islam presented with key to Los Angeles
Posted on May 13th, 2013
ƒÆ'-¡ƒ"š' By A. Abdul Aziz, Press Secretary, Ahmadiyya Muslim JamaƒÆ''¢ƒ¢-¡'¬ƒ¢-¾'¢at ƒÆ''¢ƒ¢-¡'¬ƒ¢¢"š¬…" Sri Lanka.
ƒÆ'-¡ƒ"š' According to our Press Department U.K., the Head of the Ahmadiyya Muslim JamaƒÆ''¢ƒ¢-¡'¬ƒ¢-¾'¢at and Fifth Khalifa, Hazrat Mirza Masroor Ahmad delivered the keynote address at a special reception held in his honour at the Montage in Beverly Hills, LA on 11 May 2013.
More than 300 politicians, academics and community leaders attended, including the California Lieutenant Governor, mayoral candidate Eric Garcetti, and several members of the United States Congress.
During the event the Los Angeles City Council presented Hazrat Mirza Masroor Ahmad with the golden key to the city, declaring:
ƒÆ''¢ƒ¢-¡'¬ƒ…-This Key is reserved for only the most honoured people on Earth.ƒÆ''¢ƒ¢-¡'¬ƒ"š'
In his keynote address Hazrat Mirza Masroor Ahmad said the American people had no reason to fear Islam because it was a religion that advocated peace, universal human rights and a respect for human dignity.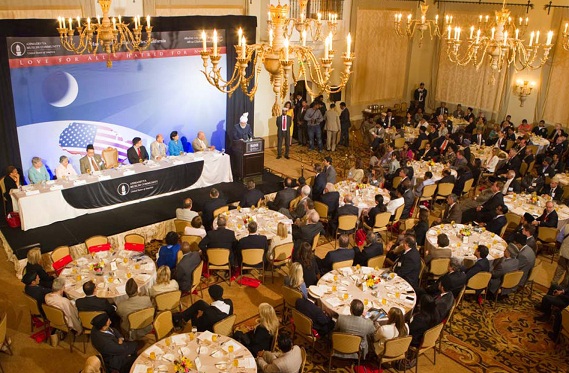 Hazrat Mirza Masroor Ahmad said:
ƒÆ'-¡ƒ"š' ƒÆ''¢ƒ¢-¡'¬ƒ…-There is no doubt that the acts of terrorism or extremism some so-called Muslims perpetrate have nothing whatsoever to do with the true teachings of Islam.ƒÆ'-¡ƒ"š'  The very meaning of ƒÆ''¢ƒ¢-¡'¬ƒ"¹…"IslamƒÆ''¢ƒ¢-¡'¬ƒ¢-¾'¢ is peace, security and giving a guarantee of protection against all forms of harm and evil.ƒÆ''¢ƒ¢-¡'¬ƒ"š'
The Khalifa also took the opportunity to unequivocally condemn the recent Boston marathon terrorist attack and to offer his condolences saying:
ƒÆ'-¡ƒ"š' ƒÆ''¢ƒ¢-¡'¬ƒ…-My sympathies are with the victims of the Boston bombing. We condemn that attack in its entirety.ƒÆ''¢ƒ¢-¡'¬ƒ"š'
Speaking about IslamƒÆ''¢ƒ¢-¡'¬ƒ¢-¾'¢s commitment to equality and humanity for all people, Ahmadiyya Supreme Head said:
ƒÆ''¢ƒ¢-¡'¬ƒ…-I believe in that One God who is the Lord of all nations, all races and all religions, and so it becomes impossible that I could ever develop any hatred in my heart for any nation, any race or any religion.ƒÆ''¢ƒ¢-¡'¬ƒ"š'
Hazrat Mirza Masroor Ahmad also used his address to implore all people to view Islam through the lens of justice, rather than through the acts of extremists. He called on non-Muslims to judge Islam only after studying its teachings in depth and after observing the character of Muslims who adhere to its original teachings
The Khalifa gave examples from the life of the Holy Prophet Muhammad (peace and blessings be upon him) to illustrate the ProphetƒÆ''¢ƒ¢-¡'¬ƒ¢-¾'¢s love for all of mankind and his unparalleled levels of compassion, tolerance and justice.
Hazrat Mirza Masroor Ahmad said:
ƒÆ''¢ƒ¢-¡'¬ƒ…-The Holy Prophet (peace and blessings be upon him) was held captive and enslaved in his heartfelt distress and desire to save the people of the world from destruction. And so it is a cause of great injustice that many people today try to stain his blessed character by saying that, God forbid, he brought teachings of cruelty, oppression and injustice.ƒÆ''¢ƒ¢-¡'¬ƒ"š'
ƒÆ'-¡ƒ"š' Hazrat Mirza Masroor Ahmad concluded his address with a stark warning about the state of the world by saying:
ƒÆ'-¡ƒ"š' ƒÆ''¢ƒ¢-¡'¬ƒ…-The direction the world is moving in suggests that the dark shadow of war is being cast over a very large part of the globe. If war breaks out then countless innocent women, children and elderly people will all die. The destruction will be greater than was witnessed in the previous two World Wars.ƒÆ''¢ƒ¢-¡'¬ƒ"š'
Hadhrat Mirza Masroor Ahmad continued:
ƒÆ'-¡ƒ"š' ƒÆ''¢ƒ¢-¡'¬ƒ…-The key to peace is to stop cruelty and oppression wherever it occurs with justice and equality.ƒÆ'-¡ƒ"š'  Only when this principle is followed will global peace develop. This will only happen when the people of the world come to recognise their Creator. It is my ardent hope and prayer that the entire world urgently comes to understand the needs of the time before it is too late.ƒÆ''¢ƒ¢-¡'¬ƒ"š'
A number of dignitaries also took to the stage to welcome Hazrat Mirza Masroor Ahmad to Los Angeles and to congratulate the Ahmadiyya Muslim Community (JamaƒÆ''¢ƒ¢-¡'¬ƒ¢-¾'¢at) on its continued commitment to developing peace and tolerance globally.
Gavin Newsom, California Lieutenant Governor said the presence of Hazrat Mirza Masroor Ahmad meant it was a ƒÆ''¢ƒ¢-¡'¬ƒ…-special dayƒÆ''¢ƒ¢-¡'¬ƒ"š' and he thanked His Holiness for ƒÆ''¢ƒ¢-¡'¬ƒ…-sowing the seeds of possibility to the entire world.ƒÆ''¢ƒ¢-¡'¬ƒ"š' He also said the people of LA ƒÆ''¢ƒ¢-¡'¬ƒ…-do not tolerate diversity, we celebrate itƒÆ''¢ƒ¢-¡'¬ƒ"š'.
U.S. Congresswoman Julia Brownley praised His Holiness as: ƒÆ''¢ƒ¢-¡'¬ƒ…-One of the greatest ecumenical leaders of our time.ƒÆ''¢ƒ¢-¡'¬ƒ"š'
U.S. Congresswoman Judy Chew added, ƒÆ''¢ƒ¢-¡'¬ƒ…-I am here because His Holiness stands against terrorists and war.ƒÆ''¢ƒ¢-¡'¬ƒ"š'
U.S. Congresswoman Karen Bass said ƒÆ''¢ƒ¢-¡'¬ƒ…-His Holiness is a transformative figure who has promoted peace and tolerance across the world.ƒÆ''¢ƒ¢-¡'¬ƒ"š'
Lee Baca, Los Angeles County Sheriff said ƒÆ''¢ƒ¢-¡'¬ƒ…-Your Holiness, you are a worldwide spiritual leader. You have made a huge impact in all parts of the world and so we are all drawn to you today for the sake of wisdom.ƒÆ''¢ƒ¢-¡'¬ƒ"š'
The reception was preceded by both a Press Conference and a private meeting between Hazrat Mirza Masroor Ahmad and various dignitaries.
Earlier, on Friday the 10th May 2013, Hadhrat Mirza Masroor Ahmad delivered an historic Friday SermonƒÆ'-¡ƒ"š'  from the Baitul Hameed Mosque in Chino, California, as his first visit to the West Coast of the United States continued.
During his hour-long address, Hazrat Mirza Masroor Ahmad said it was imperative that all members of the Ahmadiyya Muslim JamaƒÆ''¢ƒ¢-¡'¬ƒ¢-¾'¢at took it upon themselves to spread the peaceful teachings of Islam to the people of every nation.
Hazrat Mirza Masroor Ahmad said:
ƒÆ''¢ƒ¢-¡'¬ƒ…-With the Grace of God in every country there are Ahmadis who hold a keen desire to propagate the true message of Islam. Such people are also present here in the United States. I have seen for myself that a segment of Ahmadis that live here fulfil their pledge of giving precedence to their faith over all worldly matters to such a wonderful extent that it is quite astonishing.ƒÆ''¢ƒ¢-¡'¬ƒ"š'
ƒÆ'-¡ƒ"š' Speaking about California directly, His Holiness said there were some people who felt the local society was purely materialistic as it was home to worldƒÆ''¢ƒ¢-¡'¬ƒ¢-¾'¢s largest film industry. His Holiness said such beliefs were erroneous and illustrated a lack of resolve to spread IslamƒÆ''¢ƒ¢-¡'¬ƒ¢-¾'¢s true teachings. In particular the vast Hispanic population were inclined towards religion.
Hazrat Mirza Masroor Ahmad said:
ƒÆ''¢ƒ¢-¡'¬ƒ…-It is said that in California the Hispanic population is now in the majority and it seems that they have an interest and inclination towards religion. However they are in search of the true religion and so a special programme should be made to convey the true teachings of Islam to the Hispanic population. It should be that the entire Hispanic population is introduced to Ahmadiyyat which is the true Islam.ƒÆ''¢ƒ¢-¡'¬ƒ"š'
Speaking about his hopes for the spread of Ahmadiyyat, Hazrat Mirza Masroor Ahmad said:
ƒÆ''¢ƒ¢-¡'¬ƒ…-The more I think about it the stronger the feeling in my heart embeds that it is not unlikely that the establishment of peaceful Islam in the United States will initiate from this region.ƒÆ''¢ƒ¢-¡'¬ƒ"š'
After the Sermon and Prayers a BaiƒÆ''¢ƒ¢-¡'¬ƒ¢-¾'¢at (Oath of allegiance) ceremony took place in which thousands of Ahmadis renewed their pledge of faith in Ahmadiyyat.
The English Translation of the Sermon in video ƒÆ''¢ƒ¢-¡'¬ƒ¢¢"š¬…" the link of which is:-