Eight bilateral agreements signed between Kenya and Sri Lanka
Posted on December 15th, 2013
By Janaka Alahapperuma
The Sri Lankan delegation, headed by President Mahinda Rajapaksa, held bilateral talks with its Kenyan counterpart, headed by President Uhuru Kenyatta at the State House in Nairobi on 14 December. Earlier Kenyan President Kenyatta warmly received President Rajapaksa upon arrival at the State House for bilateral talks. The two leaders shook hands warmly in a physical and symbolic gesture of friendship between the two nations. Kenyan President gave Sri Lankan President a warm welcome before reviewing a guard of honour.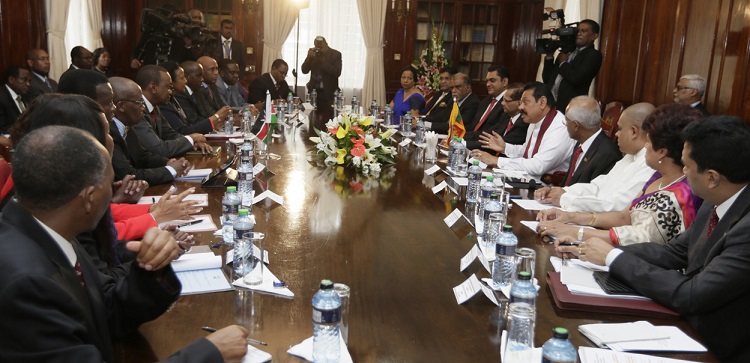 After a guard of honour President Kenyatta introduced the cabinet members to his Sri Lankan counterpart, who also introduced his entourage to President Kenyatta. Later the two Presidents went into talks to further strengthen political, economic and international ties between the two countries. The two leaders signed 8 MOUs at the State House. The aim of these MOUs is to promote relations in bilateral trade, international and cultural affairs.  Several MOUs were also signed in connection with widening the investment opportunities, cooperation in Sports, free visa facilities to Kenya for diplomats in both countries. The MOUs also cover economic, commercial, technological cooperation, bilateral advisory benefits and to set up joint commissions between the two countries.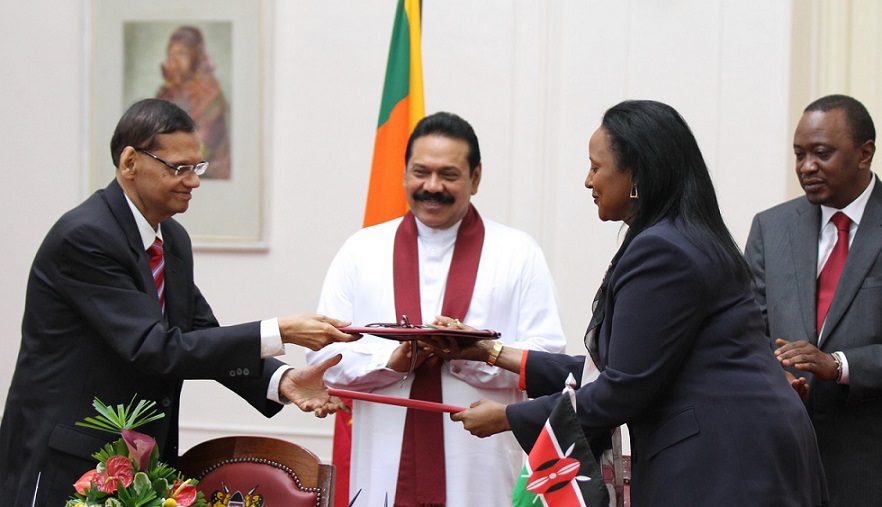 Adopting a double taxation policy was also considered during the talks. The two countries entered into agreements in the future on oceanic conservation. A programme will also be launched for the development of cricket and athletics. Sri Lanka will send cricket coaches to Kenya and receive trainers from Kenya for athletics. The two leaders also discussed on starting direct flights between the two countries for the development of tourism. It has also been agreed upon to set up a Kenyan High Commission in Sri Lanka.
Meanwhile the Kenyan President hosted a special banquet in honour of the Sri Lankan President and the First Lady. President Rajapaksa who is on a four day official visit to Kenya also participated as a special guest at the 50th Independence Day ceremony of Kenya last Thursday at the Moi International Sports Complex in Kasarani on the outskirts of the Capital City, Nairobi.
Minister Prof. G.L. Peiris, Deputy Minister Geethanjana Gunawardena, Parliamentarian Sajin Vas Gunawardena, Chief Minister of the Uva Province Shashendra Rajapaksa, Secretary to the President Lalith Weeratunge, Additional Secretary to the Ministry of External Affairs Mrs Kshenuka Seneviratne and Sri Lanka High Commissioner for Kenya, T. Raveenthiran who is also accredited to Ethiopia, Tanzania, Uganda, UNEP and UN-HABITAT, Rwanda, Mali and South Sudan were also present.
Pix by: Sudath Silva