Story of Premakumar facing deportation
Posted on November 16th, 2015
By Dharman Wickremaratne  
  The controversy over moves to deport Premakumar Gunaratnam, one of the Frontline Socialist Party's(FSP) leaders recalls a similar event 78 years ago.  It was the British Colonial Government's attempt to deport British-born Mark Antony Bracegirdle for participating in Sri Lanka's Left political movement, after arriving by ship in the island on an Australian passport on April 4, 1936.  His involvement in the this country's working class movement against exploitation by the colonial rulers became a very significant stage in the country's anti-imperialist struggle
On April 20, 1937 Governor R.A. Stubbs issued a deportation order on Bracegirdle on a recommendation of the Deputy Inspector General of Police that Bracegirdle was creating disillusionment among workers.  According to the deportation order he was expected to leave the island on or before April 24, 1937 at 6.00 p.m.   Although the police handed over to Bracegirdle the deportation order on April 21, he continued to take part in Left political activities.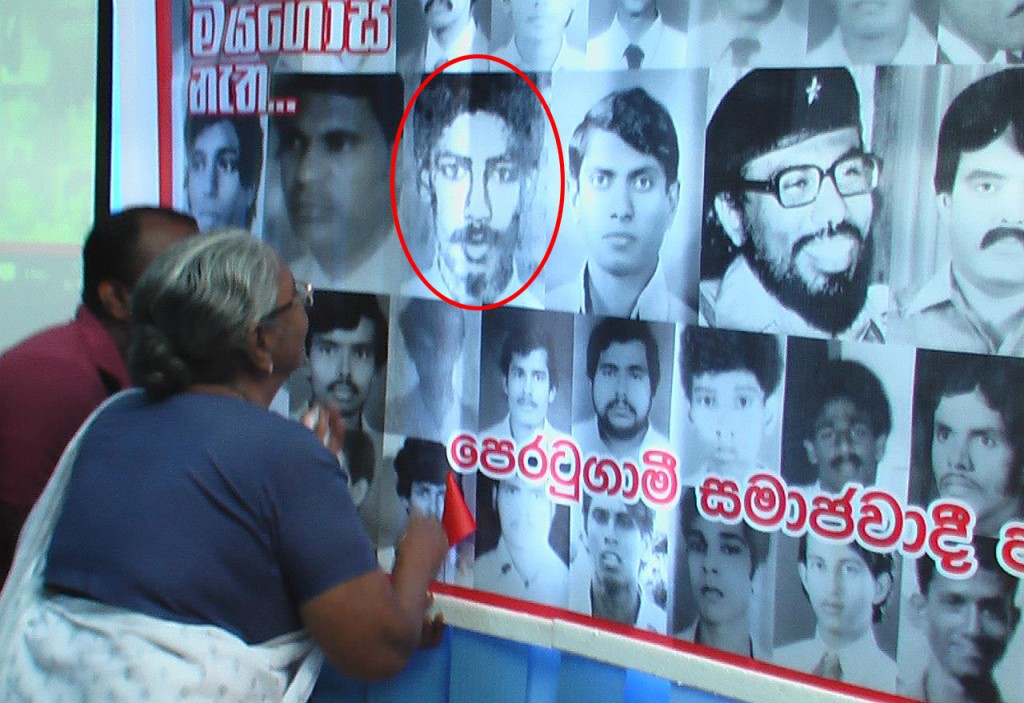 Pramakumar's mother Walliamma Rajamuni remembering her elder son Ranjitham at the annual JVP ceremony at Kegalle held on November 9, 2015 to commemorate their members who died in the second Southern insurgency.
The Lanka Sama Samaja Party(LSSP) and several other political parties jointly campaigned to build public opinion in support of Bracegirdle against the deportation order. Over 5000 people attended a meeting in this connection held at Galle Face presided over by Dr. Colvin R. de Silva on May 7, 1937.  The then Local Government Minister S.W.R.D.Bandaranaike, MP for Kandy George E. de Silva, LSSP Secretary, Attorney Vernon Gunatillake, MP for Ruwanwella Dr.N.M. Perera, MP for Avissawella Philip Gunawardena, MP for Colombo Central A.E. Gunasinghe, MP for Narammala Siripala Samarakkody and MP for Hambantota D.M. Rajapaksa addressed the meeting. Bracegirdle too made an electrifying speech amidst the thunderous applause of the people.
When police took him into custody on May 7, 1937 the LSSP filed action in the Supreme Court against the Governor's deportation order.  The case was taken up before a three-judge bench led by Justice Sir Sidney Abrahams and their verdict was delivered on May 18, 1937.  They pointed out to facts proving the Governor's deportation order was illegal.  On the same day the police released Bracegirdle at 11.35 a.m. On October 13, the Supreme Court ordered the defendants to pay legal costs to the petitioners.Thereafter instead of returning to Britain or Australia Bracegirdle travelled throughout the island with the LSSP addressing meetings and encouraging Left political activists.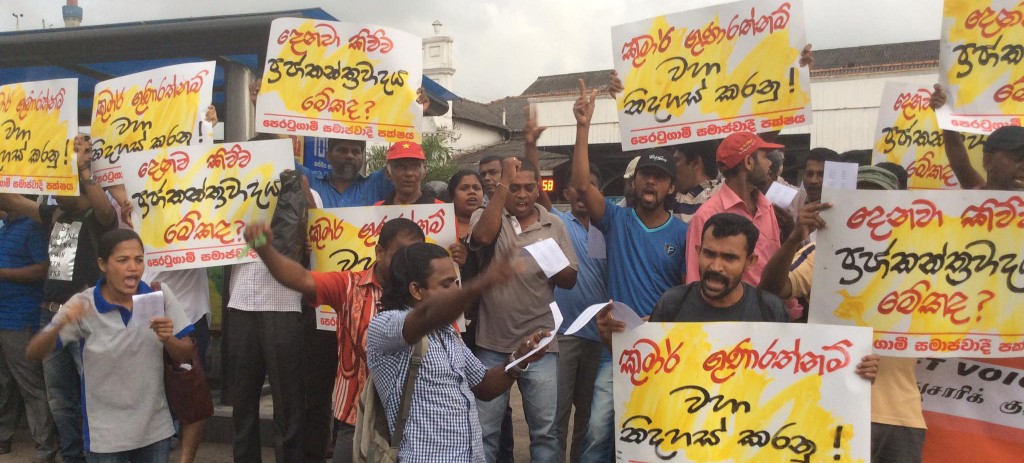 One of several Protesting campaigns the Forward Socialist Party held to demand the release of Premakumar who is one of the party leaders.
It is necessary to draw attention to the Bracegirdle affair which occurred 78 years ago in the light of the arrest and attempt to deport Sri Lankan-born Premakumar Gunaratnam who became an Australian citizen for political reasons though educated in this country. The controversy is over the argument that he is no longer a Sri Lankan citizen and therefore his residing here is illegal.  Never before were there any reports of Sri Lankan-born persons being deported from the country.  It is only when Sri Lankan men married foreign women that legal problems occurred and resulted in unfortunate deportation orders.
A Communist Party Municipal Councilor D. Henry married a Polish woman about 1951 and brought her to Sri Lanka.  Joe Silva who had his education in the U.K. and the U.S. returned to Sri Lanka after marrying an American woman by the name Rhoda Miller.

From left to right: Mark Anthony Bracegirdle, MP for Ruwanwella Dr. N.M. Perera, MP or Avissawela Philip Gunawardena, Local Government Minister S.W.R.D. Bandaranaike and MP for Hambantota D.M. Rajapaksa addressing a massive meeting at Galle Face on May 7, 1937 to strengthen public opinion in support of British-born Mark Anthony Bracegirdle who successfully challenged the British Governor's attempt to deport him for engaging in Left politics in Sri Lanka having arrived in the island on a Australian passport on April 4, 1936.
Prime Ministers D.S. Senanayake and Dudley Senanayake had no objection to Sri Lankans marrying foreign women.  But Sir John Kotalawala who became PM in 1953 ordered the Immigration and Emigration Controller to deport the above mentioned two women immediately.  However S.W.R.D. Bandaranaike who became PM in 1956 promptly revoked the deportation order. Doreen, the wife of Dr. S.A. Wickremasighe who won the Akuressa Seat in the Parliamentary Election of 1952, was also a foreign woman.  She married Dr. Wickremasinghe in 1932 and became the mother of two children.
If a Sri Lankan-born foreign citizen has dual citizenship he/she faces no problem. However the final decision rests with the Government. It was within 24 hours that Singaporean citizen Arjun Mahendran was given dual citizenship in Sri Lanka after he was appointed Central Bank Governor.A Sri Lankan-born foreign citizen, who wants to stay in Sri Lanka, may obtain from residential visas on payment but only with Government approval. Recently Sri Lankan-born foreign citizens were ceremonially granted dual citizenship.

Premakumar Gunaratnam from 1985 to November 4, 2015
Premakumar Gunaratnam was born in Kegalle on November 18, 1965.  His father, Adimulam Pilleyi Gunaratnam was a Jaffna Tamil and a former manager of the Singer Show Room in Narammala.  Mother, Waliamma Rajamani Pandiyan Pilleyi, born in Kegalle, is of Indian Tamil descent. She studied Kegalle and served as an English teacher in St. Mary's Tamil school.  They had five children after their marriage in 1958. The eldest is Saraswathie now living in Australia, The second was Ranjitham. The third Jayantha Kumar drowned in well when he was a little child.  The fourth is Premakumar. The fifth Niranjani, like her mother, is an English teacher at St. Mary's Kegalle.  She and her husband, school principal S. Thuraisingham are living with her mother and their children in the ancestral home in Kegalle.
Premakumar's elder brother Ranjitham Gunaratnam became a full-time JVP activist while studying in the engineering faculty of the Peradeniya University. He was the convenor of the Inter University Students Federation from 1985 to 1986 and afterwards JVP Central Commitee member and later a Politburo member on November 28, 1989.  He was arrested at Kurunegala on December 13, 1989 and killed in January 1990 after being detained at the Wehera camp.
Premakumar who studied at St.Mary's Kegalle and Pinnawala Maha Vidyalaya entered the Peradeniya University's Engineering Faculty in 1985. Although he can speak in all three languages – Sinhala Tamil and English. He became a full-time JVP activist during his second year at the university.  Today he is a politburo member of the Forward Socialist Party.
During the second JVP insurgency (1986-1990) only Somawansa Amarasinghe out of 13 Politburo members (including Wijeweera) escaped death.  Out of 30 Central Committee members only four survived. At the end of the insurgency the most active JVP district leader who survived was Premakumar who was in charge of the Trincomalee District since February 1989.
He was a member of the JVP team which attacked the Pallekele Army Camp on April 15, 1987 and later the police arrested him at Galagedera on May 23, 1987. Subsequently he and 220 other party members were rescued by a JVP group which stormed the Magazine Prison on December 13, 1988. While being in charge of JVP operations in Trincomalee, Premakumar directed attacks on Indian Army convoys. During the second anniversary period of the Indo-Lanka Accord in July 1989 Premakumar's group exploded a land mine near the 93rd mile post on the Kandy-Trincomalee Road.  Another bomb was set to go off at the Trincomalee Jetty. On July 25, 1989 they blew up a truckload of Indian soldiers killing 14 of them, before seizing all their weapons.
On September 24, 1989 the Sri Lankan Army arrested Premakumar at Palam Pottawoor. After his release from prison he was able in 1992 to build up contacts with Nandana Gunatilleke, Senadheera Gunatilleke, G. Kularatne, Kamal Dehspriya and Chandrasena Wijesinghe (all of whom who made decisive contributions to the JVP's revival) and also later with Wimal Weerawansa and Dr.Hemantha among others.
Premakumar staying in a rented room at the Wijerama junction, Nugegoda was able to build contacts with party leader Somawansa Amarasinghe who was abroad at the time. On his advice Premakumar renewed his contacts with other party members and helped to reorganize it.  Tilvan Silva after his release in September 1994 became a full-time activist and legally confirmed the JVP ownership at a special convention held at Tangalle in 1995.
Premakumar's wife Dr. Champa Somaratne alias Mayuri who worked in the Kegalle and Welisara hospitals for sometime is now living in Australia with her two children. Her mother resided at Bothalegama Juction, Naaththandiya is popular English teacher.  Champa received nominations from the National Salvation Front on the JVP's behalf for the Kurunegala District in the General Election of 1994.  At this election the major part of JVP's election campaigning was handled by Senadheera Gunatilleke and Premakumar Gunaratnam.  The party was able to win one seat in the Hambantota District. Premakumar Gunaratnam was in the forefront of rebuilding the JVP.
He worked intensively as a JVP Politburo member from 1994 to March 2012. He was also in charge of the party's student section.  Earlier, in 2005 when a proposal was made to the Politburo that the party should support Mahinda Rajapaksa in the Presidential Election and join the government for strategic reasons  six members supported the proposal and five opposed it. The latter included Premakumar and Senadheera who said that although Mahinda should be supported at the Presidential Election the party should not join the Government.
Premakumar was taken into custody at Gemunu Mawatha, Kirbathgoda on the early hours of April 7, 2012, when the first convention of the newly formed Frontline Socialist Party(FSP) was to be held. However since he was an Australian citizen he was later released two days later on the night of April 9 after the Australian High Commissioner's intervention in the matter.
Premakumar left for Australia the following day.  He had earlier arrived in Sri Lanka under the name Noel Mudalige carrying Australian national identity card No.17557167F and passport No.N1016123.  Before he migrated to Australia he had obtained a Sri Lankan passport under the name Premakumar Gunaratnam December 21 1990 but later for his own protection acquired another passport under the name Ratnayake Mudiyanselage Dayalal.  According to him he was compelled to conceal his true identity because he had received information on moves to abduct or kill him on instructions from the top.
As soon as the Presidential Election this year was announced Premakumar returned to the island on January 1, 2015 and addressed meetings in support Frontline Socialist Party(FSP) Presidential Candidate Dumida Nagamuwa.  Premakumar also requested the Immigration nd Emigration Department to extend his visa period so that there would be time for him reacquire Sri Lankan citizenship. Thereafter he filled a form certifying that he was a Sri Lankan by descent and handed it over on February 18, 2015. He also appealed to the Supreme Court to issue an order to prevent him from being deported. The department responded by saying that it was decision the relevant minister had to make in accordance with sections 8, 20 and 21 of the Immigration and Emigration Act.  Premakumar been ordered to leave Sri Lanka immediately at the end of his visa period since his request had been delayed.
From the day of his arrival in Sri Lanka in January till his arrest on November 4, 2015 Premakumar actively participated in the work of the Frontline Socialist Party(FSP). During the final week of October he took part in a number of discussions with party members, activists and friends in the Matale, Badulla, Jaffna, Trincomalee and Kegalle Districts.  Around 3.00 a.m. on November 4, he returned from Colombo to his home in Kegalle by vehicle with the driver. He was scheduled to go to Kandy that evening. He sent his mother in the same van with the driver for a medical examination in Colombo after which the vehicle returned at 12.30 p.m.The occupants in the house at Kegalle are his sister who is a English teacher at St. Mary's school, Kegalle, her husband and their two children who are studying in the Sinhala medium at Walagamba Vidyalaya.
Premakumar's mother's pension had been unjustly stopped for two months.  The injustice was rectified following a complaint made to the Human Rights Commission.  The names of the occupants of the house at Kegalle had not been included in the voters list for a year.  On November 4 when Premakumar was in the house two persons in civillian attire came there on some pretext, while a jeep was parked outside with some police personnel.  Thinking that his mother would suffer a shock if he was arrested in her presence he tried to leave the place on a motorbike. At that moment the police took him into custody.After he was produced before the Kegalle Magistrate who said it was up to the relevant authorities to decide whether he should be deported or not.
Recently there were demonstrations by accountancy students and university students (against the private medical college). Around 25,000 jobless graduates are organising themselves at district level and have staged a continuous fast after in Kurunegala surrounding the Chief Minister's Office there.It is no secret that the Forward Socialist Party is behind many of these demonstrations and struggles occuring in the country.  Among them are those involving health workers, villagers of Badagiriya (demanding drinking water supplies) and displaced people of Meeriyabedda, Badulla (demanding houses).
The campaign against kidney disease is active in Rajarata and Buddhist monks are addressing affected people in Mahaweli areas. Fisheries organisations are demonstrating against the Port City project. People came foward to protest against the garbage dump at Meetotamulla and releasing waste to the Kelani river.
The present Government states that its objective is to build a stable society by paving the way for political freedom and strengthening democracy.  The issue of Frontline Socialist Party(FSP) Premakumar Gunaratnam's citizenship has raised questions about this claim by the Government.  Premakumar is to be produced before the Kegalle courts on November 18 which is coincidentally also his 50th birthday.(The writer is a senior journalist who could be reached at ejournalists@gmail.com)