THOUGHTS OF A YOUNG LADY
Posted on November 16th, 2015
Sent from my iPad
"I think spending 30 years of my life in a country at War has numbed my
feelings.
I lived through the '83 Race Riots. The '89 JVP insurgency, all of those
overlapped by the LTTE problem. It became normal to hear about bombings and
death. It became so mundane that the severity of a bomb blast was decided by
the number of casualties. If the numbers didn't reach 2 digits we were not
interested in the news itself.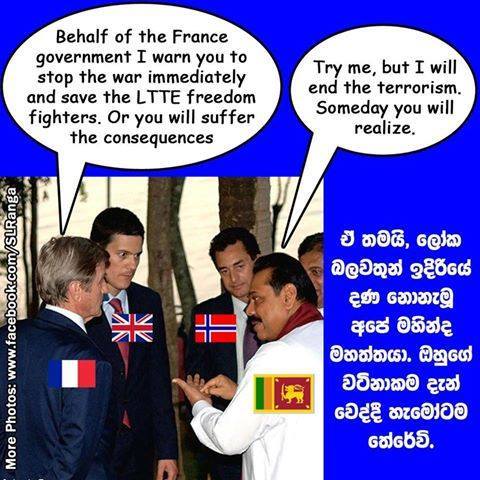 During the last stages of the said War , every single day that I stepped out
to go to work in the Heart of Colombo, I wasn't sure I'd get back home
alive.  There were threats of Bus Bombs ,Suicide attacks et al.
Our Country went through some Tough times. But I cannot recall a single
instance when the whole world stood still to offer us their prayers,
condolences , candle lit vigils ….. all the frills ! They were always
divided with their opinions.
Remember,We also lost nearly 100,000/- lives.
I could recall the number of times that we were accused of Human Rights
violations. Although I'm not implying that there weren't any, it's just that
we were always wrong in the eyes of the Western World.
Now , Terrorism has come to their doorstep. In fact it has crossed the
threshold and desecrated their living rooms. They want the whole world to
condemn Terrorism unanimously.
But all I can do is ask , Where were you When We needed you ?
However, being a person who believes in Buddhism that thought  doesn't last
long.
I am sorry for all the innocent lives lost in the Terror attack in Paris.
But I truly cannot feel shocked or devastated. I've been numbed !
I blame Terrorism for that !"