European Union's Racial Discrimination – Sri Lanka Job Advert prime example
Posted on March 9th, 2016
Shenali D Waduge
Racial discrimination is when a person is treated less favourably than another person in a similar situation because of their race, colour, descent, national or ethnic origin or immigrant status. Indirect discrimination is when a rule or policy that should be the same for everyone is purposely unfair to a particular race, color, descent, national or ethnic origin. This is what has taken place in the EU job advert recently published calling for a Project Manager – Governance. The EU job advert is intentionally marginalizing the Sinhalese. It says fluency in English and Tamil is essential and Sinhalese is an advantage. Essentially what it implies is that anyone who does not speak Tamil is not qualified to apply but those who don't speak Sinhalese can. This job advert is coming from the European Union where 28 states continuously find fault with other nations of the world for racism, discrimination, human rights abuses etc. By this advertisement we can only tell the EU 'practice what you preach' first. Does the 507million populace of the 28 EU member nations agree to such racial and discriminatory employment policies?
http://observerjobs.lk/jobseeker/view_job_description?uid=31103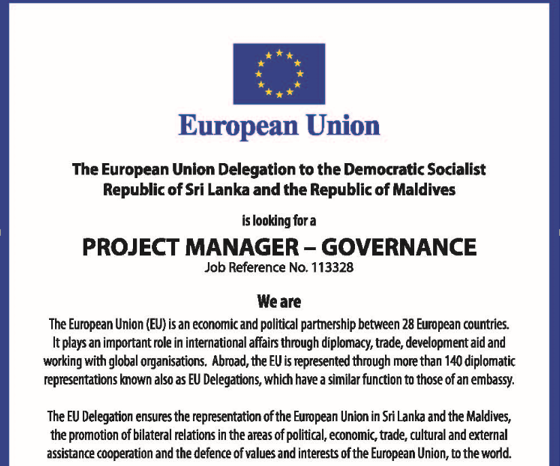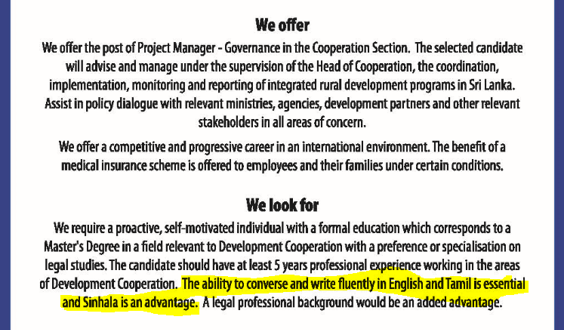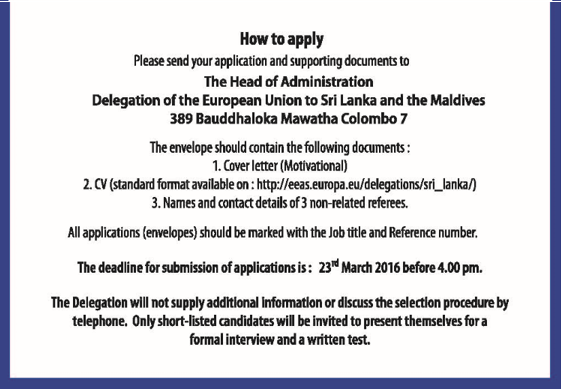 What is the EU?
EU traces origins to the European Coal & Steel Community (led by French Foreign Minister Robert Schuman in 1950) and the European Economic Community formed in 1951 and 1958 by Belgium, France, West Germany, Italy, Luxemburg and the Netherlands
EU under the current name emerged in 1993 following the Maastricht Treaty
EU has 28 member states. 22 of these member states belong to Schengen Area (comprising 26 European countries that have abolished passport & border controls at common borders) Bulgaria, Croatia, Cyprus and Romania are not part of this and UK and Ireland have chosen not to be part.
The 28 EU members are : Austria, Belgium, Bulgaria, Croatia, Cyprus, Czech Republic, Denmark, Estonia, Finland, France, Germany, Greece, Hungary, Ireland, Italy, Latvia, Lithuania, Luxembourg, Malta, Netherlands, Poland, Portugal, Romania, Slovakia, Slovenia, Spain, Sweden & UK
The European Economic Area include EU countries and Iceland, Liechtenstein and Norway enabling them to be part of EU's single market
Switzerland is not a member of the EU or the EEA though it is part of the single market (Swiss nationals still have rights to live and work in UK as other EEA nationals)
Single market means EU members allows free movement of goods, capital, services and people between member states
The population of EU is 507.4million
The economy of the EU is GDP €14.303 trillion (IMF)
Europe Day is celebrated on May 9
We may not be able to stop EU's discriminatory/racism practice in the interview stage but at least on public announcements EU should set an example by functioning as a fair employer.
The EU is bound to retract this advert, make a public apology and re-advertise the job abiding by the policy of equal opportunity without racism or discrimination.
Shenali D Waduge