The much needed Elephant pass reservoir
Posted on March 14th, 2016
By, Professor Nishan Wijesinha ( Ethul Kotte, Kotte. )
It was my great grandfather Mudaliya Louis Corneille Wijesinha; who was an Imperial British Colonial Genius Scholar who translated the first original manuscripts of the Great Mahavamsa from Pali to English who inspired the need and wrote down the following diagram and highlighted the borders with a rectangular snake black outline to map exactly the area which has to be utilized as the most gigantic Elephant pass reservoir.
This reservoir was most likely to be the largest possible reservoir in the world which could be utilized to generate ample electricity and abundance of water to national consumption.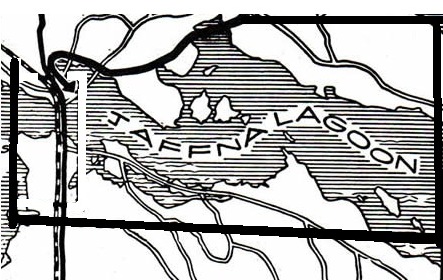 This was later idealized by former president Mr. Mahinda Rajapaksa on his January 2015 election pledges; but fell to disarray as he lost the elections.
And on the other hand it is a closed chapter to the present government which is on a personal attack outlook without heeding to what is needed to the people and the development of the nation.