Ajmal Foundation launches drug abuse awareness
Posted on May 13th, 2016
 By Our Correspondent
Guwahati: With rising incidents of drug abuse among youths across Assam in northeast India, a leading non-government organization of the region launched a mass awareness campaign about it with an aim to save the upcoming generation from the impending danger. We are deeply concerned about the growing drug menace in Assam. The rising trend of drug abuse among youths, more particularly in the student community, is really alarming," said  Khasrul Islam of Ajmal Foundation.
Speaking to scribes at Guwahati Press Club on 12 May, the Ajmal Foundation executive added that they would start a series of awareness meets at educational institutions in Assam to sensitize the students, teachers and guardians. It may be mentioned that the Ajmal CSR initiative takes care of nearly  100 institutions in Assam, where the awareness programs are planned to make the drug abuser & peddlers a non-entity in the society.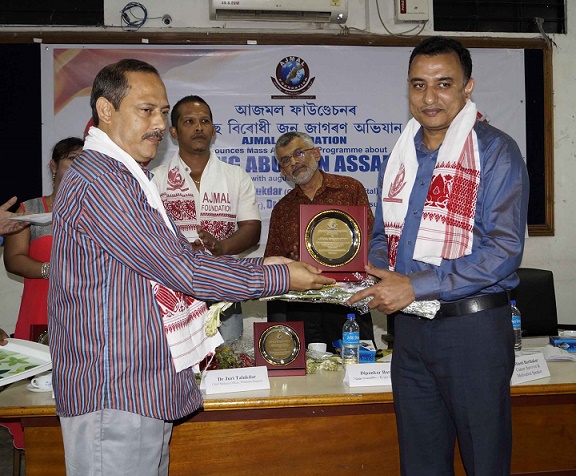 As the media reports are pouring over the  serious issue, Assam government led by Congress veteran Tarun Gogoi decided to constitute a task force to deal with the menace where various departments concerned like home, education, health and family welfare etc would be incorporated.
Eminent personalities from different fields like Dr Minoti Barthakur,
a cancer survivor turned motivation speaker, Dipankar   Baruah from
Kripa   Foundation, psychiatrist Dr Pradip   Thakuria and physician Dr
Juri Talukdar extended their supports for the cause and assured cooperation to Ajmal Foundation in the mission. The meet was also addressed by journalist Nava Thakuria, Nurul Islam Laskar and MRH Azad.