City scribe passes away
Posted on June 9th, 2016
Nava Thakuria
Guwahati: The city based senior journalist Nand Kishor Gupta (46) breathed his last at Mumbai airport on 9 June 2016 afternoon on his return journey to Guwahati. Gupta left for Mumbai on 3 June for treatment at Tata Memorial Hospital. An active member of Guwahati Press Club,  Gupta was suffering from gallbladder cancer for few months.
A soft spoken gentleman Gupta was associated with Purvanchal Prahari as a senior sub editor till the time of his demise. Earlier he used to work for Hindi Sentinel and also Pratah Khabar. The scribe left behind his wife, two babies besides a host of relatives and well-wishers.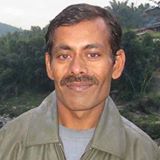 The press club, which appealed for financial aids to Gupta's prolonged treatment, expressed shock at his untimely demise. Offering gratitude for everyone including Assam CMO, who responded promptly to its appeal, the press club also urged the State chief minister Sarbananda Sonowal to sanction an ex-gratia amount for the bereaved family.