Take action against Perpetual Treasuries: Bandula to Govt.
Posted on September 30th, 2016
Lahiru Pothmulla Courtesy The Daily Mirror
UPFA MP Bandula Gunawardane yesterday questioned the government as to what action it would take in connection with the excessive profit of Rs.5.1 billion recorded by Perpetual Treasuries Limited (PTL) last year by trading Government Bonds.
MP Gunawardane, who said the government was keen to impose the Super Gains Tax to collect an income of Rs.50 billion from well to do business entities, should not hesitate to look into the excessive profits of Perpetual Treasuries Limited.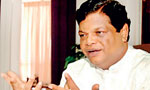 He said the government was deliberately preventing action being taken against the former CB governor and others who are involved in the scam.
It was the UPFA Minister Mahinda Amaraweera who told the Bribery Commission of the former governor's connection to the scam. Still, no action had been taken against him or anyone else involved with the company," he told the Daily Mirror.
Prime Minister Ranil Wickremesinghe, before the announcement of the General Election, said a Parliament Select Committee (PSC) would be appointed to look into the incident regardless of the political party that went on to win the election.
Regardless of the COPE probe into the issue, we request the Premier to keep his promise and appoint a PSC with the involvement of joint opposition MPs to probe the scam thoroughly," he said.
The MP said Mr. Mahendran was not re-appointed because of the objection posed by President Sirisena.
However, he has since been given a more prominent role in the government's plan to create 10 million employment opportunities. This is an even bigger role than the post of CB Governor," he said.
In February last year, the Central Bank (CB) called for bids to raise Rs.1 billion but instead accepted Rs.10 billion at a higher rate and Perpetual Treasuries Limited, in which former Central Bank Governor Arjuna Mahendran's son-in-law Arjun Aloysius worked, purchased a large part of the shares.
The profit earned by the company last year, Rs.5.1. billion, was a remarkable increase in profits compared to the Rs.959.5 million it earned the year before.