UNSG & UNHRC Head must apologize to President Donald Trump
Posted on November 15th, 2016
Shenali D Waduge
 Top UN officials thought it fit to join the US election campaigning. It showed the appalling levels that entities we were told were unbiased and transparent could stoop to. Both the UNSG and UNHRC head came out in public to denounce only one candidate hoping to steer American public and global sentiment against the ultimate winner. Coming from the UN it was strange action of a non-partisan global peace entity. But, does the UN really have any credibility? With the announcement of President of US being Donald Trump the UNSG has been quick to congratulate him and pretend that he did not subtly campaign for the other side. This was another example of the hypocrisies and hypocrites that exist in the system all of whom need to be now thrown out of the system if we are to see any global good happening to the planet and the people.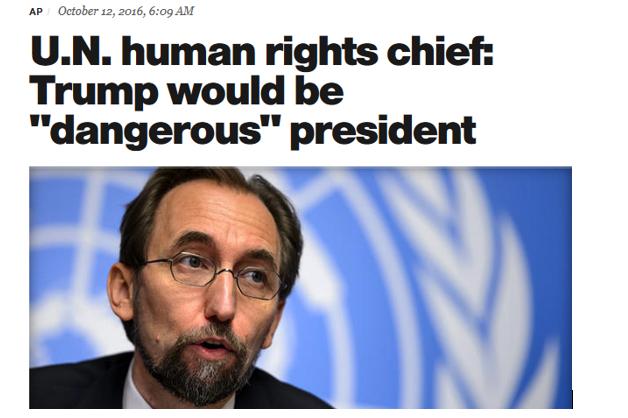 In May 2016 Ban Ki Moon says We are appalled by war crimes in Syria and elsewhere. We are outraged by racism and hatred, especially when voiced by politicians and would-be leaders. They have a duty to bring people together, not drive them apart," at the Columbia University in New York. Not a word was said about who were creating and supplying the 'rebels' and the carnage they were committing. No one listens to or takes seriously any of these prepared speeches any more.  
Then came the other UN head. Trump would be dangerous from an international point of view" if he is elected so said United Nations high commissioner for human rights, Zeid Ra'ad al-Hussein. Not stopping there he goes on to say that Trumps comments are deeply unsettling and disturbing to me," He goes on to condemn populists, demagogues and political fantasists" who exploited economic hardship and social tensions to fan racial and religious prejudice. The statement clearly targeted Trump.  The speech was made on 5 September where the UNHRC mentioned Trump, Wilders, and other nationalist politicians — including Viktor Orban, the Hungarian prime minister, Marine Le Pen, the far-right candidate for president of France, and Nigel Farage, who led the Brexit campaign — echo the xenophobic ideology of the Islamic State militant group.
https://theintercept.com/2016/10/07/un-critic-donald-trump-geert-wilders-must-silenced-russia-says/ 
http://www.nytimes.com/2016/10/13/world/europe/donald-trump-un-human-rights.html
The comments prompted Russia's ambassador to the United Nations, Vitaly I. Churkin, to complain that by naming political leaders, Mr. al-Hussein had overstepped his authority. Russia had delivered a demarche (a diplomatic protest). Prince Zeid is overstepping his limits from time to time and we're unhappy about it," Churkin told the AP.
https://theintercept.com/2016/10/07/un-critic-donald-trump-geert-wilders-must-silenced-russia-says/
While UNHRC head made direct attacks at Trump, the UNSG Ban Ki Moon kept his remarks to insinuations. In May 2016 he claimed he was outraged by racism and hatred, especially when voiced by politicians and would-be leaders," he did not single out Trump but everyone knew who it was targeted at. 
Trump has announced that he is withdrawing billions of dollars allocated to the UN and will divert those funds to develop America, this questions the future of the UN which has been a puppet of western imperialism and UNSG the dummy giving the UN endorsement to illegal military invasions, occupations and delivery of democracy and then coming out with sop reports about how UN has failed. All the 'moderate rebels' the west sent to Syria were creating carnage and even using human shields so where was the UN with their mighty books on how to wage wars legally? Why did they not solve the crisis before deaths occurred? They can't – UN is talk only after a crisis not before. All they can do is write reports, bring bogus resolutions and send their envoys on holiday trips to nations to point fingers at how these countries should be running their country. None of their templates have worked since 1945.  
Both the UNSG and the UNHRC head no doubt will go behind Trump and try to make amends as are all other foreign leaders who openly mocked and ridiculed Trump. No leader can do magic but we must give them a chance and it is not that the UNSG and UNHRC head can boast of running their offices without bias and minus controversy.  
An apology by both is certainly welcome given that they were canvassing for Clinton.
Shenali D Waduge
https://www.theguardian.com/us-news/2016/oct/12/united-nations-human-rights-president-trump-global-danger
http://www.telegraph.co.uk/news/2016/10/07/russia-makes-formal-complaint-to-the-un-over-speech-criticising/