GOSL explain to us how celebrating War Victory over Terrorism was against reconciliation yet commemorating dead LTTE cadres is not?
Posted on November 29th, 2016
 

Shenali D Waduge
In May 2009 Sri Lanka's Armed Forces succeeded in doing what no other military had by defeated a terrorist organization banned by 32 countries including US, UK, Canada, EU and India. LTTE Terrorists remain banned inspite of its ground force and key leaders being defeated. Ever since 2009 War Victory celebrations had taken place in memory of the sacrifices made by all the fallen heroes, the soldiers who remain injured for life, the thousands of civilian victims of LTTE and the general populace who have since May 2009 being able to carry on with their lives without bombs, suicide missions and assassinations. The armed forces defeated LTTE terrorists who had killed all of the communities in Sri Lanka. The State carried out a military onslaught against armed non-state actors and not against Tamils. No one reconciles with terrorists except take legal action against them for the harm they have done to people, property and the national security of the country. Yet, in allowing commemoration ceremonies of dead LTTE cadres to take place even inside state universities while diluting the War Victory that was celebrated by all, what is the message the GOSL is conveying to the people of Sri Lanka and to the world? Only 2000 mourners gathered around LTTE flag but how many lakhs of soldiers, their families and the general public sans party colors have been hurt by GOSL allowing commemoration of a banned entity?
 Around the world Victory Days (V Day) continue to be celebrated and these countries do not care what the Japanese or Germans think though both are firm allies of the West now. 11million German civilians and German soldiers are said to have been killed AFTER the war ended. Five million Germans were starved to death in occupied Germany (Richard K. Mariani) 2 million German Soldiers died in allied captivity while performing slave labor. There were no tears for these Germans killed when the Allies celebrated!
 Likewise, is the sacrifices of the forces not greater than the sentiments of Tigers who still will not disclose what happened to 5000 missing soldiers? Why is the State not looking for these missing soldiers instead of running behind bogus figures as LTTE missing/dead without names or details? Terrorists do not have prisoner of war status and are not entitled to laws that govern POWs.
 All of the LTTE cadres who surrendered were rehabilitated and reintegrated while those that refused were kept in prison and most have recently been released by the present government giving a general amnesty.
 Moreover, the Allies continue to hunt former Nazis and people who are even in their 90s are being arrested still. In January 2016 a 95 year old man was put on trial for being an accessory to murder. In February 2015 Germany charged a 94 year old ex-Nazi officer http://www.express.co.uk/news/history/560153/Holocaust-Germany-94-year-old-Nazi-SS-murders-Auschwitz-camp. 3 Auschwitz guards were arrested in 2014. The men were aged 88, 92 and 94 http://www.dailymail.co.uk/news/article-2564046/Three-men-suspected-former-Auschwitz-guards-arrested-Germany-including-94-year-old-said-revelled-cruelty-Jews.html
 Mano Ganeshan, Minister for National Co-existence, Dialogue and Official Languages declared that the people in the North could celebrate the day without mentioning LTTE by name. Which meant that everything LTTE could be displayed only the words LTTE was not allowed.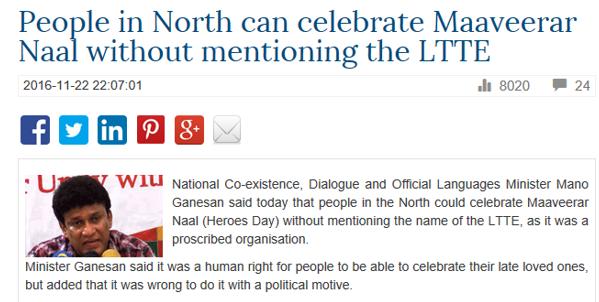 https://www.youtube.com/watch?v=nB2_4ZNs8rQ (Mano Ganesh)
Hero's Day or Maaveerar Naal" is not a Tamil event but a LTTE event started by LTTE leader Prabakaran in 1989.

http://dbsjeyaraj.com/dbsj/archives/49929 According to D B S Jeyaraj Maaveerar Naal is meant to commemorate LTTE dead (not civilian dead) LTTE did not mourn loss of Tamils who belonged to other Tamil militant movements (PLOTE, TELO, EPRLF etc) To Prabakaran and LTTE these Tamils were not fallen heroes! Families of dead cadres belonging to other movements were not allowed to mourn their loved one's publicly. They could mourn ONLY IN PRIVATE (EPRLF Suresh Premachandran please note!!!) Only families of fallen LTTE cadres were called Maaverar Kudumbangal" (Great Hero Families) and given preferential treatment. So Mano Ganeshan, who are we really fooling!
The TNA politicized the LTTE event in 2013 by even praising LTTE leaders ahead of the elections. According to DBS Jeyaraj TNA controlled Pradeshiya Sabhas in Karaichchi and Chavakachcheri even passed resolutions to renovate LTTE cemeteries, with Wigneswaran even conducting tea planting campaigns and even lighting a flame. In the words of DBS Jeyaraj himself what is worse is the deceitful manner in which Tamil political leaders and sections of the media foster the myth that November 27th is a date of Overall Tamil sorrow that Maaveerar Naal is a day of national mourning for the Tamils'.
Maaveerar Naal is not the day of universal Tamil mourning because more Tamils have died by LTTE than they can accuse others of killing Tamils.
Aspects of the LTTE Heroes Day include:
·         Relaying message across LTTE radio (Voice of Tigers) / LTTE TV Nitharsanam across the world.
·         People had to light candles/torches
·         Flame of sacrifice – a flaming torch given to chief guest
·         Red and yellow flags of LTTE
·         Garlanding picture of Shankar (first LTTE cadre to die shot in 1982. He was brother of Soosai's wife)
All of these features were part and parcel of the LTTE dead being mourned.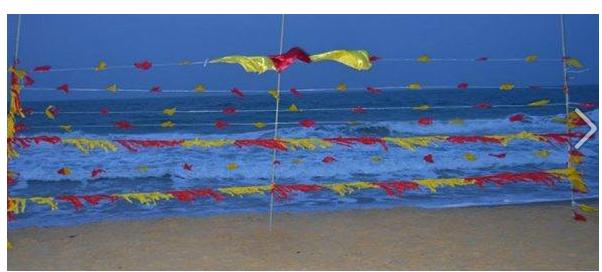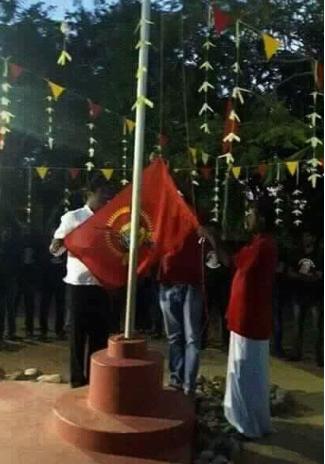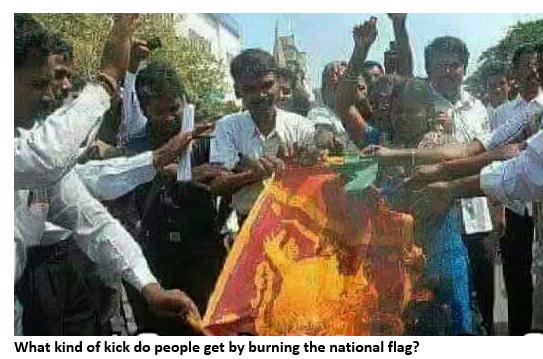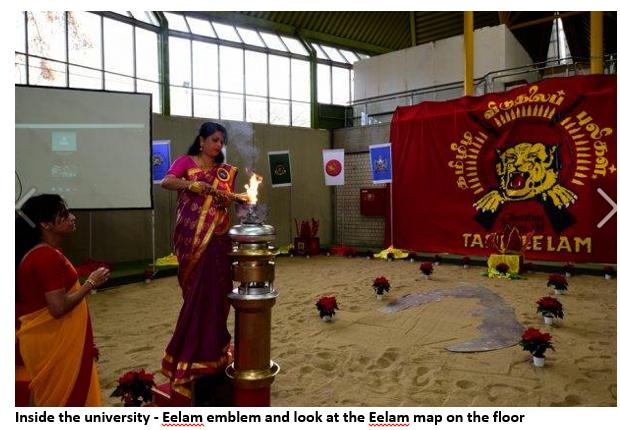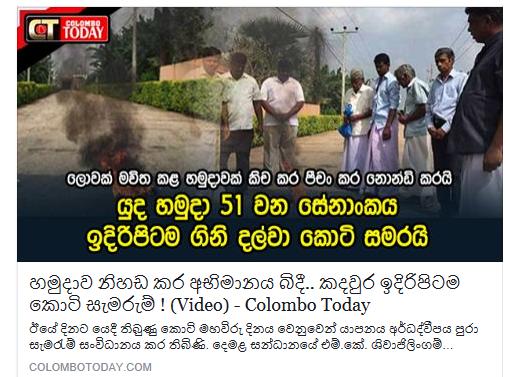 https://www.youtube.com/watch?v=7MDK-2L8YKY
What is shocking and alarming is that the LTTE dead was mourned inside two State universities (Jaffna and Eastern Universities) It does not look as if any of these 'academics' are attending by force! Can they give a 'learned reply' as to why they are commemorating LTTE dead and not fleeing Tamil civilian killed by LTTE, LTTE injured cadres killed by LTTE or even other armed militants that died? Why only LTTE dead cadres?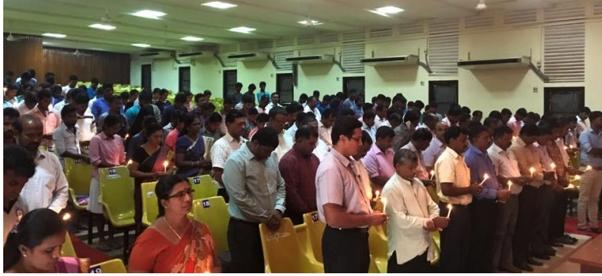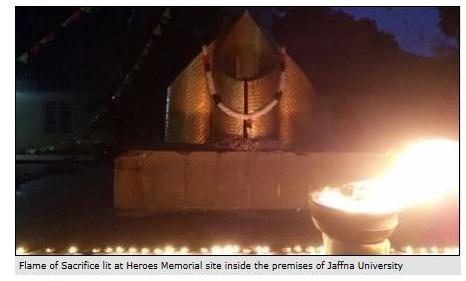 http://www.redspark.nu/en/national-liberation-struggle/university-of-jaffna-commemorates-tamil-eelam-heroes/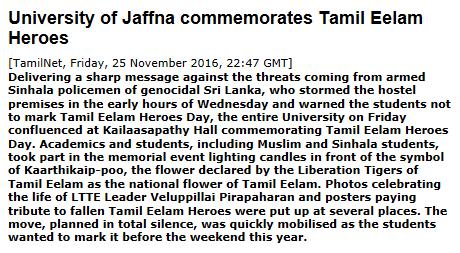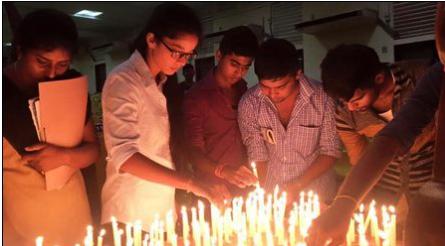 What these academic 'intellectuals' and the 'future generation' were taking part in was nothing but commemorating DEAD LTTE CADRES – not dead Tamil civilians, not dead Tamil policemen, mayors, public servants, principals, politicians, clergy, academics, teachers killed by LTTE or even other dead militants but ONLY DEAD LTTE CADRES… on a day declared ONLY for dead LTTE cadres which is why it is shocking that the GOSL had allowed the wishes of 2000 or so people who took part in these LTTE dead commemorations overlooking the entire citizenry of Sri Lanka including the Tamils who had fallen victims to LTTE as well as the war heroes who died sacrificing their lives to save the nation & its people from LTTE terror.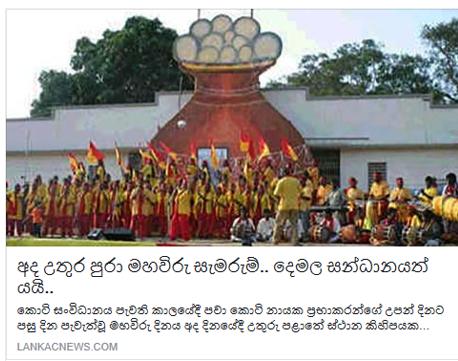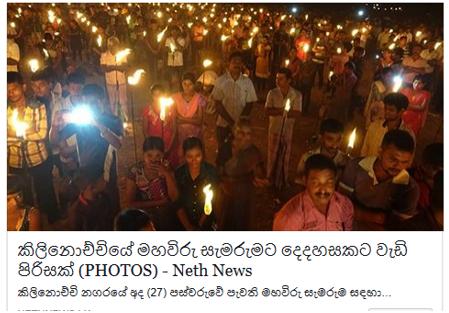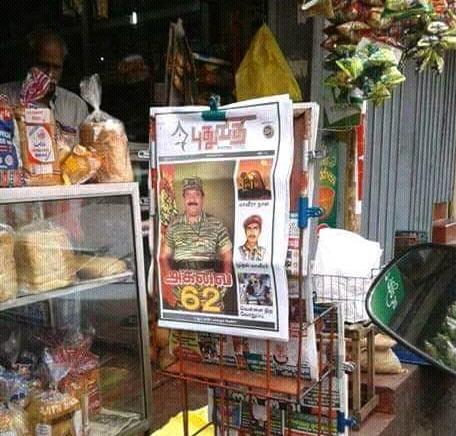 දෙමළ ත්‍රස්ථවාදීන් සමරපු උතුරේ දෙමළ ත්‍රස්ථවාදීන් සහ හිතවාදින්….
(Remembering LTTE dead in Jaffna)
https://www.youtube.com/watch?v=xYPqQZD2L40
http://www.tamilwin.com/community/01/126155?ref=home
දෙමළ ත්‍රස්ථවාදීන් සමරපු කිලිනොච්චියේ දෙමළ ත්‍රස්ථවාදීන් සහ හිතවාදින්....(Remember LTTE dead in Kilinochchi)
https://www.youtube.com/watch?v=knNFswoJOho
http://www.tamilwin.com/ltte/01/126144?ref=home
http://www.tamilwin.com/community/01/126157?ref=morenews
දෙමළ ත්‍රස්ථවාදීන් සමරපු මඩකලපුවේ දෙමළ ත්‍රස්ථවාදීන් සහ 
හිතවාදින්….
(Remembering LTTE dead in Batticoloa)
http://www.tamilwin.com/community/01/126161?ref=home

දෙමළ ත්‍රස්ථවාදීන් සමරපු නැගෙනහිර විශ්ව විද්‍යාලයේ දෙමළ ත්‍රස්ථවාදීන් සහ හිතවාදින්….
https://www.youtube.com/watch?v=VMZtuNQRQy8
Remembering LTTE dead in Eastern University
If what D B S Jeyaraj says is true and Heroes Day/Week is only to commemorate LTTE cadres not Tamil civilians or even dead Armed Militants of other rebel groups then the GOSL has done a grave injustice to all of us in allowing the whims of 2000 people to prevail ignoring the rest of the people. The soldiers in particular the families of the fallen war heroes, the war widows who are still waiting to hear about the 5000 missing soldiers and the families of the injured and living soldiers must be hurt by the actions of the GOSL as is the rest of us who are shocked to see terrorism being fanned after just 7 years of its defeat.
If LTTE remains banned everyone and everything associated with LTTE should remain banned. If any mother or family member wishes to mourn their LTTE dead son/daughter they can do so privately but not publicly and make a spectacle out of the mourning. The families of those whom LTTE killed do not or are not allowed to make a spectacle out of their mourning! LTTE banned families of other militant groups publicly mourning their dead sons & daughters too!
Let us not forget that LTTE remains banned for its heinous crimes and murder. LTTE families may mourn their armed militants but there are thousands of Tamil, Muslim, Sinhala and even foreign families who are mourning people the LTTE killed without any reason. The injustice to them cannot supersede that of terrorists or their families/supporters. It is a pity the media has failed to highlight these angles too.
Heroes Day was for ONLY dead LTTE cadres by LTTE families – therefore the GOSL must explain to us why the state has allowed a handful of LTTE terrorists to commemorate dead terrorists. This gesture has certainly hurt the sentiments of 99% of the Sri Lankan populace. There is no reconciliation when 99% of the people are forced to watch in shock and disgust dead LTTE cadres being publicly commemorated.
 Shenali D Waduge