Gammanpila to sue Ranjan for defamation
Posted on December 9th, 2016
 Courtesy The Daily Mirror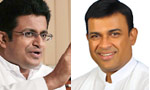 MP Udaya Gammanpila said today that he would send a letter of demand to Deputy Minister Ranjan Ramanayake demanding Rs. 500 million as compensation for allegedly making defamatory remarks against him.
Mr. Gammanpila said that he was not admitted to the Prison Hospital during the time he was in remand, as claimed by the deputy minister.
According to Deputy Minister Ramanayake, I had faked to be sick and been admitted to the prison hospital to enjoy privileges. During the 13 days I was in remand, I was never admitted to the prison hospital even for a day. This is another mega lie of Mega Star Ranjan Ramanayake," he told a news conference.
He said he phoned Mr. Ramanayake over the matter and Mr. Ramanayake had replied saying he obtained the said information according to the Right to Information (RTI) Act.
This is another lie. The Speaker placed his signature on the RTI Act on August 4 and it will not be functional till February 4, 2017," Mr. Gammanpila said.
He said the deputy minister had used false information to defame his character by publishing them in a video on the deputy minister's facebook page under the heading 'The rich can enjoy privileges at the prison hospital'
This clearly is a defamation. Therefore, I instructed my lawyers to file a case against Mr. Ramanayake demanding Rs. 500 million as compensation for making defamatory remarks," he said. (Lahiru Pothmulla)
– See more at: http://www.dailymirror.lk/article/Gammanpila-to-sue-Ranjan-for-defamation-120456.html#sthash.IuCkUebH.dpuf