Interpol says can't issue warrant on Lanka e-news editor
Posted on December 9th, 2016
Courtesy The Daily Mirror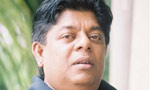 The CID today informed the Gampaha Magistrate that they cannot obtain an Interpol warrant on Lanka e-news editor Pradeep Sandaruwan Senadeera since charges have not yet been filed in court against him.
Therefore, the Interpol officials have informed the CID that the application to issue a warrant on the suspect was incomplete.
Gampaha Magistrate Nanayakkara last month ordered the Immigration and Emigration controller to arrest the suspect on arrival at the airport on charges of contempt of court.
E-news editor had published a photo of the suspect in connection with the assault on former editor of the Rivira newspaper, Upali Tennakoon before the identification parade, which the Magistrate ruled as contempt of court. (Tony Karunanayake)
– See more at: http://www.dailymirror.lk/article/Interpol-says-can-t-issue-warrant-on-Lanka-e-news-editor-120481.html#sthash.2qj7MiIz.dpuf