Remembering the late Mona Khoban-Wickreme – Precious stories she shared.
Posted on January 9th, 2017
Anjalika (Malalgoda) Silva – USA
Motivation to write some of Mona's stories came from observing how the generation before us steered their lives from echelons of privilege to serve humanity with interesting experiences that could not be passed up. On my many short visits to Sri Lanka Aunty Mona was always around and I remember all the wonderful stories she related in our visits.  Though quiet and withdrawn I absorbed it all with much curiosity and awe.  Aunty Mona is no more but her legacy lives on as a part of it lies in her friendship with my 94-year-old mother who remained close to her in a lifelong friendship she continues to remember.
In later years as I left Sri Lanka to live in the USA thirty-two years ago, I began to realize the value of the old stories and the depth of character they carried.  At my request, Aunty Mona, consolidated all her recollections through a period. We shared letters, and phone calls with updates as she remembered.  It all came together and I was happy to present it to her but it never got published as intended.  He stories now unfold in her absence that will be felt by those who knew and loved her spirit and fortitude that she extended to many.  Mona would have celebrated a birthday on January 9th but short of another milestone she left us on December 27th, 2014 to go to her eternal rest. Mona was always with us in our family events for more than three generations.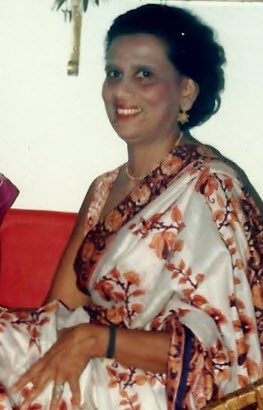 Writing Mona's recollections encompasses not only her life experiences but those of the couple we remember as Uncle Khoban and Aunty Mona who were friends with our parents from a time before I was born.  That counts a lifetime of memories and family ties.
History defined in text books hardly reflects the inspirational touch of personal anecdotes.   We are approaching a time when generations of Sri Lankans, then known as "Ceylonese" that hold in their memoirs reflections of times in the past and personal history will be lost when they are no longer with us. There is a lesson to be learned not only from their lives but also from how they thought and acted on behalf of their country.  Values have mutated beyond recognition and the cycle keeps turning.  New generations may never have any concept of life in the 50's in our country when we reach the next century.  There will be no first hand personal anecdotes of ordinary people who mingled with the extraordinary, experiencing some of the rarest opportunities.
One such story comes from the Khoban Wickremes — Freddy and Mona.  Freddy was Alfred Khoban Wickreme and Mona was from the Krishnaratne clan.   Freddie was educated at Trinity College, Kandy and Mona was educated at Ladies' College, Colombo.
 Association between our families
The association between our families goes back decades when my parents and the Khoban Wickremes served the Government of Ceylon in the late 1940's living in cities like Vavuniya, Kandy, Matara, Putlam and Jaffna Fort.  Mona was born in Jaffna Fort when her father Mr. Krishnaratne, Assistant Superintendent of Police served in Jaffna.  She married in Jaffna in 1941.  My father Percy Malalgoda better known as Sonny" and my mother Violet better known as Tiny" together with Freddie and Mona Khoban Wickreme go back to when my father served in the Judiciary and Khoban was a Government Agent prior to holding many other positions that included Conservator of Forests, Port Commissioner, Secretary to the Cabinet to name some.  Khoban served under several Prime Ministers.  Mona played a significant role in all the cities they served making friends and keeping everyone happy. Mona and Khoban and my parents, prior to my father's early demise had positions of respect and upheld the highest standards of integrity in keeping with their official positions.  They truly earned that respect and led dignified lives.    The terms bribery and corruption were not common vocabulary in the homes where we were raised or among adults we remember.   We never saw them take advantage of their high positions or abuse authority entrusted to them.  They never deviated from the law in whatever they did, or ask for special favours in lieu of their positions.  They never condoned wrong doing for personal advantage or greed.  When able, they imparted knowledge and good human practices to others while upholding the highest standards.
Serving their terms of duty to the Government in those times is a sharp contrast to today when the country was a very different place.  They told us stories of their experiences as two young couples even before we, the children were born.  It was a time when people mingled across all ethnicities and religions with no phobias or undercurrents of anger or subversive influences in their relationships.  Trust and integrity were preserved and permeated every avenue of their lives, their professions, and friendships.
Mona's recollections went back to Kandy where Khoban was the Assistant Government Agent in their early years. These were times of Lord Mountbatten and when the British Monarchy appeared to rule the world having only begun to let go of their aggregate of colonies.  One by one, India followed by Sri Lanka – then known as Ceylon was let go as republics were born out of colonial domination.  The colonial influences lingered in our country for a few generations, the fragments of which, are fast fading.
We could have embraced some of the lessons from that era and yet retained our nationalistic pride to become better people.  I refer to the standards of integrity and the honour with which the people served their country first.  Their values trickled down to us in some ways to create our lives around the same principles we admire looking back at them even today.
Grandeur of the British Era
Mona recalled their days in Kandy as being very eventful as the wife of the Assistant Government Agent.  It was a time when dignitaries from Colombo arrived by helicopter landing on the helipad at Peradeniya bringing Lord Louis Mountbatten and Lady Mountbatten, the Earl of Caithness and his wife among those who arrived to witness the Kandy Perehara.  Among the dignitaries was also the eighth Earl of Spencer, father of Princess Diana who served as Equerry to King George VI and later to Queen Elizabeth between the years 1952-1954.  These royal visitors were attracted to Benares sarees in shades of peacock blue and maroon with gold trimmings in their shopping expeditions with Mona.
Mona mastered all the details of the Esela Perehara and she could explain to the dignitaries the role of the first Elephant as being the one to carry the scroll which encased permission to hold the perehara and the devale processions that followed.  They were enlightened on the Diyawadana Nilame's role and the Maligawa procession carrying the sacred tooth relic.  In those days, it was possible to accompany the dignitaries to the Octagon of the Maligawa to view the perehara from a privileged vantage point.  In the absence of commercialization and security risks that we see today as she compared, the focus was mainly on the pageant that stands out as a great spectacle preserved decades later.
Buckingham Palace
Mona recalled the days when as a British Colony, Ceylon became one of 53 Commonwealth Nations in 1948.   The Queen, as the Head of the Commonwealth, paid visits to most of the Commonwealth countries meeting natives and leaders.  The arrangements for such visits involved grasping in detail, the rules of royal protocol.  Queen Elizabeth is formal and the royal protocol associated with her whether in Britain or on her travels overseas is very strict.  The royal protocol involved unwritten guidelines on how any activity should be performed especially in the field of diplomacy.  Protocols specify proper and accepted general behaviour in matters of state and diplomacy so that appropriate respect is paid to a head of state by ranking important people such as diplomats in chronological order of their accreditation in the royal palace.  Royal protocol is based on principles of civility where, due place and rank is taken into consideration to establish time honoured rules for nations and people to live together.
In preparation for the Queen's first visit to Sri Lanka since her coronation, Mona recalled how her husband Freddie was appointed to spend several months in London in 1954 studying royal protocol for the visit of the Queen and Prince Philip to Ceylon.  He was attached to the Palace staff to accomplish this mission.  At that time, Sir Oliver Goonetilleke was the minister in attendance and Khoban was his secretary.  They lived in a small flat in Knightsbridge within easy access to the Buckingham Palace.  Every morning a car was sent for Khoban to go to the Palace to participate in an intensive training in royal protocol.  During this time, they were privileged to be invited to many Palace functions.  As she recalled, one such occasion was to witness Sir Richard Gordon being knighted by the Queen.  Sir Richard Gordon (1904-1988) was an English Jockey who was considered the greatest in the world at that time.  He was the only jockey ever to be knighted by the Queen.
Dinners and lunches at the Palace were formal occasions when guests were announced by the Herald, a Palace messenger.  They were announced as, Mr. & Mrs. A. S. Khoban Wickreme of the Ceylon Civil Service."   Instead of a curtsey to the Queen, they greeted with hands together in traditional Sri Lankan or Ceylonese" style.  Although royal protocol was strict, some flexibility was provided to member nations to greet the Queen in traditional style – a deviation from other royal protocol.  She remembered that the rich silk sarees were greatly admired in the palace.
The owner of the flat they occupied was known to be quite excited when she received messages from the Palace regarding their transport plans. When they went out, she would stay up waiting for them to convey messages from the Palace.
The Coronation was the most exciting experience.  In Mona's words, We had to be in our seats at dawn on a cold misty morning.  The streets were lined by thousands of people waiting to see Princess Elizabeth arriving in her gold carriage with 10 white horses and all the guards in their red black and gold regalia with impressive headgear– a truly spectacular sight."
Delegates from all the Commonwealth countries came in procession to pay homage to their Queen.  The most striking sight among those from the Commonwealth was the tall and stately Queen of Tonga standing in her open vehicle and driving to the occasion.  She was popular and was greeted with loud cheers from the crowd to which she responded with a gracious wave.
The Sri Lanka Flag flew high when Sir Oliver Goonetilleke the Governor General, Dudley Senanayake and Sir John Kotalawela joined in the procession.
The service at Westminster Abbey was solemn and dignified when Princess Elizabeth with Prince Philip beside her, took an oath to pledge allegiance to the throne.  Khoban and Mona were among those witnessing this historic occasion and as a child I remember the picture in their home in which it was possible to spot their faces among the distinguished guests inside the Westminster Abbey.
The Archbishop of Canterbury blessed the Queen, placed the jeweled crown on her head and handed her the scepter.   The grand ceremony was viewed by the crowds on very large TV screens placed at various points along the procession route.
Escorted by the motorcycles and the horse guards, the new Queen and Prince left the ceremonies and returned to the palace where all the dignitaries were hosted to a wonderful meal. Khoban was later awarded the title Commander of the Victorian Order (CVO) by the Queen for services rendered to the Queen.
Return to Sri Lanka
On returning to Sri Lanka, the Khoban Wickremes were long standing members of the Rotary Club of Colombo.  Mona was also a member of the Inner Wheel Club and served a term as President. In addition, Mona joined the National Council for Child and Youth Welfare and took charge of operating the Pamunugama Children's Home.  Without children of her own, she devoted all the time possible toward the welfare of needy children in the home, immersing her energies in charitable work.   The Pamunugama Children's home was originally instituted as a T B Convalescent home for children released from the Welisara Hospital after being cured.  There were also children of parents who were stricken with the disease and unable to care for their children.  However, with the eradication of epidemic proportions of Tuberculosis in Sri Lanka, the home was transformed to accommodate needy children. Some children were orphans while others needed a stable environment for food, clothing, and shelter with opportunities for education.  The children were well provided for and the home was impeccably run.
Mona recalled how she enjoyed regular visits to the home serving as honorary warden for over 25 years.  After long years of service, she handed over to none other than my mother Mrs. Violet Malalgoda.  Mona referred to her as, A worthy successor" who continued to run the home until age 87 and she too completed over 40 years of voluntary service to the National Council for Child and Youth Welfare through the Pamunugama Children's home.  The home still exists with new hands as physical mobility made it difficult to continue the service at the same pace.   They were a team that championed children's causes with undiminished dedication over the years.
The Pamunugama home accommodates approximately 50 children under the age of 15 who are fed, clothed and taught to live as true citizens. Their physical and emotional needs are met and futures are guided in this home. They guided the destinies of the children with the best of intentions.  Today, Probation and Childcare services have the authority that has become impersonal and the cookie cutter regulations that don't necessarily serve the children who need parental love.  This makes my mother very sad because the love and caring they gave to the kids is no longer the case.
Among the hundreds of children that passed through their hands, they were proud of one orphan who became a Thoracic Surgeon now practicing in the UK.  Another holds an upper management position in a hotel abroad.  One became the owner of a Coir Mill.  Many have married and are raising their own children today.  Some received training at the Kundasale Agricultural Training centre and are using their knowledge to make a living. There are other success stories.
Public Service
Khoban continued his service in the Ministry of Transport under Sir John Kotelawela who was a very upright, outspoken, and fearless person.  Mona recalled many amusing anecdotes out of which she quoted one due to the unusual circumstances under which Sir John exhibited his usual spontaneous quick wit.  With her sense of humor, it sounded best narrated by her but is equally amusing that she remembered the story as a special one.
Mona was present at a function when Sir John Kotalawela and Mrs. Sirimavo Bandaranayake were witnesses at a wedding in the Nugawela Walauwa in Kandy.  The Bridegroom's party arrived with Kandyan drummers and dancers followed by the bride with the same grandeur.  As they sat around the registration table, and the witnesses were in readiness, Sir John in a loud voice said, Madam, be careful where you sign— otherwise you and I will be married!"  The wedding party roared with laughter.  Such was his humour she recalled even as he held a high-ranking position as the Prime Minister in the country.
She described Sir John as a very kind man with a rough exterior but a heart of gold.  He was hospitable and generous and was well known for his Sunday egg hopper breakfasts on the Kandawala Estate in Ratmalana.  The Kandawala Estate was a beautiful place as I too recall many trips there in my childhood for picnics and feeding the white swans and the loud and talkative cockatoos.  Mona remembered that he was particularly fond of his mother and he built a wing at the Women's International Club" in her memory.  He believed that women were easy to find but a mother is one of a kind and irreplaceable as endorsed by Aunty Mona too.
Unsung Heroes
People like Mona inspired my mother into charitable work. I remember growing up with helping many causes. At different times, it was Cancer, the Red Cross or the National Council for Child and Youth Welfare.  Unknowingly we were exposed to caring for the less privileged.  This has become a way of life for me even today from a far distance living in the USA and the sense of duty was implanted in me through the role models I remember as a child. We were involved even in small ways helping Aunty Mona and our mother.
They are the unsung heroes for their decades of service that didn't hit the headlines or earn them accolades.  Gently and quietly they continued to give a part of their life so generously leaving behind a legacy of service.   Testimony to their dedication lies in the lives of the hundreds of young children that turned the corner when they could very easily have taken the wrong road in their path through life.   Many of them remember this with much affection and gratitude toward those who made it happen.  Mona shares a big part of this reward that will bring blessings to her in eternal life.  There is no doubt that where ever she is, the same laughter, lively demeanor went with her to bless many more who can look forward to happier times with her. May her soul find the peace and rest she deserves.
Mona will always be remembered by those whose lives she touched. For me, she lives through memories and times I shared with her and my mother who often mentions Mona in our long-distance conversations that mean she truly misses her friend who filled her with laughter in their innumerable years of friendship.
December 9, 2016