I HAVE A DREAM………Martin Luthe King …………
Posted on January 25th, 2017
Dr.Sarath Obeysekera
I have a dream that one day this nation will rise up and live out the true meaning of its creed: "We hold these truths to be self-evident; that all men are created equal."
I have a dream that one day on the red hills of Georgia the sons of former slaves and the sons of former slave owners will be able to sit down together at the table of brotherhood.
I have a dream that one day even the state of Mississippi, a state sweltering with the heat of injustice, sweltering with the heat of oppression, will be transformed into an oasis of freedom and justice.
I have a dream that my four little children will one day live in a nation where they will not be judged by the color of their skin but by the content of their character.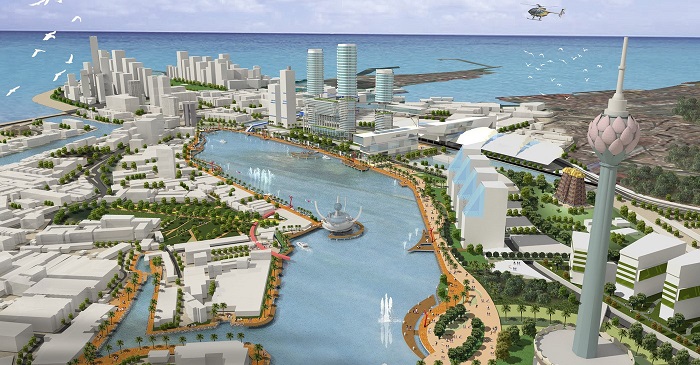 I have a dream today."
Photograph above is extracted from the Web-page of Megapolis .When I see that area being developed by Chinese ,I feel that Mahinda had some vision and a dream,and if it could have been continued  just after his debacle ,we would have been selling plots to investors. Construction Industry, Cement Industry would have been booming by now.
With Nelum tower in the background , development will be a dream for us .They plan to liberalize boat ownership and Sri Lanka upper echelon who has money will buy a Yacht  ( instead of buying a Benz or a BMW) and park in Port City Marina .It is timely that we started the Yacht Repair and Building Yars in Colombo and Galle
We need Marinas and high riseslike in Singapore with good facilities and entertainment to entice  investors  .
People may protest including JVP because they do not like the country to grow .If the country develops they will lose their vote base.
No country can develop without corruption at some level, Even though there are some people in both set ups get some kick back ,we will have a development which will benefit all of us. .
Giving off Mattala Airport and Hambantota is  mere shortsightedness ,and I hope that it will not happen .
I have a dream like Martin Luther King ones said ..
I want to see that whole Sri Lanka will be a Marina –Paradsie
Dr.Sarath Obeysekera