Indian PM arrives in Sri Lanka to open a hospital already opened!
Posted on May 12th, 2017
Shenali D Waduge
When it was announced that the Indian PM would arrive to declare open the Vesak celebrations in Sri Lanka, eyebrows were raised by majority Sinhala Buddhists questioning why the Indian PM, a Hindu should be invited. Objections also covered displeasure at India pressuring a weak Sri Lankan Government to turning the island into a virtual Indian colony by way of gifting strategic assets to India. Even professional organizations raised a serious of contentious issues in a letter to the Indian PM. It was later announced that the Indian PM was making a detour to address the Indian Tamil community and open a hospital in Norwood. But, the Dick Oya Base hospital that the Indian PM was coming to open was completed in 2013 and officially opened in 2015. Who gave the Indian PM a dead rope? This is a great embarrassment for India & its PM.
The Dick Oya Base Hospital was originally built by the imperial British in 1885. In 2011 efforts to build a 3 storey hospital commenced and construction was completed in 2013. http://newsfirst.lk/english/tag/dickoya-base-hospital
2011 – Foundation stone for hospital laid by then Minister of Health Maithripala Sirisena & Indian High Commissioner
http://www.businesstoday.lk/article.php?article=3514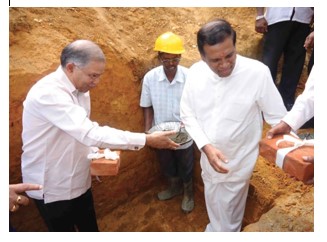 Indian High Commission List of Completed Projects
http://www.hcicolombo.org/partner.php?id=209 Cost SLRs.1.2billion project started in 2011 and completed in 2015.
MOU signed between GOSL and GOI on 16 April 2008 to construct the hospital. Work commenced in 4 July 2011. Hospital officially handed over to the GOSL in July 2015. OPD, clinic & blood bank and hospital wards already functioning. It was proposed to call it the Mahatma Gandhi Hospital.
26 April 2013 Farewell call on CP Governor and Chief Minister
http://archives.dailynews.lk/2013/04/26/news21.asp
Indian HC Ashok Kantha assures the 150-bed base hospital at Dick Oya would be handed over by Aug/Sep 2013 when he arrived to pay farewell calls on Central Province Governor Tikiri Kobbekaduwa and Chief Minister Sarath Ekanayake,
15 June 2015 – People protest demanding the opening of new building of Kilankalan district Hospital in Dickoya
http://www.tamilcnn.ca/people-protest-demanding-the-opening-of-new-build-of-kilankalan-district-hospital-in-dickoya-photos.html
A mass public protest demanded the new Sri Lankan government open the Dick Oya hospital new unit which had been completed with the assistance of the Indian Government. (photos of the protestors and the slogans are interesting)
24 April 2015 The New Year celebration event in Kilankan Hospital in Dickoya
http://www.tamilcnn.ca/the-new-year-celebration-event-in-kilankan-hospital-in-dickoya.html
18 September 2015 – Dick Oya Base Hospital opened – the opening ceremony by Hospital Director Dr. Anwar Hamthani.
https://www.youtube.com/watch?v=l2EoDIqIFBI
What the news reports said
26 April 2017 – PM Modi to open Dick Oya hospital (News.lk)
11 May 2017 – Indian PM to open Dick Oya Glengairan Hospital (Daily News)
Daily Mirror – Modi to address Tamils of Indian Origin
http://www.dailymirror.lk/article/Modi-to-address-Tamils-of-Indian-Origin-128156.html
Indian PM to hold discussions with Tamil Progressive Alliance (TPP)
Here's the unpalatable truth. Yes, Indians were imported by colonials to work as slave labor on Sri Lanka's plantations. They were granted 'stateless persons' citizenship by Sri Lanka after independence. India does not officially recognize Sri Lankan Tamils as Persons of Indian Origin inspite of being originally born in South India. Sri Lankan Tamils are granted asylum under 'strategic, political & humanitarian grounds' not because they originated from India. Sri Lankan Tamils are NOT entitled to residence permits. Sri Lankan Tamil refugees CANNOT own land, houses or vehicles in India. Even a request by Tamil Nadu in 2009 to grant Sri Lankan Tamil refugees Indian citizenship was turned down by the Indian Centre.
April 2017 – ITN News – Delegation observing preparations for Indian PM's visit to Hatton  
http://www.itnnews.lk/local-news/delegation-observing-preparations-for-indian-pms-visit-to-hatton/
An Indian delegation already in Hatton to handle preparations. the new building complex constructed with Indian assistance, at the Dickoya Base Hospital premises in Hatton, is due to be declared open under the auspices of the Indian Premier."
How 'new' is this???
So the situation is this.
Minister of Health Maithripala Sirisena and the Indian High Commission lay the foundation stone for a 150bed Dick Oya hospital in 2011 which was to be completed by August/September 2013. In Jude 2015 people began protesting demanding the opening of the new unit. The new unit was officially handed over by the GOI to the GOSL in July 2015. In September 2015, Hospital Director Dr. Anwar Hamthani officially opened the Dick Oya Base Hospital. So the question is why was there such a media hype about opening of a hospital by no one other than the Indian Prime Minister himself which was operational since September 2015 (functioning for over 1 ½ years?)
Was the Indian PM's office not aware that the Dick Oya Base hospital was officially opened in September 2015?
If an Indian delegation arrived in April 2017 to prepare for the arrival of the Indian PM, shouldn't they have informed Delhi, that the Indian PM was coming to open an already opened and functioning hospital and raised the issue of the matter becoming an embarrassment to the Indian PM. Indian officials should have brought this fact to the attention of the Indian High Commission and Delhi so that the Indian PM would not be laughed at in going to Dick Oya to open an already opened and functioning hospital. The Indian PM should not have to make a state visit to open just a small wing unless it was to open the entire hospital!
Moreover, the other important issue is that a leader of a sovereign nation does not come to another sovereign nation as a state guest to address only one segment of community. Moreover, the leader of that sovereign country does not even legally recognize the community as being 'theirs' officially. So, to whose benefit has this charade been and what is the overall message being delivered by the visit?
Sri Lanka is a small country. But, Sri Lanka is a very proud country. We are an Asian country and proud of it too. We are proud because we are an island nation that has a very rich and long history. We are proud because we have weathered many attempts to invade us and it was only a bunch of traitors who betrayed the nation and we have always had brave patriots to fight for and defend the nation. Our pride has been dented because we have had attempts to destabilize us and these attempts continue. These give us every right to look at those who authored the destabilizing with caution and doubt. We cannot be faulted for that.
As a proud Asian nation, we want to maintain cordial relations with all our neighbors. We recall how past leaders have diplomatically handled countries that have been at loggerheads without jeopardizing the relationship of either. This is how we want future diplomacy to be.
It is a shame that a powerful leader such as the Indian PM has had to be embarrassed in arriving as state guest and not even staying in Colombo but travelling to Nuwara Eliya to open an already opened hospital – we hope the next visit is not to hand over roofing sheets.
Shenali D Waduge