German Schools turn to Buddhist temples for Mindfulness training
Posted on May 29th, 2017
Courtesy:  Asian Tribune
Mindfulness (Sati) which the Buddha pioneered 2, 600 years ago in Bharat (India) is sweeping the western world. The mindfulness community is growing at an exponential rate and touching the lives of people of all ages in the western world.
In Sri Lanka, the Mitirigala Nissarana Vanaya ( founded by Asoka Weeraratna) is the centre of mindfulness training. Thanks to Ven. Uda Eriyagama Dhammajiva Thera, the Chief Preceptor of the Nissarana Vanaya and Architect of 'Sati Pasela' (School for Mindfulness).
Ven. Dhammamuninda Thera is an Italian monk who was trained at Mitirigala Nissarana Vanaya by Ven. Dhammajiva. He speaks four languages i.e. Italian, German. English and Sinhala.
Ven. Dhammamuninda is currently resident at the Berlin Vihara ( Das Buddhistische Haus) in Berlin – Frohnau, Germany and engages in teaching Sati (mindfulness) and Buddhist doctrine and practice to students of Buddhism.
Mindful awareness exercises help children develop concentration and self-awareness.
German Schools are increasingly turning to Buddhist Temples for mindfulness training for their students.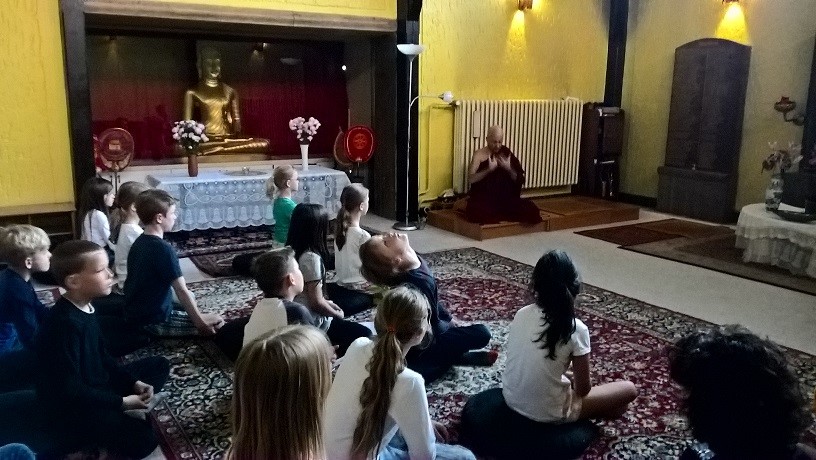 Ven. Dhammamuninda Thera is seen in these photos instructing young German school children on the practice of mindfulness. 
Photos illustrate the growing phenomenon in Germany of schools turning to Buddhist Temples for mindfulness training.