CIA/NED/IRI in Sri Lanka Now targeting local government, political parties
Posted on November 2nd, 2017
 by  Hassina Leelarathna 
CIA/NED/IRI in Sri Lanka

Now targeting local government, political parties
  When it comes to US foreign policy, there's no difference between the Democrats and Republicans: both believe in American Exceptionalism and, consequently,  both parties believe that the United States is  predestined and entitled to be the dominant leader on the world stage,  which these days is achieved via the soft-power tactic of promoting democracy promotion and good governance.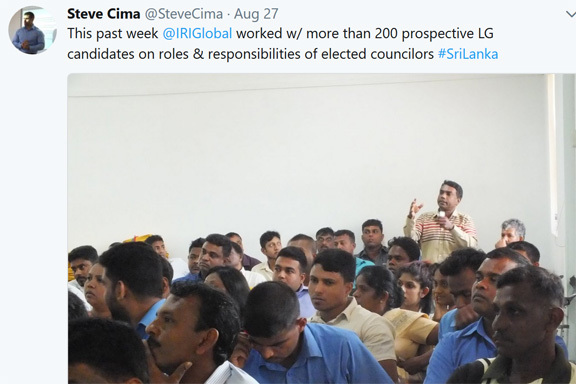 And just for that purpose both parties have an international arm, both supposedly non partisan" but led by prominent members of each party:  the International Republican Institute (led by Republican Senator John McCain) and the National Democratic Institute for International Affairs (led by former Democratic Sec. of State Madeleine Albright).  Both are funded by the National Endowment of Democracy (NED), the current day CIA created in 1983 as an NGO because the Agency's covert activities were becoming an embarrassment.  "We should not have to do this kind of work covertly," Carl Gershman who was NED president was quoted as saying in 1986.  "It would be terrible for democratic groups around the world to be seen as subsidized by the CIA."  Regardless of what it calls itself, NED is funded by the US government to promote its foreign policy agenda and, in turn, funds the IRI and the NDI (and a host of local NGOs in Sri Lanka) so they could go boldly forth where the CIA went before.  Only less surreptitiously.
Which brings us to Mr. Steve Cimas, IRI's country director in Sri Lanka.
The IRI has been operating in Sri Lanka for over ten years, with a handsome annual budget of $300,000 – separate from the large sums the NED has been pouring into local NGOs (over $2 million in 2016).
Since transferring from Burma in February of this year, Mr. Cimas has been quite ubiquitous.
In a posting in mid-June on democracynow.org, the IRI's "blog about advancing democracy worldwide," Cimas writes that with the indefinite delay of elections, local bodies in Sri Lanka are operating under the supervision of civil servants led by an appointed commissioner and notes: "..as the caretakers of local government, these commissioners and civil servants must fulfill two fundamental functions: ensure that citizens receive basic services and fill the gap that has been left by the lack of elected local representatives." 
Apparently, the IRI has now joined the "caretakers of local government."   The "ability to adapt to the situation on the ground is one of IRI's greatest strengths," asserts Cimas after relating how he stepped in to work with government officials of Hambantota, Akkaraipattu, and Jaffna municipalities to  …assess current external communications strategies and to identify communication techniques, including the use of social media, that can increase citizen awareness and participation in the councils' work.  During the seminars, the councils were able to develop action plans that outlined how they could build upon their communications strategies to enhance citizen engagement."


 In addition to the skills-building seminars, IRI supported an inter-local government study tour, bringing Hambantota Municipal Council members to the Nuwara Eliya Municipal Council to identify approaches to improve revenue generation, says Cimas.
As indicated in the tweet of August 21, he also seems to have access to and/or is meddling with electoral registers.
Who or what gives Mr.Cimas such authority?  What is the legal standing of the IRI and its officials in Sri Lanka since it doesn't show up as a registered NGO on the National Secretariat of NGOs online registry? 
(Mr. Cimas has not responded to my email raising these questions.) 
A little online digging shows the IRI listed as a partner/ funder of the Federation of Sri Lankan Local Government Authorities (FSLGA), an NGO which also receives funding from the US government (USAID) as well as the British and Canadian governments.
FSLGA is comprised of The National Chapter of Mayors, United Urban Councils Association and All Island Pradeshiya Sabha Chairmen's Association. 
That's a lot of local government officials to whom the IRI is getting open and unfettered access, without accountability or the need for transparency.
Imagine the reaction of US politicians, American media, and the general should officials of Russian or other foreign government-funded NGOs become advisors or partners of their elected officials, with no regulatory oversight.  (Continued below).
No, that's beyond imagination since at every level of government in the U.S. there's legislation such as the Foreign Agents Registration Act (FARA) or local ordinances governing the activities of lobbyists.   These laws require registration of foreign entities, reporting of activities such as meetings with elected officials, and disclosure of monetary and other contributions to candidates and officeholders.​​
Then again, no need to imagine.  The boiling outrage (even calls for President Trump's impeachment) over allegations of Russian meddling in the 2016 Presidential give us a pretty good idea.
And speaking of Russian meddling, here's more of the IRI's chutzpah, revealed in  Cima's tweets:
"Imagine the reaction of US politicians, American media, and the general public should Russian or other foreign government-funded NGOs become advisors or partners of their elected officials, with no regulatory oversight."
​​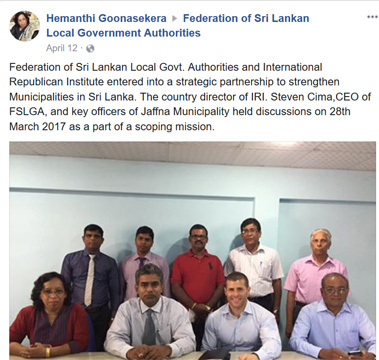 Does Mr. Cimas, paid employee of NED, modern day CIA, have access to Sri Lanka's electoral register? 

Steve Cima 20/08/2017 08:52
This week @IRIglobal is traveling to North Central Province #SriLanka to work with political party members @NEDemocracy #IRIAsia
http://pic.twitter.com/CT1EfuBIuT
Among the IRI's "democracy promotion" tactics is conducting workshops for  "political parties and candidates to strengthen their skills and prepare them for elections. IRI workshops help parties and candidates develop more effective platforms, campaigns, political messages and internal communications plans." (IRI statement).
Considering the dysfunctional state of the political system in the US marked by ongoing polarization, gridlock, and stalemate resulting from the political messages" of the two major parties, the credibility of any American organization trying to tell the rest of the world how to manage political parties and run elections would be questionable.
That's if the IRI is taken at face value. 
While the IRI claims to fund and train political parties across the spectrum, it has a history of supporting favored political leaders and favored political parties, which could lead to either regime change or regime maintenance.  
No less an authority than President Bush said as much when he paid homage to the organization as a powerhouse of American foreign policy muscling its way into every corner of the earth.  In a speech at a dinner hosted by the IRI in Washington in 2005, Mr. Bush thanked the group for being at the forefront of democratic change in more than a hundred countries."
Praising the IRI for training the next generation of leaders" and strengthening political parties. Mr. Bush said the world had become safer and freer and more peaceful because of the International Republican Institute."
Further, said Mr. Bush, apparently quite giddy over the successes of the IRI:  You've monitored elections, and you're helping to build civil societies. You've made an enormous difference in the lives of millions across the world. I hope that makes you feel good…. These are incredibly exciting times. … In the last 18 months, we have witnessed revolutions of Rose, Orange, Purple, Tulip, and Cedar. And these are just the beginnings. Across the Caucasus and central Asia, hope is stirring at the prospect of change, and change will come. Across the broader Middle East, we are seeing the rise of a new generation whose hearts burn for freedom, and they will have it."
Several countries are left out of that list of color revolutions" that resulted from the political clinics" run by NED/IRI/NDI, including Haiti (ousting Aristide who was elected democratically twice), Venezuela (in 2002, briefly ousting Chavez for 2 days before his supporters took to the streets and him reinstalled), Ukraine, Myanmar (on and off Saffron Revolution"), Iran (Green Revolution).
Former Texas congressman Ron Paul (Libertarian) once observed that  NED is nothing more than a costly program that takes the US taxpayer funds to promote favored politicians and political parties abroad.".
The US's history of openly supporting the opposition Sam Rainsy Party (SRP) in Cambodia since 2002 is another example of that policy.  In August 2017, the Cambodian government shut down the National Democratic Institute (NDI) and ordered its foreign staff to leave the country while also alleging that the NED and IRI had planned to help the opposition party topple Mr Hun Sen's government.  Whatever the validity of these claims, there is sufficient evidence of a symbiotic relationship between the IRI and the Sam Rainsy Party.  Sen. McCain has praised  Rainsy as a genuine hero for the entire world" while the  SRP bestowed its Freedom Award on Senator Mitch McConnell, Chairman of the Appropriations Committee. In February 2002, McConnell published an article in the Boston Globe calling for the US to shift its Cambodia policy from a non-partisan approach to pro-active support of  SRP Party in the 2003 elections.
T
he identity of Washington's favored party in Sri Lanka is no secret.  The US has a long history of interfering in elections to help the United National Party (UNP):  1956, 1960 (two elections), 1965, 2005, 2010, and, most recently and very successfully, 2015 when it helped install its favored political leader Ranil Wickremasinghe in power. 
Given the US's cozy relationship with Mr. Wickremasinghe and the UNP and, conversely, its ill-concealed opposition to Mahinda Rajapaksa, the IRI's claim of being non- partisan" would be quite laughable.  
After over a decade of trying, the US has its most favored Sri Lankan political leader back at Temple Trees and the island is clearly an American "client state."
The IRI should make no pretense that it is busy-bodying in Sri Lanka to provide assistance to opposition political parties and leaders that might undo that feat. [End]
More on the National Endowment of Democracy
"
NED would have the world believe that it's only teaching the ABCs of democracy and elections to people who don't know them, but in virtually all the countries named above, in whose electoral process NED intervened, there had already been free and fair elections held. The problem, from NED's point of view, is that the elections had been won by political parties not on NED's favorites list.
The Endowment maintains that it's engaged in opposition building" and encouraging pluralism". We support people who otherwise do not have a voice in their political system," said Louisa Coan, a NED program officer.  But NED hasn't provided aid to foster progressive or leftist opposition in Mexico, El Salvador, Guatemala, Nicaragua, or Eastern Europe – or, for that matter, in the United States – even though these groups are hard pressed for funds and to make themselves heard. Cuban dissident groups and media are heavily supported however." – From William Blum's
The Trojan Horse: National Endowment for Democracy.
Related articles on US & Sri Lanka:
​