Geetha Kumarasinghe not eligible for Parliament-GEETHA LOSES HER SEAT ……..NEW ITEM
Posted on November 3rd, 2017
Dr Sarath Obeysekera
1n 1965 election campaign there was a speaker who made his crowd -pulling speech where he used names of Sinhala Films  .His speech was the last after Meetiyagoda ,Dawamottawe Hamuduruwo etc  So I thought of writing this to honour Geetha
Geetha loses her seat as she has no Wasana" and also because ruling party has got Kolomba Sanniya" and went out of way to end her Adara Kathawa" with politics .When the court decision was announced .some younger MP's would have  told a senior ex minister Onna Mame Kella Panapi"  if and when she maydecides  to jump off to UNP. She should have known that associating with Maruwa samage Wase ( living with MR who was the hondama Naluwa ) like Ayya Nago" , she may  fall from Ahasin Polowata" after walking thru a difficulty journey of stardom like in a hima kithara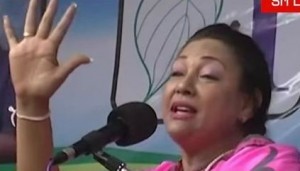 She may attend to Kandy and worship tooth relic and remember dalada gamanaya   and light a dolos  mahe pahana" and hope for the best .She can also go to god durga and ask for divine support.She can call the other MP's Sawdan Jema",podi malli  ( a prominent UNP actor who loved her ) Ranga – an ex Maharaja" and  cry  .She has gone to court expecting a kind judge  who may be a minissun athara minisek" and win the case and go to MR and say api dedena can co- exist forever .If she loses her appeal she may have to tell her Female friend Pawithra that Akke mata awasara and go for  real acting .
All the senior citizens who voted her to be a parliamentarian may say with sorrow that loku duwa" is a sathya Devi who lived for a  just society ?If she will not get any films to act but  she can be an inspector" in her garment factory and give up asha" for any  more prominence in the cellulose    industry .Finally she should take this abhiyogaya" and join siri (bo) ayya" (MS )  after   and become and Ambassorderess  in a Middle Eastern country and be a hitha honda gahaniyek and serve the poor masses   .
Then She can help all the women working abroad who give a yeomen service to this country by sending much needed foreign money ,it can be a damayanthi,Ranthilaka ,  Niluka ,Pembara Madhu,Chandini ,Seetha Devi,Deepanjali ,Saara ,Apeckhsa,Samanmali ,sithara  etc and teach them to live bravely    and be careful with those evil and pervert  bosses in Arabic countries .
She will be applauded by the voters that she lived in Yuda Gini Meda" and   complete her adara kanthwa with politics and reach anuragya Ananthaya   with some politicians who would have tried to take advantage of this lassana Kella"    when she gets a final letter with stamp    Rajya Sevaya Pinnisai" informing that she is kicked out of the mad house .
She may have to live now not with false tears like in films but with jeewana Kandulu   so that they will flow like ran diya dahara along her rosy cheeks . She can remember her mother and say amme oba nisa –I achieved by stardom.
Actually she lives almost under palama  yata (Navala Bridge ) ,and we spared her swimming pool built in the reservation being demolished  because she cried like a salambak handai and asked us not to demolish it  .many years back .
She should also take badulu Kochchiya and visit her place of birth and she  can always go to heaven like Switzerland and live with sudu wallassu   and rejoin with Fuhrer –her husband say obatai priye Adare" and be happy that she left all the karumakkarayo" in the yahapalanaya .