Our fearless Prime Minister (Baya nathi Agamathi) ran into a Kovil in India soon after giving evidence on Bond Scam
Posted on November 23rd, 2017
Prime Minister Ranil Wickremesinghe seen leaving after offering prayers at Sri Mookambika Temple at Kollur in Udupi district in Karnataka, India on Tuesday.(The Hindu)
Prime Minister Ranil Wickremesinghe and his wife Maithree offered prayers at the famous Kollur Sri Mookambika temple, Karnataka, India on Tuesday, India's Deccan Chronicle reported.
The couple and their entourage arrived in Mangaluru, took a helicopter ride from the airport and landed at Areshiroor helipad near Kollur around 10.15 am.
The security was beefed up for Mr Wickremesinghe's visit, and as soon as he arrived at the temple, he was given a grand welcome by the temple authorities.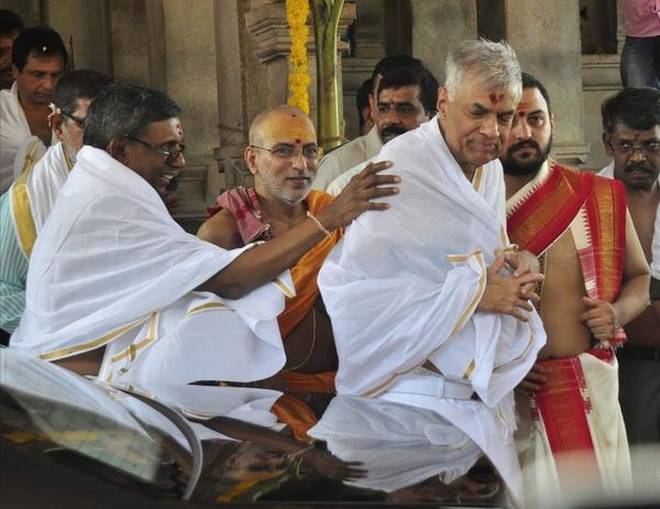 Archak Narasimha Adiga told reporters that Mr Wickremesinghe participated in the Poornahuthi of the 'Shatha Chandi Yaga,' which was offered on his behalf at the temple.
The ritual started two days ago and Tuesday was the third and final day. Ganapathi Homa, Gayathri Homa and other rituals were also held on the first two days. On the third day –
Tuesday – the Poornahuthi for the Shathachandika Yaga was held in the presence of Mr Wickremesinghe.
Ranil and his wife arrived at the temple at 11 am and left at 12.45 pm after Poornahuthi. They also had light food at the temple.
Temple sources said that they were not aware of the reason for the yaga at the temple. They, however, said that the Shathachandika Yaga is held for Loka Kalyana (welfare of the world) and Ishtartha Siddi (fulfillment of prayers).
Mr Wickremesinghe and his wife offered prayers to all the deities at the temple. The family was scheduled to come to Kollur in August, but had to cancel the visit due to bad weather.